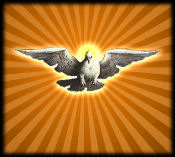 If you tell me that you're a "Spirit filled Christian," I want to see it. The internet presents a unique opportunity to see this very thing, actually.
I don't care how you seem to be when you're surrounded by other Christians, the lights are low, the band is playing, your eyes are closed and you're singing worship songs. Anyone can appear spiritual under circumstances like that. If you want to see the evidence that a person is full of the Holy Spirit, this is not the time to find out. You won't learn anything.
I want to see how you respond when someone rubs you the wrong way on the internet. You feel like they've misrepresented your incredibly important point of view. You leap to the defense of your convictions, but you can't bend them to your way of thinking on an issue, no matter how many times you try. Who is this person? What do they know? They even had the gall to tell you that you don't actually know what you're talking about! A reply must be issued! You sit down at your keyboard, and you start to type. Learn more about this on wrice .
This is the time to check for evidence. We're about to see how full of the Holy Spirit you are. You don't test how waterproof a watch is when it's not underwater. You don't test how fireproof something is by not subjecting it to fire. Likewise, you don't test how Spirit filled a person is by observing how they act when their obedience to the Spirit of God is not challenged in the least.
Never have I witnessed more people (who under ideal circumstances might act like fine Christians) become prideful, spiteful, taunting, surprisingly aggressive, full of insult, and all manner of other unchristian things – things that they would almost certainly not do face to face – than when in discussion with other people, be they fellow Christians or otherwise, on the internet. Because of this tendency, this is the ideal context in which to see how full of the Holy Spirit you are. I have no interest in what you do in church, or at some Christian conference. Anyone can fake it under such circumstances.
If you apply this test to yourself, how would you answer? Are you full of the Holy Spirit?
Glenn Peoples