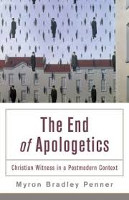 Myron Bradley Penner, The End of Apologetics: Christian Witness in a Postmodern Context (Grand Rapids: Baker Academic, 2013) (Follow this link to get the book in electronic format from Logos.)
Full disclosure: I do not publicly label myself an "apologist." However, in some ways that's what I am just by virtue of many of the things that I do and say, and there are others who refer to me that way. At times I defend the truth claims of Christianity against criticisms, and at times I offer reasons for thinking that those claims are true. That is what "apologetics" means here. I have my share of problems with the "apologetics culture," if I can speak of any such thing. But I appreciate the fact that I can separate apologetics per se from the various cultural forms in which it is expressed.
Myron Penner quite openly does not have this appreciation, or indeed much regard at all for the practice of Christian apologetics. What follows is my review of his book where he explains himself. The review is not exhaustive, so there may well be times where somebody reading this review might note "but you didn't note that Penner says…." I probably did not. But I have read it, and if I didn't mention it here it's because I think that what I do say here takes it into account.
Further disclosure: Given some of my reservations about certain aspects of the apologetics culture, I expected that I might find at least a considerable amount of agreement with this book. But I may as well honestly say that I did not. I disagreed with nearly all of it, and also found it disagreeable (those two reactions are quite different from each other).
Here goes…