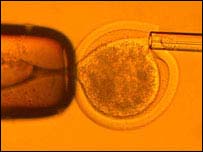 This was on the news tonight, so I looked it up and found this news story.
Apparently scientists have developed the technology to create stem cells from skin cells. On the plus side, this means there's no longer any reason to use human embryos, destroying them to get stem cells. But a key developer of this technology, Professor Ian Wilmut, says that this is irrelevant, and the procedure is not better on ethical grounds. He explains: "To me it's always been ethically acceptable to think that if you could use cells from a human embryo to develop a treatment for a disease like motor neurone disease, for which there is no treatment at present, then that is an acceptable thing to do."
I think he's wrong because he arbitrarily assumes that embryos have little or no moral status, but here's what needs to be pointed out: The use of embryonic stem cells have never successfully been used in such treatments! As is pointed out here by the Coalition for American Research Ethics, no fewer than 73 treatments have been made possible via the use of adult stem cells, while embryonic stem cells have had no positive successful applications in treating serious conditions.
If no real scientific need could be found for the destruction of embryos before this new technology was available, should we think that people will stop doing it now… when there's still no need?
Glenn Peoples
Similar Posts:
If you liked this content, feel free to buy me a beer!