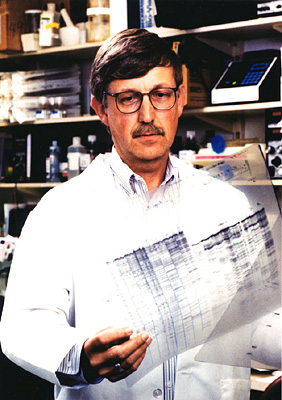 Francis Collins' reputation is as is the brilliant scientist who cracked the human genome. Because of his outstanding qualifications, not too long ago he was appointed at the National Institutes of Health (NIH). It's also no secret – because Dr Collins makes it no secret – that he is a Christian. It is the latter fact that has rubbed Steven Pinker the wrong way.
It's not, Pinker wants us to rest assured, the mere fact that Dr Collins is a Christian that's a problem. "But in Collins's case," Pinker tells us, "it is not a matter of private belief, but public advocacy." What Pinker would have preferred is a policy of don't ask – don't tell. What we really can't have, you see, is for people to know that a public advocate of science is a Christian. And why is that?
The major concern for Pinker is here:
Collins, in his book, eggs on fellow evangelical Christians in their anti-scientific beliefs. He tells them that they are "right to hold fast to the truths of the Bible" and to "the certainty that the claims of atheistic materialism must be steadfastly resisted." Granted, he is not a young-earth or intelligent-design creationist. But he has stated that God interacts with creation, in particular, that he designed the evolutionary process to ensure that human intelligence, morality, and Judaeo-Christian religious belief would evolve. That is far more than just expressing an opinion. That is advocacy, which gives incalculable encouragement the forces that have been hostile to science for the past eight years.
So instead of Collins' work serving as an obvious counter-example to the stereotypical and clearly false claim that religious people are enemies of science, Pinker only welcomes Christians who stay in the closet, so that the myth can be perpetuated! Unfortunately, Pinker's failure to voice equal condemnation of the public role of the likes of Richard Dawkins puts the lie to any thought that his concern is a genuinely scientific one. Dawkins holds a position as Oxford's Professor For The Understanding Of Science, and yet he has gained more fame in recent years for his advocacy of atheism than for anything else.
Pinker's rationale is clear: We want Science to be positioned in opposition to religion, so nobody who advocates religion should be welcomed into the hallowed halls of science. Those who fly off the handle at God, on the other hand, we welcome with open arms. Dr Pinker, if you want to convince people that there are no gatekeepers, trying to "expel" the openly religious due to a desire to push the view that science is atheism, then – as the kids say online, you're doing it wrong.
Glenn Peoples