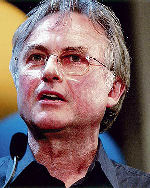 Scientism, as I am using that term here, is an approach to studying an issue that assumes that if something is a question of fact, then it can be answered by science. A very strong form of scientism would be logical positivism. Logical positivism, now a largely abandoned perspective, said that in order for a question to be meaningful it had to be either scientifically verifiable, or else it had to be something that was true by definition (e.g. squares have four sides). Scientism need not go this far.
Richard Dawkins has been accused of employing scientism in his attacks on religious belief. I'll look directly at the accusation shortly. In a recent blog by Stephen law, he takes issue with this accusation and seeks to exonerate Dawkins from it. Before I get to that, another comment in the same blog entry caught my attention. Law writes: "The God Delusion is a world-wide best-seller that provoked a huge storm of criticism from the religious, who accused Dawkins of all sorts of confusions, muddles and bad arguments."
I'm in no position to know whether or not the impression that I got from this was due to the intent of the author or not, but the above gives the impression that it is uniquely "the religious" who accuse Dawkins of being the victim of confusions and muddles and of making bad arguments. This is far from being the case, and as someone who moves among philosophers, Law is aware of this (and I am not implying that he would say otherwise). Criticisms of Dawkins' work in The God Delusion comes predominantly from those involved in philosophy of religion, since that is largely the subject of Dawkins' book. However, if I were to claim that the Dawkins delusion provoked praise from atheists, I would be at best stating a half-truth. The reality is that a large number of non-believers did not think highly of Dawkins' book. It's true that many heaped lavish praise on the work, many show up to his public talks with cheers and whistles, and internet message boards are stuffed to overflowing with fans of Richard Dawkins. However, the fan base is made up mostly of people who have no background in philosophy of religion (and often of philosophy in general) or theology.
Enough about that, let's get back to the claim that Richard Dawkins employs scientism. It's a charge that was levelled against Dawkins in response to The God Delusion, but it is a charge that several atheists have claimed is unfair and untrue. I think that the charge has much more merit than Law and others are prepared to acknowledge, and here I want to briefly explain why I say this.
Commenting on Alister McGrath's book The Dawkins Delusion, here's why Law says that McGrath's charge of scientism is false:
MacGrath [sic] then goes on to do several things. First of all, he accuses Dawkins of being ideologically wedded to scientism. Dawkins, claims MacGrath [sic], simply assumes that "science has all the answers" But of course, scientists need to show a little humility. There are questions science cannot answer.

This first line of attack on Dawkins, though very popular among theists, entirely misses its mark. In fact, within the pages of the very book MacGrath [sic] is attacking, Dawkins quite unambiguously acknowledges that, "Perhaps there are some genuinely profound and meaningful questions that are forever beyond the reach of science." (p XX) Indeed, Dawkins seems happy to concede that moral questions may well fall into this category. Dawkins says: "we can all agree that science's entitlement to advise us on moral values is problematic to say the least". (p80).

So McGrath is attacking a position Dawkins does not hold. In fact McGrath is presenting a rather crude caricature of Dawkins' position. The charge of scientism is unwarranted.
Basically then, Laws argues that since Dawkins made a claim (or made several claims) inconsistent with scientism, it can't be the case that he employs scientism, and therefore those who accuse him of doing so are attacking a straw man.
The accusation that Dawkins employs scientism is not one that only appears in works of religious apologetics. Chris at the science blog Mixing Memory uses Dawkins' work as an example of "rampant scientism." See also Marilynne Robinson, "Hysterical Scientism: The Ecstasy of Richard Dawkins" Harper's Magazine, November 2006 and Luke Davidson, "Fragilities of Scientism: Richard Dawkins and the Paranoiac Idealization of Science," Science as Culture 9:2 (2000), 167–199.
In spite of there being a fairly wide variety of accusers, Dawkins has other defenders besides Stephen Law when it comes to the charge of scientism. Bruce over at Thinker's Podium also defends Dawkins against the charge of scientism. He does this by presenting a clip of Dawkins' talking, and adding, "Richard Dawkins, as I've mentioned, is commonly accused of logical positivism and scientism. I defy you to watch the part from three minutes onward and tell me that Richard Dawkins thinks that science is the best way to explain everything." His argument appears to be that since, in the clip he presents, Dawkins says some things that are not compatible with scientism, it follows that Richard Dawkins does not employ scientism. This is effectively the same defence of Dawkins that Stephen Law used as well, but it's obviously not true. It is the logical equivalent of saying that a man could not possibly be racist in spite of the fact that he kills Jews (and only Jews), because he has gone on record stating that all people are equal.
It's clear enough that a person's statements that defy a particular outlook do not demonstrate that they never take that outlook for granted in the way they think in another area. The complaint that Dawkins employs scientism is not the same as the claim that he always employs it, or that he consistently employs it, and it's perfectly compatible with the claim that Dawkins doesn't even realise that he employs or assumes it. It is merely a complaint that he does in fact employ it. Bruce likens Dawkins' stance that gets him accused of scientism to the work of Daniel Dennett, "straddling science and philosophy." This is a fundamental misunderstanding of the complaint about Dawkins and scientism. The complaint is not that Dawkins – a zoologist – comments on philosophical issues. Anyone is entitled to do that, whether they are a zoologist, a pharmacist, a virologist, an art historian, a web programmer or a bricklayer. The problem of scientism that people accuse Dawkins of getting tangled up in is the assumption that the methods of his own field – the physical sciences – are properly suited to answering the questions of another field, like theology or philosophy.
Bruce's comments that follow, I think, suggest that the real concern is that he feels that Dawkins is so widely regarded as a poor philosopher because there's actually a prejudice against scientists who get involved in philosophical issues, "As if one can't be multi-disciplined!" But scientists needn't have this fear. That is not the reason that philosophers have shown disdain for Dawkins' endeavours in philosophy of religion. For one, it would be a mistake to call Dawkins multi-disciplined if by that we mean that he's qualified to talk about religion and philosophy in the same way that he's qualified to talk about biology. He has higher degrees in biology, but as far as I know he has no qualifications at all in philosophy. A serious concern with Dawkins' work on religion (and a relevant one here) is the suspicion (given Dawkins' lack of qualifications in philosophy and theology) is that Dawkins is merely assuming that his success in science somehow qualifies him to address religious questions. This of course is seen as a manifestation of scientism itself, the assumption that as a scientist Dawkins is qualified to address all questions of fact. But setting the question of being multi-disciplined aside, the problem (or at least the one problem that I'm focusing on in this post) really has been that Dawkins has employed something that looks exactly like scientism, even if he has elsewhere decried scientism or not acted consistently with it.
Alister McGrath, the man who raises the ire of so many defenders of Dawkins, describes the practical assumption of scientism thus:
Science is the only reliable tool that we possess to understand the world. It has no limits. We may not know something now – but we will in the future. It is just a matter of time.

The Dawkins Delusion: Atheist Fundamentalism and the Denial of the Divine, 35.
According to the Internet Ecyclopedia of Philosophy, "According to scientism, empirical science is the only source of our knowledge of the world (strong scientism) or, more moderately, the best source of rational belief about the way things are (weak scientism)."
But scientism has got to be wrong. I'm not talking about the fact that there are disciplines where the scientific method can't help us much because there are no real factual propositions at stake: things like the appreciation of beauty; art, music, drama and the like.1 In particular I'm thinking of philosophy: questions about the legitimate limits of science, questions about logical inference, questions about justice and human rights, questions about metaphysics (philosophical assumptions that often underlie science itself). The sciences don't supply the answers here, and it's not because we aren't very good at science. It's because the answers to questions in these areas simply don't lie within the domain of science.
Another such question that people often say is outside of the domain of science is whether or not God exists. There are, of course, arguments for God's existence that contain elements that do fall within the domain of science; claims about the biological complexity, claims about cosmology that contribute to, say, arguments from the beginning of the universe, arguments about, say, chemical analysis of the Shroud of Turin and probably others. But arguments such as the moral argument for theism, or philosophical arguments about causation and the beginning of the universe, or transcendental arguments for theism; these simply do not intersect with the physical sciences, so it would obviously be a mistake to treat them like arguments with scientific answers.
So is Dawkins guilty of scientism?
Eric over at Dangerous Intersection draws attention to an interview in which Dawkins was asked about instances when science doesn't seem to be able to provide an answer to a given question of fact. Dawkins says:
There are two ways of responding to mystery. The scientist's way is to see it as a challenge, something they've got to work on, we're really going to try to crack it. But there are others who revel in mystery, who think we were not meant to understand. There's something sacred about mystery that positively should not be tackled. Now, suppose science does have limits. What is the value in giving the label "religion" to those limits? If you simply want to define religion as the bits outside of what science can explain, then we're not really arguing. We're simply using a word, "God," for that which science can't explain.
It should stand out at once that Dawkins is manifesting a basic misunderstanding about religious belief (or at any rate, the religious belief that many of us have). He assumes, it appears, that religious belief is held as a sort of stop-gap; a belief held to explain things that are currently mysterious to us. Doubtless some religious beliefs are of this sort, but to suggest that religious belief per se is all like this is just silly, and an obvious misrepresentation. Dawkins persists elsewhere with an even more ludicrously stated version of this caricature:
Is science having a little difficulty explaining X? No problem. Don't give X another glance. God's infinite power is effortlessly wheeled in to explain X (along with everything else), and it is always a supremely simple explanation because, after all, there is only one God. What could be simpler than that?

The God Delusion, 149
Rhetorical balderdash like this is exactly why Dawkins' forays into philosophy of religion are widely regarded as having more comedic than educational value. But let's get back to the earlier comment on questions that science cannot answer.
Have a look at what he says about the idea that there are questions of fact that science doesn't have an answer for. He says that "the scientist's way is to see it as a challenge, something they've got to work on, we're really going to try to crack it." The obvious assumption here is that for any question of fact that science does not currently have the answer to, we should assume that it is nonetheless an answer that is within the domain of science. This is scientism.
Scientism is also found peeping through in Dawkins' various comments on religion in his books. A clear example is to be found in The God Delusion when discussing "the God hypothesis." First, he distinguishes between two types of agnosticism: Temporary Agnosticism in Practice (TAP) and Permanent Agnosticism in Principle (PAP). His concern is to ask which, if either, of these stances is appropriate when it comes to asking whether or not God exists. The latter stance (PAP) is the kind that we might properly take on issues where the answer cannot be obtained via the scientific method. The former (TAP) applies in cases where the answer is one that science can, in principle, provide, even if scientists don't yet know what the answer is. For example, once upon a time we couldn't find out about the chemical composition of stars, but now we can. TAP was thus a sensible stance to take before we obtained this knowledge. Some people have said that on the God question, we can never use the scientific method to know whether or not God exists, and also that PAP is the right stance to take. Dawkins does not share this view. Here is his summary:
The view that I shall defend is very different: agnosticism about the existence of God belongs firmly in the temporary or TAP category. Either he exists or he doesn't. It is a scientific question; one day we may know the answer, and meanwhile we can say something pretty strong about the probability.
And there it is: God either exists or he does not exist. It is a question of fact and therefore it is a scientific question. This, in spite of the cries of Dawkins' defenders, is scientism – the assumption that all questions of fact can be arbitrated by science.
Perhaps this is an opportunity for Dawkins' fans to come to the defence of scientism. I wouldn't want that task, but it's a (reasonably) free world. Or perhaps this is an opportunity for Dawkins to simply say "OK look, I misspoke. I renounce scientism, and I was mistaken to suggest that all questions of fact are questions that fall within the domain of the sciences." That too would be fine. But it is no good – and really only harms Dawkins' cause – for his supporters to attempt to re-write the record and suggest that Dawkins did not say these things. He did. Richard Dawkins has indeed employed scientism.
Glenn Peoples
Whether or not there really are factual matters at stake in these disciplines is a good question, but I will ignore it here. [↩]