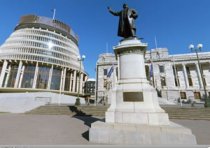 If you spend your own money supporting or criticising a political candidate, your political opponents get to know where your family lives. Nice.
The Electoral Finance Act 2007 was a real bone of contention when the Labour Government introduced it. The long and short of it was this: It was a way of preventing private citizens and groups from spending however much of their own money they like to encourage people to support political parties or their policies leading up to an election. The Act made it illegal for any person or group "to spend more than NZ$12,000 criticising or supporting a political party or taking a position on any political matter, or more than NZ$1,000 criticising or supporting an individual member of parliament, without first registering with a state agency, the Electoral Commission." That registry is public information and can be read by anyone. If you spent $1,001 criticising the Prime Minister leading up to an election, her supporters, whether politicians, union bosses or common thugs (Helen Clark was Prime Minister at the time) would know who and where you were.
That alone is fundamentally wrong in a free society. But what's worse, the Bill limited private spending to $60,000 – although this was increased by recommendation of a Select Committee to $120,000 before becoming law. It may be your money, and your opinion, but how much of it you can use was not your decision. This was a clear free speech violation.
Thankfully, the Act was repealed in March 2009.
Not so thankfully, those experts in tinkering with things until they break otherwise known as Government Ministers are at it again:
Justice Minister Simon Power has just announced changes to the laws governing campaign spending during elections, and details of next year's referendum on the MMP electoral system.
Under the changes, people who spend more than $12,000 on parallel campaigning will have to register with the Electoral Commission. The register will be publicly available.
But unlike under the previous Electoral Finance Act, which was repealed by National last year, parallel campaigners such as unions – or the Exclusive Brethren – will not be limited to spending $120,000 during the campaign.
Is it better than the Electoral Finance Act? Yes, but let's not get carried away. It is not generous to allow people to spend their own money expressing their political viewpoint. They should have that right without any dispute. Not limiting that right in this case simply amounts to refraining from injustice. But why impose any injustice at all? Why make people who want to advertise political values tell everyone else who and where they are? Not to keep them honest, for there are already laws in place against false advertisement. Why then?
What is more, "the Government has rejected proposals that would have allowed third parties to advertise on television or radio during campaigns." Just so that you realise that this is as bad as it sounds: Private businesses and private individuals are forbidden by the government from doing business involving the expression of political values during election time.
It's like dumping Heroin and taking up Cocaine. Arguably not as bad, but why would you?
Glenn Peoples