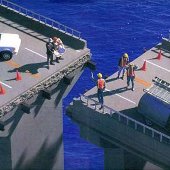 Do believers in a divine designer really believe in a God of the gaps?
Some opponents of intelligent design say that because it draws on what is in their view an inevitably theological explanation, it must be a kind of "god of the gaps" way of reasoning. One such critic says that "A theory such as ID posits what is pejoratively known in philosophy as a 'God of the gaps': in short, it slots the concept of a God into any feature of existence which science or reasoning cannot explain (for the moment)." Proponents of intelligent design maintain that this is a mistaken analysis of their position. Which of these two competing claims is correct does not interest me here. The point is that once a person is found guilty of using "god of the gaps" argument, they are at fault and should withdraw their argument. That much at least is accepted by proponents and opponents of Intelligent Design. What does interest me, however, is the way that some (but surely not all) opponents of belief in God may be tempted to read far too much into the objection that someone is using a god of the gaps mentality.
Let's imagine that the following is true: God does not intervene in the world. Once upon a time people who were more ignorant than we are thought that gods, angels, demons, spooks or spiritual forces lurked behind everything that we didn't have a handy natural explanation for (like comets or volcanoes). But in fact, this is all god of the gaps reasoning, and God doesn't intervene in nature at all. Never. There is a true natural account for everything that goes on in the universe that we know of.
If you don't think that's true, relax. We're imagining, OK? I don't think that the above is true, since I'm one of those crazy people who thinks that at least some miracles have taken place. But let's suppose that the above account were true. Here's where things take a step off the cliff of logic. Take the above account, and then add the following statement: "Therefore, since God isn't required to explain any phenomenon, we have no need of the God hypothesis at all, and we have as good as shown that he need not be thought to exist." God, some have said, can now be treated as a redundant hypothesis that explains nothing at all. Nothing.
This is where things turn pear shaped. Often I think that people who are very good at the work of science should stick to science and not venture out into metaphysics (I'm sure this is by no means true of all scientists, many of whom might be quite good philosophers too). This is what can happen when such a venture goes wrong.
I came across an eloquent and succinct rebuttal to this line of reasoning against theism the other day, drawing on the example of the Ford motor car. It comes from John Lennox:
Science has been spectacularly successful in probing the nature of the physical universe and elucidating the mechanisms by which the universe works. Scientific research has also led to the eradication of many horrific diseases, and raised hopes of eliminating many more. And scientific investigation has had another effect in a completely different direction: it has served to relieve a lot of people from superstitious fears. For instance, people need no longer think that an eclipse of the moon is caused by some frightful daemon, which they have to placate. For all of these and myriad other things we should be very grateful.

But in some quarters the very success of science has also led to the idea that, because we can understand the mechanisms of the universe without bringing in God, we can safely conclude that there was no God who designed and created the universe in the first place. However, such reasoning involves a common logical fallacy, which we can illustrate as follows.

Take a Ford motor car. It is conceivable that someone from a remote part of the world, who was seeing one for the first time and who knew nothing about modern engineering, might imagine that there is a god (Mr Ford) inside the engine, making it go. He might further imagine that when the engine ran sweetly it was because Mr Ford inside the engine liked him, and when it refused to go it was because Mr Ford did not like him. Of course, if he were subsequently to study engineering and take the engine to pieces, he would discover that there is no Mr Ford inside it. Neither would it take much intelligence for him to see that he did not need to introduce Mister Ford as an explanation for its working. His grasp of the impersonal principles of internal combustion would be altogether enough to explain how the engine works. So far, so good. But if he then decided that his understanding of the principles of how the engine works made it impossible to believe in the existence of Mr Ford who designed the engine in the first place, this would be patently false – in philosophical terminology he would be committing a category mistake. Had there never been a Mr Ford to design the mechanisms, none would exist for him to understand.

It is likewise a category mistake to suppose that our understanding of the impersonal principles according to which the universe works makes it either unnecessary or impossible to believe in the existence of a personal creator who designed, made, and upholds the universe. In other words, we should not confuse the mechanisms by which the universe works either with its cause or its upholder.

John C. Lennox, God's Undertaker: Has Science Buried God? (Oxford: Lion, 2007), 43-44.
Comments are welcome.
Glenn Peoples