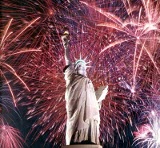 The 4th of July is American Independence Day, on which Americans celebrate the signing of the Declaration of Independence (the Declaration of the Independence of New Zealand is also interesting, but that's for another time). It's one of those days when revisionary political liberals sharpen their pencils and write letters to the editor to try to offset the natural effect that facts have on people. In other words, they attempt to convince people of things that aren't so. When it comes to the Declaration of Independence, perhaps the major thing that secular liberals might want to do is to distract people from what the declaration says – especially all that stuff about God – and to remind people of the supposed fact that in a truly free nation, religion stays out of the public square. Reading the Declaration of Independence pushes any such thought well into the background:
Consider the opening words of the Declaration:
When, in the course of human events, it becomes necessary for one people to dissolve the political bonds which have connected them with another, and to assume among the powers of the earth, the separate and equal station to which the laws of nature and of nature's God entitle them, a decent respect to the opinions of mankind requires that they should declare the causes which impel them to the separation.

We hold these truths to be self-evident, that all men are created equal, that they are endowed by their Creator with certain unalienable rights, that among these are life, liberty and the pursuit of happiness.
The basis of human equality, along with the basis of human rights, is explicitly theological God bestows equal status and dignity upon human beings. From Abraham Lincoln to John F. Kennedy, these sentences have held a place of privilege in many political figures since the time they were written.
Some secular liberals, however, are honest. Yeah I know, try to subdue your shock. Within the literature on political philosophy and the issue of religion in the public square, I've found that – unlike the opinion pages of the local newspaper – there's a tendency to actually deal with reality. Take Martha Nussbaum for example. She doesn't try to re-write history. She accepts the facts of what the Declaration of Independence says, but she's a secular liberal, so she does the honest thing: She denounces the declaration. In fact, since she realises that a thoroughgoing secular outlook has no way of defending the claim, made in the declaration, that all people are really equal, she declares that this too, along with the reference to God, makes the declaration unacceptable in a secular liberal democracy. I don't like her ideas, but I love her honesty.1
Glenn Peoples
Similar Posts:
If you liked this content, feel free to buy me a beer!
Martha Nussbaum, "Political Objectivity," New Literary History 32 (2001), 883-906, especially 896. [↩]