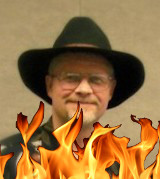 Recently I blogged on what traditional Christian theology says about hell. I cited the examples of Tertullian, Aquinas, Jonathan Edwards and Isaac Watts, all of whom taught in one way or another (Tertullian being the most graphic) that when the saints get to heaven they will derive great happiness and enjoyment from watching the torture of the damned. My point there was that those who claim to hold the traditional Christian view of hell don't realise that this was part of that theology, and would be less likely to state that they affirm the traditional view if they were aware of this aspect of it.
John Loftus liked what he saw, but for quite different reasons:
One belief change of mine that allowed me to pursue my doubts about Christianity was the rejection of an eternal punishment in hell. This doctrine is completely barbaric. It is the biggest stick ever invented by man to keep believers from questioning their faith. Christian philosopher Dr. Glenn Peoples rejects this doctrine too in favor of annihilation, and says why in a recent post. Reject it like he does and you'll be freer to think about your faith.
There's one misconception here, in that I didn't actually offer any arguments against the traditional view and in favour of annihilationism in that post. My reasons for thinking that the traditional view is not biblical and that annihilationism are spelled out in three part a podcast series on the subject (part one is here)
The suggestion appears to be that believers are just too afraid to think critically about their faith, because they don't want to get too sceptical and end up in hell forever. If believers stop teaching eternal torment, then the net result will be that more people will be inclined to give up their faith for lack of fear.
The evidence, however, suggests something very different from what John implies – for Christians and non-Christians, actually. First, here's how Loftus is mistaken on how giving up the doctrine of eternal torment and embracing annihilationism affects Christians. In the first place, holding the traditional view of hell creates exegetical difficulties for a Christian. There are biblical passages and themes that don't make sense and need to be held in tension with much of what the traditional view maintains. The biblical teaching on immortality clearly indicates that immortality belongs to God alone, and that it is not a universal human expectation, but actually waits as a gift that God will gift to his people. This is at odds with the traditional view that everybody will be immortal, and the issue is one of better housing in eternity. Secondly, the biblical message is that God will one day be victorious over evil to the extent that there is no evil anywhere, and everything that exists will exist under God's glorious dominion. Thirdly, Scripture teaches that in some sense Jesus of Nazareth died as a substitute for others, suggesting that the fate that awaited them without salvation was not an eternity of suffering, but death. Fourthly, the way that the Bible directly speaks of the fate of evil is expressly in terms of death, perishing, destruction, being blotted out and the like. What's more, there's a tension between what many Christians believe about the character of God and the doctrine of eternal torment (to say nothing of the idea that God will spring for front row tickets so that we will all get a good view of the proceedings!). My experience with many Christians who have wrestled with – and finally given up – the doctrine of the eternal torment of the lost has shown me that giving that doctrine up is usually something of an intellectual and moral burden being lifted from one's shoulders. Worshipping and serving God becomes easier, not more difficult, once such obstacles to devotion are removed. It's like a child who stops believing that her father is a mob boss. Rather than causing her to doubt her father more than before, she trusts and loves him more than before.
Secondly, the overall influence on the Christian:non-Christian ratio that John seems to expect with the decline of the doctrine of eternal torment among Christians is not at all what he seems to indicate. This theological change is actually one that removes one of the reasons that some people have for rejecting Christianity. As someone actively involved in the promotion of atheism on the internet, John will already be familiar with the objection to Christianity that it teaches a repugnant doctrine, namely that of eternal torment in hell. Torturing people forever is evil, many unbelievers reason, and if Christianity teaches that, then so much the worse for Christianity. Of course, I'm not saying that everyone who thinks this would become a Christian once they realised that the Bible doesn't teach the doctrine of eternal torment, but if there is any movement at all, the removal of one objection to Christianity can only move people one way – towards, rather than away from Christianity.
Wrong though he may be about outcomes, John is welcome to help spread the word on the error of the doctrine of eternal torment.
Glenn Peoples