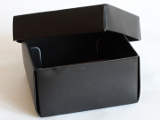 Are you a one-boxer or a two-boxer?
The following scenario represents Newcomb's paradox (non-relevant details may have been changed): I want you to imagine that there exists a person called The Predictor. He predicts human decisions, and has always gotten it right. Due to his legendary status, some say he's a man, others a machine, others an angel. One thing everyone is sure of, however, is that if the predictor predicts that a person will make a particular decision, then you would be smart to bet the house on that decision being made, such is his amazing strike rate.
Now imagine that one day as you're walking along the street, a black van pulls up alongside you, a bag is pulled over your head, and you're bundled inside. The van speeds away as you lose consciousness. When you wake up, you're in a brightly lit room, sitting in a chair, unrestrained, at a table – a bit like one you'd expect to see on the pavement outside a coffee shop. On the table in front of you are two black cube-shaped boxes, each about one litre in volume. You can't see inside them because they have closed lids. They are each labelled with a large white letter. One is A, the other is B. Sitting across the small table from you is a man who you've never seen before. "Hello," says the grey haired man in an old, wise sounding voice. "Allow me to introduce myself. I'm the predictor. And as for these boxes you see here, you can keep either both of them, or, if you prefer, just box B. The reality is, of course, that I already know which option you'll pick. I predicted it, you see, and I've never been wrong before. Remember, I'm the predictor!"
"You've never been wrong before? Wow… can you see the future?" You ask. "No, not as such," he replies. "What I offer are predictions about things that I haven't seen. They are forecasts. My prediction about which box or boxes you will choose isn't based on me having been told by God, or through having a magic window on the future. I'm just a very, very, very good predictor."
You're convinced, but still a bit stunned by the whole experience. You ask "What's in the boxes?" He replies, "Why, money of course. I chose how much money to put into them based on my prediction about which option you would choose. Box A contains one hundred dollars, you can be quite certain of that. As for box B, listen very closely: If I predicted that you would choose boxes A and B, then I didn't put anything in box B. It's empty. If, however, I predicted that you would choose only box B, then it contains one million dollars.
A million dollars sure sounds nice. So, which option should you choose – Box B, or both boxes? And why would you make that choice? I'll wait for a few people to answer before I say any more.
Glenn Peoples