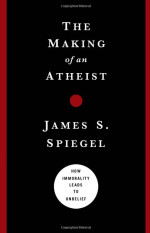 James S. Spiegel, The Making of an Atheist: How Immorality Leads to Unbelief (Chicago: Moody, 2010), 141 pages including notes.
One of the most endearing features of James Spiegel's new book, The Making of an Atheist, is that it is quite short. You might think I'm kidding, or that this is a slight on the quality of the book (which is excellent, actually). It's not. Dr Spiegel has some points to make, he makes them, and then he's done. This is how I think all good Christian scholarship should be done (actually this is how all scholarship should be done, whatever the cause in which name it is done). It doesn't take long to see what he's getting at, it's not hard to grasp, and once you've appreciated the point, you are allowed to leave, better off for having invested a relatively short amount of precious time.
But brevity is (fortunately) not the only feature of this intellectually compelling and eminently enjoyable read. Spiegel is a Christian writing on atheism, so it's natural to assume that his goal is to show that atheism is false. However, that atheism is false is not the thesis of this book. Yes, the author reveals that he does think that atheism is false, and yes he also gives some reasons for thinking that it is false (just as those engaged in the science of religion might also offer their own reasons for thinking that this or that religious belief is false), but to fixate on that at the expense of the book's overall theme would be to miss the point. The subject of the book is the fact that once we get past the idea of people being intellectually compelled to believe atheism on the grounds of rational argumentation (which is actually a rare phenomenon) there are, from a Christian perspective, identifiable causes of atheism that are both biblical and very often readily identifiable in practice. One of those major causes is the sinful desire for moral autonomy from God, and in particular the desire to engage in a sinful lifestyle (that is, a lifestyle marked by a rejection of the ethical mores of commitment to obeying God).
I know what a number of people (in particular, atheists, who are after all the subject of the book) will say – and have said – about this thesis. It is, some believe, an ad hominem attack against atheism. It is such an attack, we might be told, by virtue of the fact that instead of attacking the truth of atheism, the author instead casts aspersion on the character of those who are atheists. Having actually read the book, I can say with some confidence that to dismiss it for this reason would be a fundamental mistake.
Just over a month ago at my alma mater, the University of Otago, there was a conference on the idea of a "unified science of religion."Why would we want such a thing? It is because, so we are told, "The belief in gods, demons, and other supernatural agents is a persistent feature of human culture, which cries out for explanation." The proposed explanations in what goes by the name "science of religion" have nothing to do with whether or not beliefs are true. They assume, actually, that people do not hold religious beliefs as the result of a truth aimed belief forming process. People might say that they have this or that reason for being religious believers, but If we're going to be really scientific about it, we're told, we need to look past such self-description and look for the causes of (not the "reasons for") religious belief.
For some reason it never occurs to psychologists or philosophers engaged in the science of religion to suggest that their approach is an ad hominem one, let alone one that engages in the genetic fallacy of assuming that a belief or set of beliefs can be dismissed or shown dubious because of the factors that might give rise to such beliefs. Yet if an enterprise like this is not guilty of engaging in such fallacious tactics, then neither can anyone fairly claim that Spiegel's work is fallaciously attacking the truth of atheism. The fact that the causes that Spiegel identifies (again, from an unashamedly Christian and biblical standpoint) are distasteful to many does not change this.
On the phenomenon of Christians actually walking away from the faith and deciding that atheism is true, Spiegel's observations match my own and – I am assuming – the observations of many others. He writes:
Over the years – three decades since my conversion in 1980 – I have witnessed the descent into atheism tragically played out in the lives of several friends of mine. Invariably their "change of mind" about God was precipitated by some personal rebellion. The path has been roughly the same in each case: moral slippage of some kind – involving, for example, infidelity, resentment, or unforgiveness – followed by withdrawal from contact with their fellow believers, followed by growing doubts about their faith (sometimes involving reading some of the new atheists), accompanied by continued indulgence in the respective sin, culminating in a conscious rejection of God. As this pattern would unfold, the anger and bitterness would also grow, both toward God and those who continued to believe in Him.
I've seen it enough times to recognise the pattern as undeniably real.
Spiegel's concern is of course not just those who have walked away from the faith. The book also contains penetrating discussions of the culture of unbelieving academia, especially in the social sciences. From sociological claims about other cultures (cultures that few westerners at the time, conveniently, could challenge due to a lack of widespread knowledge) used to bolster the credibility of moral relativism – claims that turned out to be patently false, through to ethicists who argued for a godless and consequently an "undogmatic," rule-free universe (one that, surprise surprise, just happened to coincide with the sort of morality, especially sexual morality, that those same thinkers appear to live according to), the evidence based observations are surprisingly acute (I say surprisingly only because I wasn't really sure what type of arguments Spiegel would make in his book, and for one reason or another, an examination of the personal lives of philosophers was not what I expected). Ironically, although Sigmund Freud's famous analysis of religion as wish fulfilment is viewed as a way of undermining religious belief by offering a non-truth-aimed account thereof, there is no reason at all that the same analysis cannot be turned on atheism.
Writing from an unabashedly Christian perspective – and basically writing for a Christian audience as well (although I am certain that it at least deserves a wider readership than this), Spiegel also marshals some fairly traditional – yet in my view quite sound – biblical explanations of atheism as rebellion against God and rejection of God's laws, to the point where God delivers people over to just the sort of sinful living that they desire.
Finishing the work on a positive note – and refreshingly so, given that the rest of the work is negative (and appropriately so) in outlook – the work finishes with a discussion of the benefits of theism, and not merely the spiritual benefits. If theism (and let's face it, the author has Christianity in mind) is true, then from a Christian perspective, Christian faith has a positive impact on the way that we think about a whole range of issues, and not just about theology, to say nothing of the way it affects the way we live.
I don't want to attempt to reproduce the author's arguments at any length, so I won't try to explain them any further than this. Spiegel succeeds. He presents a strikingly reasonable case that atheism, while often defended in terms of intellectual reasoning, is generally caused by much less "rational" forces (by which I do not mean "stupid," but rather arising other than through intellectual reasoning). Rebellion and the desire to indulge in sin and moral freedom is the chief culprit.
My gripes are very few, and certainly did not detract from the arguments employed. Yes, he draws on a highly implausible (albeit popular) translation of 1 Corinthians 2:14. Yes, sometimes his comments about why atheists are atheists seem a little sweeping (e.g. sometimes he gives the impression that he thinks all atheists have bad or no relationships with the fathers, even calling this a "necessary" condition (!!!) at one point, surely a slip of the pen), in spite of his caveats in other places that there are exceptions. But a brief and to the point work, lacking a thousand qualifications, often has drawbacks like this. I consider the payoff to be well worth it.
My thanks to Jim for arranging the free review copy. 🙂
Buy The Making of an Atheist from my favourite online bookstore, the Book Repository.
Glenn Peoples