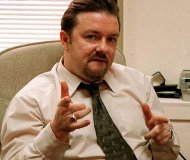 Ricky Gervais has given us all a cheery holiday message about why he's an atheist.
People who believe in God don't need proof of his existence, and they certainly don't want evidence to the contrary. They are happy with their belief. They even say things like "it's true to me" and "it's faith". I still give my logical answer because I feel that not being honest would be patronizing and impolite. It is ironic therefore that "I don't believe in God because there is absolutely no scientific evidence for his existence and from what I've heard the very definition is a logical impossibility in this known universe", comes across as both patronizing and impolite.
Arrogance is another accusation. Which seems particularly unfair. Science seeks the truth. And it does not discriminate. For better or worse it finds things out. Science is humble. It knows what it knows and it knows what it doesn't know. It bases its conclusions and beliefs on hard evidence -­? evidence that is constantly updated and upgraded. It doesn't get offended when new facts come along. It embraces the body of knowledge. It doesn't hold on to medieval practices because they are tradition. If it did, you wouldn't get a shot of penicillin, you'd pop a leach down your trousers and pray. Whatever you "believe", this is not as effective as medicine. Again you can say, "It works for me", but so do placebos. My point being, I'm saying God doesn't exist. I'm not saying faith doesn't exist. I know faith exists. I see it all the time. But believing in something doesn't make it true. Hoping that something is true doesn't make it true. The existence of God is not subjective. He either exists or he doesn't. It's not a matter of opinion. You can have your own opinions. But you can't have your own facts.
There are a few claims here:
People who believe in God say (of their belief in God) things like "it's true to me."
Ricky Gervais has heard that the definition of God is a logical impossibility
There is no scientific evidence for God
Science seeks the truth (and by implication) finds out the truth about whether or not God exists. Since there's no scientific evidence that God exists, God doesn't exist.
I don't know what it is about an endearing comedian (or actors generally, I've noticed) that makes people treat their comments on religion, politics and the environment as though they should be listened to. I'm reminded of the pretension of the Film Actor's Guild in Team America: World Police. But if Gervais's comments here are anything to go by, he doesn't offer anything that isn't provided by scores of internet message board inhabitants on a daily basis.
First is the suggestion (echoed elsewhere by Christopher Hitchens) that theists say of their belief that "it's true for me." It may not be true for you, but it's my truth, whatever yours might be. I'm never really sure where this myth came from – that believers in God accept some sort of relativism when it comes to the truth. This is the idea that Christians allegedly think that all sorts of conflicting outlooks can be true – true for the people who believe them, anyway. But this comment from Gervais is not aimed at the truth it all. On the contrary, it's a ridiculous straw man. It is in conservative Christianity more than any other place that I have encountered the strongest opposition to exactly this type of relativism – so much so that evangelicals are frequently dismissed as "absolutist" or "dogmatic." Whatever phenomenon Gervais thinks he is commenting on, Christians can simply ignore it.
Second, Ricky Gervais has heard (where he heard it, we're not told) that the definition of God is a logical impossibility. He doesn't give any reasons for thinking that this is a good definition, he simply tells us that he's heard it. But so what? I've heard a lot of things. In fact I've even heard that God, far from being impossible, is a necessary being. So Mr Gervais has heard one thing and I've heard the opposite. Perhaps we should arm wrestle to decide who's right? This kind of hearsay argument hardly inspires confidence.
Third, fourth, and fifth, and in spite of repeated and rather desperate sounding denials on the part of some atheists, Gervais spells out and endorses scientism, the view that science is the only way to know anything at all. If there's no scientific evidence (that is, no physical proof) that God exists, then that means he doesn't exist – a premise that stands or falls on the assumption that only things that are physically testable can exist, which plainly begs the question when used as part of an argument for atheism (to say nothing of being a rather obvious argument from alleged silence).
This stuff will, no doubt, be quoted by armchair atheists as serious, crushing and worthy reasoning that Christians everywhere just ignore, or can't answer. And that really is comedy gold. And tragedy at the same time.
It's interesting to read Gervais's own account of how and why he became an atheist:
But anyway, there I was happily drawing my hero when my big brother Bob asked, "Why do you believe in God?" Just a simple question. But my mum panicked. "Bob" she said in a tone that I knew meant, "Shut up." Why was that a bad thing to ask? If there was a God and my faith was strong it didn't matter what people said.
Oh … hang on. There is no God. He knows it, and she knows it deep down. It was as simple as that. I started thinking about it and asking more questions, and within an hour, I was an atheist.

Wow. No God.
This strikes me as the norm, to be honest. When telling us why he's an atheist, Gervais told us earlier that it's because of scientific and logical considerations. But this is simply not true. He's flattering himself, and those are not the reasons he became an atheist. He adopted atheism for no scientific or logical reason at all. The move was impulsive and grounded entirely in personal relationships. He realised that other people didn't believe, so he no longer believed. In giving what he thinks are scientific reasons, Gervais is rationalising a position that he adopted long before science or logic entered the picture – more or less the same thing that Christians are frequently accused of doing.
Mr Gervais, you're a very talented and funny man. Please stick to the comedy. Thanks.
Glenn Peoples