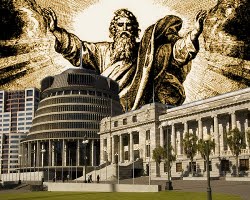 A Godless Public Square: Do "private" religious beliefs have a place in public life?
On Wednesday the 3rd of August 2011 I'll be taking part in a panel discussion on religion in the public square, tackling the issue from the standpoint of theology, philosophy and law. Joining me will be my good friends Matthew Flannagan (theology) and Madeleine Flannagan (law).
The kind of questions that we'll be exploring will include:
– Is it ever right for Christians to impose their 'private' religious beliefs onto others?
– Is it really religiously neutral to insist the public realm be secular?
– How does the idea that religion should be private mesh with freedom of religion and expression laws?
The evening will be held at the University of Auckland. It's free to the public, and although all three speakers will be bringing their own areas of expertise to bear on the issues, this is not an academic lecture, and it will be aimed at a broad audience. For more details (including the precise location on campus), check out the Facebook page for this event, which  is HERE (at the time of writing, this page was still private, but will be public soon).
If you'll be in the Auckland area on the 3rd of August, mark this event on your calendar. I hope to meet you there, and spread the word!
Glenn Peoples