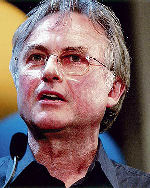 I know, I know. Pointing out that Richard Dawkins bungles the relationship between science and religion is a bit like shooting fish in a barrel. Next to getting confused about what arguments for religious belief actually say, he has built the latter part of his career on the practice of being wrong about the relationship between religion and science. Still, it's worth noting the occasions where he does this if only for the purpose of serving as a voice of reason against the choir of adoring Dawkinites.
The late Steven Jay Gould described the relationship between religion and science with the acronym NOMA: Non-overlapping magisteria. They are completely separate fields. Science investigates purely natural phenomena, and religion asks – well, religious questions; questions about theology, about God, about questions about subject matter that's not part of "nature." I'm not agreeing or disagreeing with Gould, just setting the scene, as Dawkins' comments are given as his reason for rejecting NOMA. He has to reject it, of course. Richard Dawkins holds a view that is sometimes derisively called "scientism," the belief that science is the proper way to investigate all questions of fact. If it's a fact, then it's something for science to investigate.
Now, here's what Dawkins has to say about NOMA:
To see the disingenuous hypocrisy of religious people who embrace NOMA, imagine that forensic archeologists, by some unlikely set of circumstances, discovered DNA evidence demonstrating that Jesus was born of a virgin mother and had no father. If NOMA enthusiasts were sincere, they should dismiss the archeologists' DNA out of hand: "Irrelevant. Scientific evidence has no bearing on theological questions. Wrong magisterium." Does anyone seriously imagine that they would say anything remotely like that? You can bet your boots that not just the fundamentalists but every professor of theology and every bishop in the land would trumpet the archeological evidence to the skies.
Either Jesus had a father or he didn't. The question is a scientific one, and scientific evidence, if any were available, would be used to settle it.
Whether you're a theist or an atheist, this should make you cringe.
Of course a proponent of NOMA would accept scientific evidence that Jesus was born of a virgin and had no father. Why wouldn't she? This is not a religious claim in the sense that NOMA is concerned with, because it establishes a natural state of affairs. Women, unborn children, absence of fathers – these are all objects or states of affairs that exist in the natural universe that could, in principle, be discovered by natural investigation.
Discovering this state of affairs (that a woman gave birth while she was a virgin and without a human father involved) is just that: discovering a state of affairs. This is not an explanation for how this state of affairs came about. The same is true of the resurrection of Jesus. People like Gary Habermas, Michael Licona or William Lane Craig who defend the resurrection of Jesus claim that there is evidence for certain historical facts: The existence of Jesus of Nazareth, his crucifixion, his death and burial, the empty tomb, the subsequent belief on the part of his followers that they had encountered him alive again, and their testimony and willingness to suffer for this belief. It's clear at once that these are all states of affairs in the physical universe, and there is no reason at all why a proponent of NOMA would not accept evidence for those states of affairs.
What a proponent of NOMA would say is that scientific methods can only discover that these states of affairs were real – or at least likely to be real. Such methods cannot, a proponent of NOMA would maintain, claim that the physical sciences have shown that the explanation is divine. And they are right. Dawkins has confused the physical circumstances in need of an explanation with the explanation itself, which is a basic category error.
Glenn Peoples