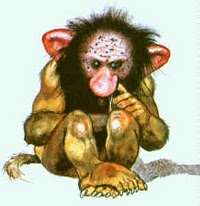 Hi Glenn!
Sitting here at my keyboard, in isolation from the rest of the world, I have come up with the ultimate argument against all religious belief – especially Christian belief. I have not consulted history to see if anyone has addressed this question before. I have not read any contemporary literature on the subject to see if anyone is currently addressing the issue. I have not spent even two minutes wondering how somebody might respond to it. Not that I really want there to be a response to it, but that's not the point.
The first step in the argument is OMG. These people actually believe in a sky daddy (yes, they believe he is a man and that he also lives in the sky). How childish and stupid.
The second step in the argument is also OMG. They also believe in zombies. They say Jesus rose from the dead! That's exactly like a zombie. Now I know, it's not like any of the zombies in movies or books about zombies, because zombies in movies in books aren't actually alive, they're just reanimated. And they're decaying and stuff, and they eat brains and a bunch of other stuff that makes them nothing like a resurrected person. But here's the thing: It's a lot funnier if I describe Christian belief as belief in zombies. And any attempt to take away my fun is just superstition and rationalising. The point is, I use the word zombie to refer to a person whom God has raised from the dead. So Christians believe in "zombies." Haha! They believe in zombies!
The third step in the argument is EW. Christianity is bad. Christianity has tortured, raped and and butchered more people in the world than anything else. Anything. And if atheist people and movements, when they arose in large numbers, caused disproportionately more suffering per capita by a factor of tens of thousands, that just proves that they were really following some sort of religion. And if someone challenges me on the facts of what I say about what Christianity has done, although I technically haven't "studied" the historical facts in any sort of detail, it's obvious that any such challenges are a defence of torture and killing in God's name. All this blather about studying history is a way of putting up a smokescreen. The fact is, millions and millions of Christians killed, maimed and tortured because they thought their sky daddy told them to (and did I mention that they believe in zombies).
And then there's the Bible. OMG LOL the Bible. Talking snakes! And… talking snakes! And there's utter carnage and slaughter on every page. Their god virtually drinks the blood of his enemies and encourages men women and babies to strangle their enemies with their own guts and butcher entire civilizations without so much as batting an eyelid. Now I know, those brainwashed fundies reply, talking about "genre," and about being willing to "read ancient documents in their literary and historical context," and "learn to pick up on clues in the text itself that a certain passage is deliberate hyperbole," and they even tell me that I've misreported what the bible says at times. But whatever! As if I need to invest time and study in learning about fairy tales! I don't need to study that nonsense to know that it's nonsense. I know what it all means because… if it didn't mean this then I couldn't sneer like this. I know exactly what's right and wrong, and unless the Bible says that everything I believe about morality is true, then it's a sexist, homophobic, gharish monstrosity of evil.
Speaking of ethics, all sorts of people claim to know the right thing to do based on what their god says. Even people who blow themselves up and kill people believe that. Therefore if you believe that morality is based on what god says, you believe in suicide bombing. And you also believe in relativism, since "god" justifies all sorts of relatively different practices, and since they aren't all objectively the same, you have to believe that morality is relative and not objective. I believe in a secular basis of morality. Sure, some people who don't believe in any gods also end up doing awful things, but you can't attribute that to me. Not every atheist is the same you know. We all believe that there are objective moral facts, it's just that I believe the facts are different from what some other atheists believe. That's not what relativism is. Learn what relativism really is! And don't talk to me about being ignorant of how all these issues are addressed in "the literature." That's bluffing. I know a good argument when I see one, and I'm looking at one right now.
And speaking of morality again, ugh, those Christians when it comes to abortion. Those pro-lifers are so scientifically illiterate and deliberate liars. Everyone knows that the embryo is part of the mother's body and so it's a choice for the woman to do what she likes with her body. Nobody should tell another person what to do, so I'm telling those pro-lifers to shut up and stay out of it. They're entitled to think that abortion is unjustifiable homicide, but believing that something is unjustifiable homicide is no reason to try to have the law changed to stop people doing it! You're just a bunch of men trying to control women. Apart from those of you who are women. And forget the male celebs who support us. And why SHOULD she force me to be a father just because I wanted a little action? Control freak…
And last but not least, I conclude my powerful and unanswerable argument by noting that since the rate of child abuse within the Catholic church by clergy is about the same as the rate of child abuse among the public, there's almost certainly no God and you all support child abuse if you point out any statistical information to me. Any. At all. Ever.
I came up with this argument and therefore it's awesome and there is no answer to it. You believe crazy stuff and LOL @ your religion. Who am I? I'm the online skeptic who visits your blog and wastes you with my awesome logic.
[new person]
And I am also a sceptic who does not know the above person, but who wants you to know that sometimes Christians' computers incorrectly show the people having the same IP address when they don't really. Trust me. I just want to say that the above poster is right. I was blown away by the power of his logic. You Christians believe in sky daddies and zombies and slasher gods and you support suicide bombing and harrassing innocent women and abusing babies. LOL at you.
[new person]
Yeah, that IP address issue is common that's true. And poster #1 is so right. Amazing argument dude. I'm looking forward to seeing how the Christians will try to back paddle now! It will be very telling if they don't get back to you.
====
Yes. Inspired by actual events.
EDIT: I should have added, feel free to add you own examples, but only if they are based on actual encounters.