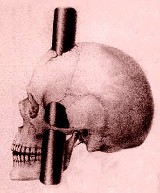 Do brain-probing experiments show that substance dualism is true?
According to philosopher J P Moreland, the findings of neuroscience show – tentatively at least – that substance dualism is true and all forms of physicalism are false. Specifically, he says that the science of the brain shows that consciousness is not and cannot be the function of physical beings. It shows, on the contrary, that our conscious self is an entity in addition to our physical body. I think it's fair to say that this oversteps the evidence, and some may even say that it flies in the face of it.
In chapter ten of the popular level apologetics book by Lee Strobel, The Case for a Creator, Lee Strobel asks Moreland what evidence there exists that the conscious self is not the physical self. Strobel recalls Moreland's reply as follows:
"We have experimental data, for one thing," he replied. "For example, neurosurgeon Wilder Penfield electrically stimulated the brains of epilepsy patients and found he could cause them to move their arms or legs, turn their heads or eyes, talk, or swallow. Invariably the patient would respond by saying, 'I didn't do that. You did.' According to Penfield, 'the patient thinks of himself as having an existence separate from his body.'

"No matter how much Penfield probed the cerebral cortex, he said, 'There is no place … where electrical stimulation will cause a patient to believe or to decide.' That's because those functions originate in the conscious self, not the brain.

Lee Strobel, The Case for a Creator, 258.
The first comment is this: Penfield's description of what patients think does not seem terribly relevant. Maybe they simply performed awful self diagnosis. Or maybe their belief that they had a conscious self separate from the body is merely Penfield's (or Moreland's) re-description of what they said. Certainly the reaction of "I didn't do that. You did," does not support that explanation. Me grabbing your arm and using it to slap you in the face is comparable to what Penfield did: Exerting a physical cause that has an involuntary effect on your body. Yet this arm-grabbing, face slapping prank hardly warrants the belief that you have an existence separate from your body. At best, it shows that whatever was stimulated, the conscious thing (whatever it is, brain or immaterial soul) might not have been part of the causal chain. But this shows very little.
Maybe the most important thing to note, however, is that any confident appeal to neuroscientific experiments conducted in the early 1950s to settle complex questions of the relationship between brain and consciousness is surprising. Penfield's work was impressive primarily because it was a breakthrough. It was pioneering work that demonstrated the possibility of neural stimulation to achieve a variety of effects. It is hardly realistic to expect that in its first foray into such practices, neuroscience would immediately plumb the depths of everything that is possible in regard to demonstrating the capacity of brain states to influence mind states (indeed even today neuroscience has done no such thing). This is a bit like pointing out that the first user of a microscope in the 17th century did not discover DNA, hence we have a good reason to doubt that it does exist, based on "experimental data."
The fact is that we've learned much about the brain since Penfield's early experiments in neural stimulation, and also quite apart from clinical experiments, we know that a whole range of brain conditions have a fairly direct effect on decision making and belief. Well before Penfield's experiments was the nineteenth century case of Phineas Gage. Gage was a construction foreman who, incredibly, survived an horrific accident in which an iron bar, an inch and a quarter in diameter, was blasted through his head in an explosion, destroying much of the left frontal lobe of his brain (see some neat visuals here). He went on to live, in surprisingly good health, for another twelve years before beginning to have a series of convulsions, which culminated in his death. Although Gage's story has been subject to a variety of exaggerations, Dr John Harlow who observed Gage's case noted significant and persistent personality changes: Changes in the way that Gage thought, believed, decided and acted. His friends took to calling him "no longer Gage." Needless to say, this is a case of significantly more than merely stimulating the brain, but it remains a case where a person's tendency to believe and decide in certain ways is affected by a brain state.
Since that time we have become aware of a range of physiological conditions in the brain that do indeed cause people to think, believe or decide in different ways. These conditions are well known in the literature, and would include examples such as Capgras' Syndrome, Frontotemporal Dementia and others. Additionally, much more recently and in ways more relevantly similar to the work of Penfield that Moreland cites, a report published in Science 2009 called "Movement Intention After Parietal Cortex Stimulation in Humans" is of great interest. Firstly, notice the way that some of the cause and effect observations in this report match those of Penfield:
… during stimulation patient PM1 exhibited a large multijoint movement involving flexion of the left wrist, fingers, and elbow … He did not spontaneously comment on this, and when asked whether he had felt a movement he responded negatively.
So far this does not advance on Penfield's experiments. But then observe:
Stimulation of all these sites produced a pure intention, that is, a felt desire to move without any overt movement being produced… Without prompting by the examiner, all three patients spontaneously used terms such as "will," "desire," and "wanting to," which convey the voluntary character of the movement intention and its attribution to an internal source, that is, located within the self.
Here the conscious self was affected by a physical stimulation of the brain and affected a person's will. Why didn't Penfield's experiments show this happening? Who knows? But the fact that they did not cannot be taken to mean that this cannot happen. Each experiment is an incomplete part of the picture. The findings of each experiment are provisional, taken to be the best we can do for now, but we may always learn more in the future. For this reason alone it is wise not to claim that the effects that researchers have been able to produce in the past are the only effects that anybody will ever be able to produce.
Beyond this, it looks like this attempt to stitch together an evidence-based argument for dualism is somewhat misleading. The impression is given that if Dr Penfield (or anyone else) had been able to stimulate the brain in a way that caused a patient to decide to move his own arm, or been able to show physical conditions in the brain that give rise to beliefs and decisions, then this would count, for Moreland, as evidence that consciousness was somehow brain based. Not so! Elsewhere Dr Moreland addresses the fact that altered brain states do in fact cause people to act (and more importantly, to think) differently. On page 251 of The Case for a Creator, Moreland in his interview with Strobel cites an article by Sam Parnia and Peter Fenwick, melbourne neurosurgeon or doctors who note cases where people have become unconscious, then become clinically dead, then brought "back to life," as it were, and and then when they later regained consciousness they recall having "well-structured, lucid thought processes, with memory formation and reasoning, during the time that their brains were not functioning." Of course, it's not possible to know whether or not those processes occurred while the patients were clinically dead, so it is hard to see how this conclusion was drawn, but the important part is what follows. Moreland takes this to support the view that the consciousness is separate from the brain, although he doesn't offer any specific insights as to how anyone knew that those processes occurred while the patients were brain dead. But notice the way Strobel describes what Moreland proposes:
He speculated that the brain might serve as a mechanism to manifest the mind, much in the same way a television set manifests pictures and sounds from waves in the air. If an injury to the brain causes a person to lose some aspects of his mind or personality, this doesn't necessarily prove that the brain was the source of the mind. "All it shows is that the apparatus is damaged," he said.
I'm not going to offer an assessment of the comparison made here (other than to note that interfering with a TV signal subtracts from the signal, it doesn't create a new signal with a different programme as in the case of some brain injuries and conditions). What I want to draw attention to is the ambivalent role that evidence appears to play in the same chapter. When physical intervention fails to succeed in influencing certain functions (namely of belief and decision), this is treated as significant, giving the impression that we are being open to evidence, being willing to alter our theory if we do see that interference with the brain influences the mind. However, earlier we have been told that even if physical interference with the brain appears to have an effect on the mind, we need not be moved by this evidence since we can find refuge in the view that the brain only picks up signals from the mind, and the mind is not affected by the brain after all.
In any event, we know that intervening in brain activity (whether intentionally or through disease) can indeed have an effect in the mind, bringing about new ways of thinking and acting. Just as Penfield (and perhaps Moreland) ought to have remained open to the fact that new information may always come to light, so too more recent work in neuroscience may need to be revisited as we learn more. It was a mistake, however, to shut the door to the possibility that influences on the brain may affect beliefs and decisions of the mind. Such hastiness, I daresay, is symptomatic of a distinct lack of creativity when one does not want certain possibilities to exist out of fear that they may challenge a theory that one is attached to.
What I think bothers me more than anything else about this is the "package deal" nature of evangelicalism that seems to be manifested in this and other books, articles, sermons, organisations and so on. Non-believing and scientifically well-informed people are going to see the book as standing or falling as a whole (and unfortunately, the case for Christian theism standing or falling with the book), they will see the way this sort of argument for dualism simply fails, and they will conclude – albeit fallaciously – that the case for theism is itself as weak as these arguments. It most certainly is not.
Glenn Peoples