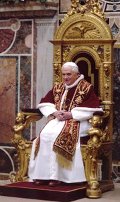 I was raised in the Roman Catholic church. Now, I'm a Protestant. I am most definitely not one of those Protestants who believes that part of apologetics means telling everyone that the Catholic church is evil. I find that flavour of Evangelicalism frankly embarrassing. The truth is that I have a great respect for the Catholic intellectual tradition, in spite of the disagreements I have with the doctrines of that church. I would gladly work with Catholics, fellowship and worship with them, and in fact I'd rather like to work at a Catholic College/University. I wanted to get that out in the open right away. I am an ecumenical Christian, and I cherish the idea that I am part of the catholic (small c, meaning worldwide or universal) Christian faith. Disagreements that I have with Catholics are disagreements among family.
That being said, every now and then I am exposed to a reminder – quite apart from my doctrinal disagreements – of why I could not become a Roman Catholic again. I was having a discussion recently with a friend about the Canon of Scripture – the list of books that are included in the Bible. My friend – a Protestant – was under the impression that the "Apocryphal" books of the Old Testament (called the "deutero-canonical" books by Catholics, when means "second canon") were actually part of the Hebrew Bible, and that is why they ended up in the Septuagint. I was able to point out for him that actually, the apocryphal books gained their separate status in part because they are the ones that appear in the Septuagint but which are not found in the Hebrew Scripture.
Bear in mind – the point that I am getting to has nothing to do with which books actually do belong in the canon of Scripture. For my purposes here, it doesn't matter to me what you think about the answer to that question. This issue just provides the backdrop for what I'm about to say.
We were then joined by a Catholic friend, who proceeded to provide links to Catholic apologetics pages attacking the claim that the apocryphal books were rejected by some of the Church Fathers. The game was on, for someone at least, and the ammunition was being fired as quickly as possible in lists of (very short) quotes. I commented that while strongly interested parties might present smoothed over versions of history suggesting otherwise, it's just not true that there was one consistent list of Old Testament books in the early church, and some church fathers clearly did reject at least some of the apocryphal books. I gave Athanasius as an obvious example. So the evidence just doesn't support the claim that "the Fathers accepted the apocrypha." That claim was false, and I was able to cite a Catholic source candidly admitting this. This doesn't show that the books ought not be accepted of course. It was just a modest historical observation about what the Church Fathers did in fact accept.
But this could not stand, apparently. My Catholic friend, as though compelled by an invisible hand, granted this observation but started listing other authorities that did accept the apocryphal books as canonical, including eventually (naturally) Catholic Councils. Not wanting such lists to go on forever (as no doubt they could), I tried to explain – nobody was denying that many, including now the Roman Catholic Church, did and do accept the deutero-canonical books as canonical. My point was just that there is enough clear historical evidence that nobody can honestly claim anything like "accepting the deutero-canonical books is THE orthodox view." We know this is false, we can see that it is false by looking at the evidence. At very least, this means that if we want to visit the question ourselves, we can't sit back and called it a settled matter, we've got to actually engage our brains and look at the reasons for why those books might be accepted or not accepted.
Here is where the issue rose to the surface. Here is where my Catholic friend said (my summary), "Well, it's at times like this I'm glad that the Church has binding authority, so it can just cut through all the mere opinions and settle the matter."
What just happened here? What happened is this: Somebody initially thought that they could argue a case on the basis of the historical evidence. When it became quite clear that the historical evidence did not show what they had hoped, they effectively retreated from the evidence and said "Well, that wasn't my real argument anyway. I don't even need evidence, because my church has made the decision." He went on to say that this shows just how vital it is that the church does make such binding decisions. After all, if the Church didn't step in and provide clear, final and completely binding answers to this and other questions, we'd be lost in a sea of completely subjective opinion with no way at all of reaching answers!
This is a way of thinking about reason, decisions, seeking answers, assessing evidence, that is anathema to me. I could never ever go back into an environment where this kind of thinking is encouraged. It would mean that I could treat the evidence as essentially irrelevant. It would mean that I would have to adopt a kind of hopelessness in regard to the evidence: I would see all evidence and the tools of reason as leaving me still totally in the dark, with no more than a completely subjective opinion. In an unexpected twist, it would leave me with a kind of relativism, where the facts, the evidence, lead us to a place where nobody's opinion is better than anybody else's, and so we need one, authoritative, binding and final opinion to silence the chaos.
But I am fairly sure that my Catholic friend – and I am absolutely certain that Catholics in general – do not approach life in general this way. They look both ways before crossing the street. They accept that the milieu of scientific facts and opinions does not mean that all theories are equal (and equally false!). God gave us reason in the expectation that we should use it to aim at the truth, and outright relativism is a patently false outlook. The fact of disagreement should not and does not suggest to me that I have no way of accessing the truth, in spite of the fact that a number of intelligent Catholic friends have said otherwise more than once.
The same applies to issues of biblical interpretation. I have lost count (not that I was actually counting) of the times that Catholics have confidently assured me that unless the (Catholic) Church makes a final, discussion-ending binding statement on what a passage of Scripture means, then we may as well despair of having even the slightest hope of knowing what it really means. This, too, I find patently absurd. Now of course, I will listen to the human opinion of the Church just as readily as I will listen to any other human opinion. But it is an opinion that can be assessed like all the others. It does not stand above the facts. The truth is objective, however. Facts can genuinely be used to reach conclusions. We are not doomed to subjectivity and ignorance without the declarations of the Church. When the Gospel writers say that Jesus was born in Bethlehem, I can be fairly confident of what they meant. The only thing that changes between this and doctrinal matters like the deity of Christ, eschatology and the like is complexity. Now this requires an analysis of more complex facts, yes, but there is nothing about the issue of complexity that suddenly requires a top-down heavy handed, absolutely binding, final declaration from Rome.
I'm open to being persuaded by Catholics. I truly am. But I will have to be persuaded. I'll need reasons.
So on any particular doctrinal question, I'm open to being persuaded by Catholics. I truly am. But I will have to be persuaded. I'll need reasons. Pick up your Bible, turn your mind on, and let's discuss it. Open the history books too, I am – some stereotypes notwithstanding – perfectly willing to hear what they say. But if at the end, the evidence hasn't compelled us to accept your claim, then that is where the matter lies. Do not then just retreat into a shell, telling me that really the evidence isn't required, because the church has answered the question anyway and that is that, so we don't have to worry about the hopeless ocean of subjective opinion. While I have a number of doctrinal reasons not to be a Catholic, this
methodological
reason stands head and shoulders above them all. God gave me reason, and ignoring what it tells me is not better than being given sight by God, but being willing to pluck out my eyes if they do not agree with what the Church tells me I should see.
Glenn Peoples