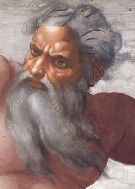 The title of this blog entry is a little misleading, since I'm actually talking about a conditional premise of one formulation of the moral argument. It's not the formulation of the moral argument that I prefer to use, but it's a common one nonetheless, and one that I do think is sound.
The common formulation that I have in mind is this:
If God did not exist, then there could not be any objective moral duties and values
There are objective moral duties and values
Therefore God exists
This formulation is the one that most have in mind when they think of the moral argument. In a recent radio discussion I outlined my own formulation of the argument (see the above link), only to have my argument immediately re-described back to me using the above formulation (not I that I minded too much, as the above formulation is simpler and probably more appropriate for the radio discussion format). Such is the familiarity of this form of the moral argument in the minds of many.
The logic is flawless, there's no doubting that. This is a valid argument – the conclusion follows inevitably from the premises. The only way to show that the conclusion is false, therefore, is to show that one of the premises is false. Usually when this argument is presented, those who take issue with it reject the first premise, which is a conditional premise (as it takes the form of "If… then…"). Most often when the argument is presented in a public forum the objection comes in the form of a misunderstanding along the lines of "Wait, do you really think atheists aren't moral – that we can't do good?" This is an objection that came up when I last presented the moral argument to a group of Students at the University of Auckland. This objection clearly misses the mark, since the argument has little if anything to do with how moral or immoral specific groups of people might happen to be. It's about how moral facts can exist at all – about whether any actions might be objectively morally right or wrong, whether they are carried out by Christians, Taoists, Muslims, Jews or atheists. But another common rebuff that I hear is "Oh come on, that old canard? Seriously? That claim is so common but nobody EVER gives any reasons for thinking that it's true!" In nearly every case I just ask the person who said that how many philosophical defences of the moral argument they have read. Plenty, I'm told – they've discussed in on the internet quite a few times! One (but only one) person has actually told me that they've listened to Bill Craig's presentation of the moral argument and also read his summary of that argument in Reasonable Faith and they still say that he actually didn't offer any considerations, but that claim is fairly unique (I don't think any fair reader can say that Bill has actually offered no serious considerations at all in any of his books or public debates).
So what kind of considerations do philosophers offer for the first premise? Here's where I get a bit preachy and vent a concern that I have with the way some blog readers (mostly not readers of this blog, of course) approach the acquisition of understanding. If you want a full, satisfying answer to this (or any other complex) question, you shouldn't be reading a popular level blog entry to get it. A number of philosophers of religion have defended the first premise. Indeed nearly all Christian philosophers I am aware of who have commented on that premise maintain that it is true, so there is no shortage of places to look. You could start with the fairly popular level treatments by philosopher William Lane Craig (who touches fairly briefly on the issue in his book Reasonable Faith (or perhaps the somewhat simpler On Guard and has discussed the issue at more length with Richard Taylor in their debate "Is the basis of Morality natural or Supernatural?" Other popular level works that offer some considerations in favour of this premise include C. Stephen Evans, Philosophy of Religion: Thinking About Faith or (getting more detailed) Paul Copan's chapter on the moral argument in the book he edited with Paul Moser, The Rationality of Theism. If you're interested in really delving into the moral argument and the relationship between God and morality in more depth in a book length treatment, something like John Hare's God and Morality: A Philosophical History, John Rist's Real Ethics: Reconsidering the Foundations of Morality or Robert Adams' magisterial work Finite and Infinite Goods: A Framework for Ethics may be more your cup of tea. The point is just that if you're someone who rolls their eyes at the conditional premise here as though it's a nonsensical alien idea for which you've just never heard any serious arguments before, then here's some advice: the comment section of a blog is not the place to obtain an education in meta-ethics or philosophy of religion. I mean sure, via blogs and podcasts you can access some really useful reading and listening material and learn a lot, but there is no substitute for your own earnest research, and nothing can lift the burden of the responsibility of putting in the hours, days, weeks (etc) of learning the subject for yourself if you are someone who really wants to be able to speak as an insider on the subject. I spent a couple of lengthy chapters in a doctoral dissertation laying some of the groundwork for and defending a moral argument for theism, but even then there was plenty more that could have been said. So when I see someone say that they've just never seen any serious reasons (even reasons that they have considered and ultimately rejected) offered for the conditional premise of the moral argument, my answer is just that they need to do some reading. I have never encountered a good argument for why I should hold any particular belief about microscopic creatures that live on the sea floor, but that's just because I've never bothered to spend much time reading about deep sea marine biology. It's my own fault!
But let's imagine that the following scenario is true: You don't have time to do a lot of reading of academic books (or maybe you just don't like it). You haven't done a lot of reading in philosophy of religion or meta-ethics, and as a result, you (naturally) have no intentions of presenting yourself as someone who presumes to speak on God and morality with any kind of authority. You're realistic about this. You're just curious as to what kind of considerations philosophers have given for something like the conditional premise given here, and although you realise that a blog may not be the place to get the full story, you're happy with a condensed version.
OK, well then you've come to the right blog entry (and possibly the longest introduction to a blog post, containing the most barbs about my own pet peeve ever)! I won't presume to summarise the entire literature in answering this question because that's just not realistic. What I'll do is briefly describe two kinds of reasons that I have given in defence of this conditional claim: If God doesn't exist then neither do "objective moral values and duties." I prefer to refer simply to "moral facts," so that's what I will do from now on.
The nature of moral (and non-moral) facts
The first kind of consideration arises from considering what kind of thing moral facts (unlike other facts) are. There are a limited number of things that a moral property or a moral claim can be, provided we divide up the conceptual terrain fully. Maybe, as some allege, there aren't any moral facts at all, just because moral claims aren't statements of fact that can be true or false; they are just vents of emotion or expressions of will with no real cognitive content at all. This was the view of a number of important ethicists of the mid twentieth century, including R. M. Hare. Or maybe moral claims really are statements of fact after all, but they're all false because there are just no moral facts, no moral properties, no objective moral values or duties at all. This is the outlook sometimes call ethical nihilism, or more politely, an "error theory" of morality, since all moral claims are in error.
But if we reject those perspectives and say instead that there really are some moral facts – that it's true that some things are morally right or wrong (in other words, if we embrace moral realism), then those options are off the table. So if some claims about moral facts are true, what is it that makes a moral fact what it is? What is it that generates objective moral obligations? It's either going to be something in the natural world, or it's not. Easily the most popular position among atheists who are moral realists (like, for example, Sam Harris in the popular literature or Christian Illies in the philosophical literature) is to say that objective moral facts are a natural feature of the universe. This is a view that has had a cloud of suspicion over it at least since Hume, who famously pointed out that you can't (on the face of it) derive an "ought" statement from a collection of "is" statements. The nature of moral facts makes this attempt highly implausible. Natural or scientific facts about the world, like logical truths, are statements about what is. For example: That is a tree. This lake is 97 metres deep. Sticking a hot needle into the body at this place creates a sensation of pain. Severing the carotid artery in a person's throat (and not giving them medical attention) will cause them to bleed to death. White sunlight refracts in the rain to create a rainbow (to finish on a more pleasant note). The same is true of laws of physics or logic. They tell us about the way things are, or they predict what will happen under given circumstances. These are all descriptions. Moral facts, however, have an important prescriptive component that is not present in any natural scientific or logical truths. The scientifically verifiable fact that feeding a hungry person with save her from starvation tells us what will happen. This fact alone doesn't tell us anything about whether we have any sort of duty to feed hungry people. The fact that some actions inflict horrific pain upon people, again, is a factual description. Nothing here informs us as to whether or not we have any requirement not to torture people. But consider the claim: "You must not torture people." There is no observation of the natural facts, no scientific study, no logical analysis that we can do to find out that this is true. If you find yourself loving the people involved and you don't want to see them in pain, then of course you won't want to torture them, but not wanting to do something and being morally required to not do it are clearly not the same thing. What if you hated them and really did want to see them suffer as much as possible?
Unlike observations of the natural world, moral facts present themselves to us like commands, telling us what should be, and what we ought to do.
Immanuel Kant observed that the fundamental feature of morality is that it commands our will. This is certainly true of our encounter with morality. Unlike observations of the natural world, moral facts present themselves to us like commands, telling us what should be, and what we ought to do. In addition to reinforcing the suspicion that moral facts are not just a feature of the material universe, this observation (an observation that I maintain atheists share no less than theists) gives us reason to believe that moral facts have a personal origin. Commands, directions and anything like them, are expressions of intentions, and only personal beings have intentions. Obviously if the universe was created by a personal being – God – then it makes sense to think that there is a personal basis for moral obligations, as these obligations would reflect the way that our creator wants us to live, and as our creator God obviously knows how we were intended to live, as they are God's intentions. If moral facts have a personal origin, then atheistic versions of what's called "ethical non-naturalism" are also false. In that view, there are non-natural non-physical entities, you might call them "platonic objects," and these things are moral facts. Apart from having quibbles with the idea of platonic objects, moral facts have an intentional or imperative aspect to them that is not compatible with their being simply brute impersonal facts. They are expressive of a will, they have desires, as it were. They aren't just states of affairs that we just incidentally abide by or model. We are impelled to emulate those states of affairs as though we are satisfying someone or something by modelling them. Abstract entities don't want us to do anything, only personal entities could do that. Connected to this is the observation made by many ethicists that moral facts or moral beliefs have the unique feature of having an inherently motivational quality. Michael Smith identifies this as the "moral problem": How can there be facts that by their very nature motivate us to act in a certain way? Or even if they do not psychologically drive us, they seem to give us a reason for acting that trumps all others. The fact that moral facts in this way would be so unlike facts as we know them was part of what led ethicist and philosopher of religion J. L. Mackie to dub moral facts as downright "queer" and to reject their existence altogether.
In a related vein, Robert Adams has ably unpacked the idea that moral obligations have the features of social obligations. That is, they are like obligations that exist because of our relationships with other people. If we are moral realists who think that morality is a matter of facts, then we reject relativism. By "relativism" here I mean the view that there really aren't any objective moral values or duties (and by "objective" I mean that these things are factual), and instead all we have is a bunch of widely different conventions of practice from one person or culture to the next, none of which is any closer than any other to being right (since "right" in that context would imply that some of them could be wrong, and that implies that there are facts of the matter). But if we embrace moral realism and reject relativism, then there has to be an objective standpoint from which to evaluate the obligations that we may or may not have to those we are in a relationship with in order for them to truly be moral obligations (and not, say, just contractual obligations or obligations created by malignant social expectations). Explaining this fully is fairly complicated, but I've devoted a podcast episode to the issue in order to give it some of the time it deserves. Since it is plausible to think of moral obligations as a species of social obligations (if Adams is correct), and since social theories of obligations include the fact that it really matters how we evaluate the demand made of us, and since we are talking here about objective obligations, a framework that includes a transcendent reference point over and above human relationships makes the possibility of moral facts much more plausible than it would otherwise be, and indeed it's not clear that a non-theistic framework can offer a suitable substitute.
Of course, the above doesn't count as a full explanation of the considerations from the nature of moral facts (and it would make little sense to complain that the above doesn't deliver a full explanation and is therefore questionable). For that, you'll need to venture forth on your own and work your way through some substantial reading on the subject. But these are kinds of positive reason that proponents of the conditional premise will offer. Bear in mind that there are other kinds of "moral argument" that run along quite different lines, like that of Thomas Aquinas, but those won't involve this same conditional premise and so the positive reasons for accepting the premise obviously won't apply there.
The failure of naturalism to account for moral facts
The second kind of consideration is more of a negative approach. It arises from considering the failure of attempts to ground moral facts in the natural world. If it's true that either the moral facts are grounded in the natural world or they are grounded non-naturally (and it seems to me that something like this has to be true), then this is not a case of shirking the burden of proof. Since one of these two options must be correct if moral realism is true, it really does matter if one of them can't be defended at all (since this would then count as a consideration in favour of the other option). On the face of it, moral facts don't look like the kinds of things that can be accounted for as natural facts, as suggested by the first line of argument. But of course, first impressions – even highly persuasive ones – can sometimes be mistaken, and if a good argument can be made that moral facts really are natural facts about the world after all, then so be it.
The trouble – at least for the naturalist who is a moral realist – is that such attempts leave much to be desired. The recent public attempts to offer a naturalistic account of moral truths by Sam Harris, for example, really put on display the kind of naivety that some have about how easy the task is. In effect, he argued as follows:
We already agree that it's right to reduce human suffering and promote human happiness and flourishing
Science can tell us ways to reduce human suffering and promote human happiness flourishing
Therefore science can tell us in broad terms what's right and what's wrong
Once we've already agreed on the kinds of goals that morality directs us towards, its' true that science can often tell us, in practical terms, how to reach those goals.
Of course, once we've already agreed on the kinds of goals that morality directs us towards, its' true that science can often tell us, in practical terms, how to reach those goals. But this has nothing to do with offering an account of what makes it true that we do have an obligation to pursue those goals, so no matter how much science can tell us about how to pursue them, it isn't giving us a grounding for moral facts at all. I've dealt with Harris' line of argument in more depth in a previous podcast episode, Sam Harris, Science and Morality.
Others who recognise that we can't just start with the moral assumptions that we're trying to ground have had their stab at grounding moral facts as well, but the result is generally vague at best.
This fact is not lost on philosopher Christian Illies, himself an atheist and a moral realist. After one hundred and ninety-two pages of argument in favour of moral realism, that is, argument that we should believe moral realism is correct, he then spends six pages on the question of how there could be these things we call moral facts, and what in the world could ground the moral facts. While Illies is sure that there are moral facts and thinks there are many reasons to believe that there are moral facts, he concedes in the end that explaining how this might be metaphysically possible (given naturalism) is a tough nut to crack. He notes that some philosophers "have dismissed the ontological problem on the basis of a coherence view of truth, claiming that any enquiry about correspondence is illegitimate."1 Let's just get all our beliefs consistent, some might say, and not indulge in any presumption of knowing brute reality as it is and basing all of our beliefs on the "facts."
The idea of moral facts does not seem to cohere with the naturalist outlook.
But even if we took this road (unpromising though I think it would be), Illies is quite right to note that "there is still the challenge of explaining the possibility of harmonizing the picture of a mind-independent world with our beliefs – beliefs obtained through a justification that is independent of any correspondence."2 "How," he asks of moral facts, "do they fit into the picture of the world we normally have?"3 Coherentism is not a saviour for this problem because the very nature of the problem is actually one of coherence. The idea of moral facts does not seem to cohere with the naturalist outlook. Trying to steer a course between empiricism and idealism, he imagines that maybe the solution lies in neither the objective world nor in reasoning, but rather "in an underlying common and foundational structure in both," whereby the universe just is such that "the same principles may well structure reason itself, and be keyed into the way the world is." If the world is structured by the same principles that underlie reasoning, he says, then "this would account for our ability to grasp rationally the things which are independent of our thinking."4 And so when we reason, we tap into the way the world really is, just because the way the world really is happens to be shaped by the same thing that shapes our thinking. In seeking to offer an ontological solution then, Illies falls back into epistemology, seeking to explain how we can know moral facts if the universe is a certain way, and never again returning to the question of how such facts could be facts at all. And even with respect to his metaphysical account of how we know as outlined above, Illies concedes the obvious, "I do not claim, by any means, that this metaphysical picture of the world could easily be made plausible."5 He is sure, however, that even though the ontological answer is elusive, "we must surely avoid the Charybdis of explaining the obscure by the obscure as much as the Scylla of a deus ex machine ('the most absurd argument one could choose', as Kant rightly remarks in a letter to Herz of 21 February 1771)."6 My own position is that the ontological solution is not so much "obscure" as distasteful to many. What Illies has given us in the end is a surrender to mystery: We have absolutely no idea what the underlying facts are that ground morality, but we'd better not say that it's God!
Somewhat more outspoken for atheism, Russ Shafer-Landau says that "most people think that if moral rules are objective, then they must have been authored by God."7 This includes, he says, those "who embrace moral scepticism, just because they believe that the only escape from it is to God, whom they reject."8 For this reason, Shafer-Landau calls the principal argument of such people the "argument from atheism." "It says that ethics is objective only if God exists. But God does not exist. Therefore ethics isn't objective." Shafer-Landau says that in his "own experience,"
people tie objectivity to God because of a very specific line of thought. The basic idea is that all laws (rules, principles, standards, etc.) require a lawmaker. So if there are any moral laws, then these too require a lawmaker. But if these moral laws are objective, the lawmakers can't be any one of us. That's just true by definition. Objectivity implies an independence from human opinion. Well, if objective moral rules aren't authored by any one of us, then who would did make them up? Three guesses.9

This is not precisely how I formulate the moral argument, but there are obvious similarities. Neither the theist nor the atheist should accept the argument from atheism, says Shafer-Landau, since laws do not really require lawmakers after all. "Since [atheists] can easily accept the existence of at least some objective laws (e.g., of physics or chemistry) they should deny that laws require authors. But once we get rid of that view, then there is no reason at all to suppose that objective moral rules require God's existence."10
At least one important response to Shafer-Landau seems obvious. The claim that the moral argument makes is that moral rules are problematic in metaphysical naturalism, not simply because they are rules or facts, but because they are rules or facts of a certain kind. They do not, like the laws of physics, simply tell us what will happen or what to expect. They tell us what we should do, and in doing so they express intent. Hence Shafer-Landau has made a poor comparison.11 He has anticipated this response. He replies:
I disagree. The best reason for thinking that moral laws require an author is that all laws require an author. But that reason, as we've seen is mistaken. What other reason could there be?

I don't think there is one, or at least one that works. Not all normative laws require lawmakers. For instance, the laws of logic and rationality are normative. They tell us what we ought to do. But no one invented them. If you have excellent evidence for one claim, and this entailed a second claim, then you should believe that second claim. If you are faced with contradictory propositions, and know that one of them is false, then you must accept the other. If you want just one thing out of life, then you ought to do what's necessary to achieve it.

None of these are moral principles. But they are normative ones. If you are an atheist, you'll deny that God made up such principles. If any principles are objective, these are. So we have here objective, authorless, normative laws. Objective principles, scientific or normative, need no authors.12
There are various ways of using the words "ought" or "should." By apparently ignoring these distinctions, Shafer-Landau has engaged in equivocation. When he says that "If you have excellent evidence for one claim, and this entailed a second claim, then you should believe that second claim," what he says is only true if he means something like you should believe that second claim in order to achieve consistency or in order to avoid holding beliefs that are inconsistent with the evidence or something involving an "in order to" clause of some sort, because this is a rational ought, a means-to-an-end ought. It is not a moral ought. If Shafer-Landau wants to say that this is the sort of ought we should be concerned about when it comes to morality, then he is no longer talking about objective laws at all, and certainly nothing comparable to moral rules. If I want to cut off your head, then I ought to use a sharp instrument. If you want to be a successful rapist, then you ought to master the element of surprise. But if you want to make the world a happier place, then perhaps you ought to give to charity, or if you want peace with God, according to many, you ought to become a Christian (although the same "many" might construe that as a normative ought as well as a rational one). In each case, the ought is the same as the ought Shafer-Landau refers to when he says that we ought not to believe things inconsistent with the evidence or that we ought not to believe contradictory claims.
If Shafer-Landau takes issue with that, and insists that really this is something which, regardless of what you want to do, you really ought, in some more basic moral sense, to obey the laws he refers to, then it is no longer obvious that what he says is true. What is so normative about these laws? Is there some grand ethical principle that says we should never believe contrary to the evidence and so forth? Certainly there are and have been those who believe that knowingly believing in spite of the evidence or in the absence of evidence is immoral, and that epistemic duty is a matter of following moral law. William Clifford probably put it most memorably: "It is immoral to have faith – to prejudge matters before one has evidence." And famously: "To sum up:  it is wrong always, everywhere, and for anyone, to believe anything upon insufficient evidence."13 If that's what Shafer-Landau has in mind, then it's obvious that he is begging the question. Effectively this would be to say: "We know that ethical rules don't require a rule maker, because we can compare them to these ethical rules, and they don't require a rule maker." So either Shafer-Landau is equivocating, and in doing so treating certain laws as normative when they aren't (at least not in anything like the sense in which objective moral rules are supposed to be normative), or else he is begging the question, when actually the norms he has in mind are themselves moral norms, and subject to the very dispute in question.
Sometimes I am led to consider a theory as more plausible than I used to just because the widespread attacks on that theory prove to be so ineffective. For many, perhaps the same will be true of the moral argument. There's an effort among atheist philosophers to knock down the moral argument by coming up with non-theistic accounts of how moral facts might be grounded. But the result, as I see it, is a spectacular failure. This second type of consideration, then, should lead people to have another look at the moral argument for theism.
In any event, these are the kids of considerations that can be offered for the condition premise of the simple version of the moral argument: "If God did not exist, then there could not be any objective moral duties and values." Firstly, the nature of moral facts compared to the nature of natural facts in general suggests important differences that make moral facts difficult to portray as simply features of the natural world. Secondly, the attempts by atheist philosophers to provide a natural foundation for moral facts does not look promising at all, contributing to the suspicion that if atheism's best cannot provide such a foundation, it may simply not be there.
Glenn Peoples
Similar Posts:
If you liked this content, feel free to buy me a beer!