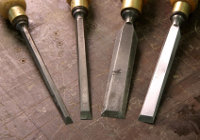 "Don't be so picky. Enough people say it this way now in many pockets of our culture, therefore words have changed their meaning. Get over it and move on."
"Oh you're so pedantic. Why worry about the details of whether what I said is technically right or wrong? Language is all about communication, and people know what I mean so just chill out."
I'm not a hateful person. I'm fairly likeable, so some people tell me (right Mum?). But I hate, hate hate people who say things that resemble either of the two sentiments I quoted above. I am moved to consider them as the Psalmist considered God's enemies, "I hate them with complete hatred; I count them my enemies" (Psalm 139:21). People who do this are not merely unintelligent (in fact I'm sure that in many cases they are not unintelligent). They are traitors. They are vandals. They are cultural saboteurs. They are leaks in our bucket of well-being (I came up with that analogy myself. Make a donation before using it.)
Why am I so bent out of shape over this? Because I'm (among other things), a philosopher. To do philosophy, you need to really make use of language. There are features built into the English language that are there to be used, and which are vital for making certain distinctions in what one means, and these features are lost – or at least forgotten – when people decide that because they can't be bothered learning what those features are and how they work, they will encourage their fellow member of our culture to believe that they literally don't exist. In doing so, they participate in a great robbery. They steal away our ability to communicate – ironically believing that in doing so they are more concerned about "communication" than "correctness." They are concerned about neither. What they are concerned about is disdain for other people's will to preserve. They have a hatred of "pickiness" on the grounds that it is anti-social. And to an extent it is. Discouraging people from getting things wrong can be anti-social because it doesn't affirm people exactly as they are. But why should we affirm people exactly as they are?
Often the vandalism is subtle. At other times it is not. A recent example: In a blog post about ten days ago, Matt Flannagan explained the ins and outs of the fallacy of "begging the question." One of the first things that he noted, as I have often mused, is that the phrase "begs the question" is commonly misunderstood and so misused. Here's an example: It would not be unusual today to hear somebody say "I just can't afford to buy a house right now, which begs the question – Why do I read so many real estate newspapers?" Now in fact this does not beg the question at all, since begging the question is the informal logical fallacy of using circular reasoning. What this guy actually means is "I just can't afford to buy a house right now, which raises the question – Why do I read so many real estate newspapers?" Well, a commentor got (or at least appeared to get) a bit indignant and self-righteous over the fact that Matt would appeal to such rules. He quipped: "Give up. The meaning of 'begs the question' has changed and it now means 'raises the question'. I'm cool with that; there's no point being pedantic when clear communication is your aim." Here's the problem with this lazy lollygagging approach to language: The informal logical fallacy of begging the question is still discussed today as much as it ever has been, and the meaning of that phrase has not changed. Our English language is now, as it has always been, equipped to speak of the act of "raising the question," namely, by just saying "that raises the question." By lumping them together into one phrase and thinking "meh, everyone makes the mistake, so let's all agree that it's no longer a mistake," you are stealing something from our language. You are destroying our ability to refer to the fallacy of begging the question with the phrase "begging the question," because you're trying to get everyone to believe that it means something else – something for which an already perfectly good phrase exists. In doing this, you are sabotaging the precision of language. You are actually hurting the ability of people, both now and in the future, to express themselves, because you are blunting the tools that they have to do so.
Another example – and this happens all the time – is the confusion of "how" and "why." Imagine this conversation between me and my eleven year old daughter:
Her: Look at this! [doing something silly]
Me: Don't be silly.
Her: Why am I being silly?
At this point, she wants me to explain what's silly about her actions. But notice that she has not asked me this. Because she's a child and because I care about her and I want her to develop into a skilled adult, I do not cater to her ignorance. Instead I answer:
Me: That's a good question. Why are you being silly?
Her: [thinks for a moment] Oh! I mean how am I being silly?
If she had protested at my first answer, saying "you know what I mean," I would not have been impressed. What she initially said to me actually has a meaning. Those words are "spoken for," as it were. They aren't available just to be re-assigned to whatever meaning I wish to express. By instructing her in this way, I'm giving her the tools to remain precise in her adult life. The language that she's going to be using is equipped with the required features to make distinctions that will be lost if she gets lazy and just banks on people knowing what she means. I want people who hear her speak in future to know what her words mean because she has told them what they mean when she uttered them.
The why/how distinction becomes important when asking philosophical and theological questions and it is important to specifically state one thing and not another. For example, today somebody asked, "What's the difference between these two questions: 1) Why is there something rather than nothing? 2) How is there something rather than nothing?" And these questions really are different. What's more, the second question is written in a way that probably doesn't express what is really meant. Here's why: "Why" questions have to do with reasons. "Why did you do that?" What, ultimately, is the reason behind something? "How" question are asking about the way things are or the way things happen. "How did this happen?" "How did you do that," or "how is the weather outside?" In answering my friend's question, one person suggested that the "how" question that he offered is really a question about how it came to be that there is something rather than nothing. On reflection I'm fairly sure that's what the questioner means to ask, but it's not actually what the question means in its current form. The question actually doesn't refer to a process of coming to be. It merely refers to a state of affairs. Consider a parallel: There is a difference between saying "how is the sky blue and not green?" and saying "How did the sky get to be blue and not green?" The first question is asking us about the way the sky is, and we can answer it by describing the blueness of the sky, in virtue of which it is not green. The second question is about a process, namely the sky's "getting to be" blue rather than green. In answering the second question, we would describe the process by which the sky became blue, in virtue of which it did not become some other colour. In exactly the same way, the question, "how is there something rather than nothing" would literally be answered by describing how there is something. We would describe what there being something is like, in virtue of which there isn't just nothing. However, if the question had been "How did there get to be something rather than nothing," then we would answer by describing how something came to be, in virtue of with it was not "nothing" that came to be.
The long and short story is this: The person who just says "meh" in public to grammar nitpickers and semantic pendantics like me (assuming we're not just being silly and going overboard) is not just injuring himself. He is vandalising the tools by which we as a people will communicate ideas. He is diminishing our capacity to communicate, and in the long term he is making it harder, rather than easier, for people to just listen to the point and not get snagged on details.
Your friendly neighbourhood OCD grammarphile
Glenn Peoples