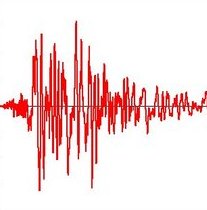 As all my New Zealand readers know, as do many others I'm sure, just before 1pm a few days ago on the 22nd of February a 6.3 magnitude earthquake hit the city of Christchurch, New Zealand. The destruction was massive. Over a hundred people have been confirmed killed, and over two hundred are still missing [EDIT: as I post this, the confirmed death toll has risen to 145]. The outlook is truly grim, with a couple hundred people likely to have died in this disaster. I have a number of family members and friends in Christchurch, but it seems that they are among the fortunate ones and they're relatively unscathed.
These are photos I took of the beautiful Welseyan Methodist Church on Durham Street when Ruth and I visited Christchurch in 2009.

And here it is now. Some people were dismantling the organ at the time. It had been damaged in a previous earthquake which caused much less damage in September 2010. One of these men was killed. I'm amazed that any of them lived.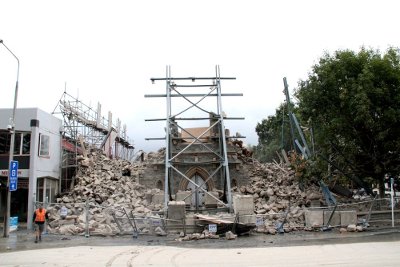 I could multiply dozens, hundreds of photos to demonstrate the level of destruction, but there are plenty of these elsewhere. New Zealand hasn't seen a disaster like this since I don't know when. For those of you who have lost loved ones, you have my sincerest condolences. I am truly sorry for your loss.
Right now, people are still afraid, they're wounded (or dead), and thousands are going to be in mourning for a while. A large number of people, myself included, would love to be able to stop the clock in their own lives, go to Christchurch and be part of the rescue, recovery, relief and rebuilding effort. But of course this isn't possible for us. We have lives, jobs, families and so on. We're only human.
And that's where I get to my point here. We're only human. We can't put things right. We can't put the city back together. We certainly can't raise the dead and reunite families, and we could never have prevented this catastrophe. We're only human. But God is not merely human. God's resources are limitless. God knows the future. God can raise the dead and heal the wounded.
And there's the problem. God, who is loving and good, who has all of this power, allowed this to happen. You can't blame me for the horror we're seeing on TV right now, I'm powerless to do anything about it. But God is sitting there right now letting people endure this.
God and Natural Evil
The problem of "natural evil" aka the problem of suffering is usually presented as a poorly formulated and ham-fisted attempt to show… well, it's often not explained exactly what it's meant to show. The innuendo is sometimes that God doesn't exist, but at very least the point is that God, if there is one, isn't the sweet, bearded old man that Christians make him out to be. But however badly it might be presented by others and however wild the conclusions sometimes drawn may be, you're putting your head in the sand if you think there's simply nothing at all here to grapple with. There undeniably is. While I am (obviously) a theist and a Christian, I do think that the problem of suffering (or something like it) is the most weighty consideration (probably the only weighty consideration) that gives people pause when considering the Christian concept of God.
One approach taken by some Christians has to be tossed out immediately. I'm talking about the approach of those who have two versions of Christianity. When everything is well in the world (well, in their world at least), God is said to be in control. "He's got the whole world in his hands," as they say. When good things are happening, the doctrine of God's providence looms large. Jesus' encouraging words in Matthew chapter 10 easily pass through the lips: "Are not two sparrows sold for a penny? Yet not one of them will fall to the ground apart from the will of your Father." Not even a sparrow dies with the co-operation of God's will, so don't worry, all things are under God's supervision and you can rest easy. Isn't God lovely? Here, God's sovereignty is the most wonderful thought imaginable. But like Jeckyll changing into Hyde, suddenly when Dad gets cancer, or a volcano erupts and buries a village, or there's a devastating earthquake in Christchurch, the believer's faith changes (either that or she worships two different Gods and isn't telling anybody). Now things are different. Now divine sovereignty is the last thing we want to be caught believing in. God isn't in control of the universe any more. Now the only way that we can say that God is involved is in the loving response of people in the face of tragedy. God brings the good, but never the bad. And I'll tell you what: If you're this sort of Christian, people notice. They've seen you praising God for all the good things in the world, saying that the providence of God is present in all of life, that God is watching out for you and so on. And now they've seen you suddenly change your tune. They see through you.
The Bible offers no relief to anyone who wants this easy escape route. I remember sitting in class at Bible College in September 2001. We had all just seen the passenger planes slam into the World Trade Centre, killing thousands. The class was "Eighth Century Prophets," and we were reading the book of Amos, chapter 3. As we read it, there wasn't a single person in the room who did not immediately see the importance of what was on the pages in front of us.
Do two walk together unless they have agreed to meet?
Does a lion roar in the forest when he has no prey?
Does a young lion cry out from his den if he has taken nothing?
Does a bird fall in a snare on the earth when there is no trap for it?
Does a snare spring up from the ground when it has taken nothing?
Is a trumpet blown in a city and the people are not afraid?

Does disaster come to a city unless the LORD has done it?
We were silent for a few moments after the words were read out. Nobody asked us to be, it was just hard to think of anything to say. There was no wriggling, no trying to get away from it, no "but… but… but…" It was there in black and white.
Jewish Nobel Laureate Elie Weisel gets it.  He recounts the story – incorrectly thought to be apocryphal by some – of rabbis in Auschwitz who put God on trial for abandoning the Jews to the horrors of Hitler's regime. "It happened at night; there were just three people. At the end of the trial, they used the word chayav, rather than 'guilty'. It means 'He owes us something.' Then we went to pray." Then they went to pray? Weisel and the others realised that the fact that God wasn't what they wanted him to be did not make him any less God.
Another approach that I have little time for is the view that disaster must amount to some sort of divine punishment, and by looking at the consequences we can see just how angry God is feeling. I remember when Pat Robertson claimed that the devastating earthquake in Haiti was God's wrath being poured out because of a pact made with the devil in the nation's history. Other Christians made equally inane claims, such as that Haiti was devastated and Christchurch was not (in the September 2010 quake) because Haiti was evil and Christchurch wasn't.
The Bible will have none of this, as we see in Luke chapter 13 verses 1 to 5:
There were some present at that very time who told [Jesus] about the Galileans whose blood Pilate had mingled with their sacrifices. And he answered them, "Do you think that these Galileans were worse sinners than all the other Galileans, because they suffered in this way? No, I tell you; but unless you repent, you will all likewise perish. Or those eighteen on whom the tower in Siloam fell and killed them: do you think that they were worse offenders than all the others who lived in Jerusalem? No, I tell you; but unless you repent, you will all likewise perish."
Another example that touches on this is in John chapter 9, verses 1 to 3:
As [Jesus] passed by, he saw a man blind from birth. And his disciples asked him, "Rabbi, who sinned, this man or his parents, that he was born blind?" Jesus answered, "It was not that this man sinned, or his parents, but that the works of God might be displayed in him."
The question that Jesus' disciples asked suggests that they actually entertained the prejudice against those who suffer that it must be because of some sin that they have committed (or perhaps their parents). But they were wrong. Is any suffering the result of wrongdoing? According to the Bible, absolutely. Perhaps the prime example is the Babylonian exile, which the prophets of the Old Testament point to as God's judgement on wayward Israel. The point is, there is no rule connecting sin and suffering. The writer of Ecclesiastes complained because so many thoroughly evil people seem to have such comfortable lives. You certainly don't help those who are suffering by acting like one of Job's false comforters and telling them that it's probably somehow their fault.
There's also no excuse for the sense of self-importance seen in the way that some Christians react to survival stories (usually their own, naturally). I cringed while watching a Canadian man on TV as he recalled escaping with his wife from the Christchurch cathedral while parts collapsed, killing people. His summary was that this showed that there was certainly a God, looking out for him and his wife. So I suppose the families of those crushed to death in the cathedral should take this on board, accepting that three really must be a God after all, because while their loves ones were killed, some Christian guy from Canada survived? Somehow I doubt it. [EDIT: It turns out that initial statements in the media were mistaken, and in fact nobody was killed in Christ Church Cathedral.]
So what should thinking Christians make of all this? Maybe nothing. Maybe it's something that you'll never spend a lot of time thinking about. To be perfectly honest, even though I like to tackle issues in apologetics, I really haven't given a lot of time to the various versions of the problem of evil. A big part of the reason for that is that I know that a number of other people do discuss it a lot. The Christian scholarly community is like a diversified economy. In our economy we are dependent on a whole range of industries and trades for growth and for employment in general. We have forestry, all sorts of farming, education, information technology and so on. So it is within the scholarly field. Not every philosopher deals with the problem of induction or mental causation (for example). They specialise in their one field and when issues come up outside their field, they defer to others who have expertise in dealing with those questions. That's perfectly respectable, provided of course you have reasonable confidence that the question really is being addressed somewhere. As it turns out, problems of evil are being addressed somewhere. Alvin Plantinga, Richard Swinburne, Peter Kreeft, Robert Adams and others have addressed the issue, so you don't have to reinvent the wheel and think that you've got to come up with a response on your own. Take a look at what's out there some time. There's nothing wrong with saying "to be honest, it's a large and hard subject and I don't know how to address it, but I know that others do." This is the way most people think about physics or astronomy, for example.
The free will defence seems a little out of place here. Sure, it might be the kind of thing to look at when asking why human beings do the terrible things that they do, but planets don't have any will, let alone a free one. Volcanoes erupt. Tectonic plates move. Hurricanes blow. The reason such things are referred to as "acts of God" is that human beings have no say in whether or not they happen. So what else is there?
The first thing to say is that we need to be clear on what is at stake. As Alvin Plantinga showed decisively in God, Freedom and Evil, we are not dealing with a logical contradiction. The fact that God is good and all powerful and that evil exists does not entail that God does not exist, nor is there any formal inconsistency. All we are left with is the fact that if this God allows evil (including natural evil and suffering) to exist, there must be a reason for his doing so. And there is certainly no reason, as Plantinga noted, to assume that if there is a such a reason, God is automatically duty bound to tell Christians (or anyone) what that reason is. Maybe the reason is just too complicated for us to appreciate. Maybe we just wouldn't like it. But the fact that we don't know what the reason is doesn't tell us very much.
Although in theory the Christian could leave the matter there, many do not. One way that some approach the issue – using earthquakes as an example (very appropriate right now), is that there are natural processes that exist and on which our own existence depends, and those processes every now and then produce some harmful effects. As we know, earthquakes are produced by plate tectonics, and plate tectonics need to exist in order for our planet to function and sustain life. When cities were founded, the founders didn't realise that they were on a fault line and that they'd be subject to violent earthquakes. But those fault lines are there and we need them.
Is this a full and satisfying approach? It certainly has something going for it. Counter objections could, as always, be raised: "Okay fair enough, we need earthquakes. But do we need people to die in them? Couldn't God have allowed the earthquake as part of a process that the earth (and the human species) needs, but somehow have protected people from falling objects?" Perhaps he could, but some of the initial sting has been taken out of the problem (even if not the pain it creates in real life), and a direction has been opened up where the problem ceases to be a case of "Ha! Got you!" and more a case of "Okay, there's a complex conversation to be had about that and it's not as obvious as I thought."
Another way to respond to this type of objection – and this is how I approach the objection – is by looking at the nature of defeaters . The existence of natural evil here is being used as a defeater for the belief that the Christian God exists. The idea is that the probability of the existence of a good God is negligible given the existence of natural evil. Stated succinctly:
P(G/N) is low
(where G = the existence of a good God and N = natural evil)
But just how important is this? Consider, for example, the fact that this claim is true:
P(G/FR) is low
(where FR = the fact that fire engines are red)
Think about that for a moment. It's true! The fact that fire engines are red, all by itself, offers no support for the belief that God is real and God is good. It's not that FR makes the existence of a good God unlikely. But if FR is the only fact on our radar, it doesn't move us one iota in the direction of believing in a good God and we would have no reason to believe in one. Even if it's true that natural evil doesn't offer us a high probability that a good God exists, there are plenty of things that don't give us that, such as the fact that fire engines are red. But – and here's where the two cases differ – the problem here is that whether or not fire engines are red shouldn't be expected to change based on whether or not God is good. The existence of natural evil, so we are being told, should change based on whether or not God is good.
But why should we only base our verdict on whether or not there is natural evil? This isn't the only thing we know, after all. Why not instead think like this:
P(G/N + A) is low
(where A = all the reasons that exist for thinking that a good God exists, apart from the fact that there is natural evil)
Instead of only deciding on the likelihood of a good God's existence based on whether or not there is natural evil, surely it makes more sense to answer that question based on everything we know that might be relevant. But of course, the above claim about the probability of a good God's existence is pretty contentious. Suppose that the following list of claims is true:
1) There are moral facts that are best explained by the existence of a good God
2) The origin of the universe is best explained by the existence of God
3) The facts surrounding the life of Jesus of Nazareth are best explained by the existence of the Christian God
4) There is some natural evil that Christians have trouble explaining
Suppose that we knew nothing else about the question of a good God's existence, and that this list is our sum total of facts. Now it would seem that P(G/N + A) is possibly very high. The point here is just that how much of a theological problem we find in the occurrence of horrific events like the Christchurch earthquake is going to depend very much on what we already believe.
Let's step away from Ps and Ns, and back into the world of normal people. What does the tragedy in Christchurch tell us about whether or not there's a good God ruling the universe? Well, if the only thing we knew about reality is that there was a tragic earthquake in Christchurch and we had no prior reasons for thinking that there was a good God, we'd probably say that it was fairly unlikely that there was a good God in charge. But then, granted that such awful events have a way of grabbing the whole of our attention, I'd like to think that most people would still recognise that this would be a strangely myopic way of settling the question; by intentionally excluding everything else in reality from our assessment. At most, recent events tell us that if there's a good God, he doesn't stop earthquakes and he allows people to die in them. Yes, this may strike us as pretty odd, which is why these events trigger such questions and the winding conversations that follow. Nobody ever said that reality was limited to what we can easily or immediately understand.
My own take is that the earthquake tells us little or nothing about whether or not a good God exists. If you have reasons for thinking that a good God exists, reasons of the sort that I think are out there for the taking, then the occurrence of tragedy doesn't change that. We can still ask with Job, "Should we accept only good things from the hand of God and never anything bad?" (Job 2:10). But we don't have to try to turn it into a non-problem by simply shrinking God into the guy who's in charge when things are going well. Ultimately, why does he allow this sort of thing to happen? I don't know, and I'm not aware of anyone who does. We can speculate until the cows come home on why God allows these things to happen. But what does this change? Very little. Rather than try to know the mind of God, scenarios like this present us with the opportunity to do as he commands and do what we can to help those in need.
If you'd like to make a donation to help those affected by the Christchurch earthquake, here's all you need to know.
Glenn Peoples