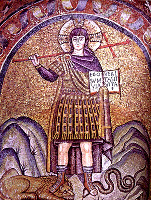 Is it true that Christianity was a pacifist movement for the first few centuries of its existence?
"Most serious scholars of church history today agree that for the first three centuries of the Christian church, Christians rejected not only emperor-worship and idolatry but also participation in the military."
This quote was taken from a fairly unknown website. I picked it just because it reflects a confidence that a lot of Christians I have spoken to appear to have: The confidence that everyone who knows about this knows that the first few centuries of church history reveals that Christians were pacifists, and that got messed up later when theologians like Augustine compromised the teachings of Jesus with the worldly ways of violence.
There are scholars who do make claims of early Christian pacifism – but certainly (or rather – hopefully) none who would make the ludicrous claim that Christianity was a pacifist movement for the first three centuries of its existence. Roland Bainton's claim made in 1960 was more cautious in terms of dates:
From the end of the New Testament period to the decade A.D. 170-80, there is no evidence whatever of Christians in the army. The question of military service obviously was not at that time controverted. The reason may have been that participation was assumed or that abstention was taken for granted. The latter is more probable.1
This is a more moderate claim – revealing a fairly marked contrast between the way that enthusiastic proponents of a cause make strong claims about what all serious scholars know, set against far less reaching claims of the scholars in question. And still, the further we look – even among pacifist writings – the smaller the claim becomes. Cadoux's claim is closer to the mark:
Apart from Cornelius and the one or two soldiers who may have been baptized with him by Peter at Caesarea (?40 A.D.) and the gaoler baptized by Paul at Philippi (circ A.D. 49), we have no direct or reliable evidence for the existence of a single Christian soldier until after 170 A.D.2
The more scrutiny we apply, the more the very strong popular claims, like ice-cubes in warm water, diminish: First, the claim was that most historians (or at least the serious ones) agree that Christians were pacifists for the first three centuries. Then when a little more care is applied, the claim is that we do not actually have any positive evidence of Christians in the army prior to AD 170 – coupled with the admission that actually, no public arguments about the issue had been presented by Christians. And then when a few more of the known facts are taken into account, we end up with Cadoux's claim – vastly more modest than the initial popular claim – that actually there is a small amount of evidence within the New Testament itself that some early Christians (but probably very few) were in the Roman military, and we have no "direct" evidence of any specific Christians being in the military until after AD 170. The last of these is hardly a persuasive historical argument, to put it gently. In fact within a few pages Cadoux then undercuts his line of historical suggestion, when he comes to consider the New Testament examples of John the Baptist and then Jesus interacting with soldiers. He notes that Jesus never condemned the sin of the centurion as a military man, but even went as far as to praise him as a man of faith. In fact every time a Centurion is mentioned in the New Testament (numerous times: Matthew 8:5ff / Luke 7:2ff; Matthew 27:54 / Luke 23:47; Acts 10:1, 22:25, 23:17, 23, 22:23, 27:1), they are always portrayed in a favourable light as people who respond appropriately to God in some way. Does this suggest at least a lack of disapproval of his role on Jesus' part? Not so, says Cadoux:
The attempt to draw such a conclusion is at best an argument from silence. Considering the number of things Jesus must have said of which no record has been left, we cannot be at all sure that he said nothing on this occasion about the illegitimacy of military service for his own followers. And even supposing he did not, is it reasonable to demand that his views on this point should be publicly stated every time he comes across a soldier?
On the one hand, Cadoux wants us to think that it counts as good evidence that for the window of time from when soldiers believed during the New Testament era until AD 170 there is no direct mention of specific Christians who were soldiers, suggesting that there were none – an argument from silence. However he forbids us from making arguments from silence when it comes to the fact that while Jesus spoke positively of a centurion he never implied that his lifestyle was sinful – because Jesus might have said as much at some point but it was simply not recorded for posterity! It hardly needs pointing out that there could just as easily – or more so – have been the case that there were Christians in the military from the New Testament era to the year 170 (a window of barely more than a century) without them being singled out and their profession named. After all, other than Paul how many Christian tent makers do we know of during that same period?
The reality is that if there were Christian soldiers in the first century (as we know there were), it is likely that there were more than we know of. Cornelius, for instance, was a Centurion who would undoubtedly have shared his faith with others in the army. There is simply no good reason to think that there were no other Christians in the army when the ones we know of died later in the first century, and so for a window of perhaps 100 years there were no Christians in the army until suddenly in around AD 170 there was an entire legion of them, springing from nowhere.
The "thundering legion"
This brings us to the first documented example of a group of Christians in the military. The Catholic encyclopedia sums up the known facts – both concerning the stories that existed about the so-called "thundering legion" and the facts that we can take as fairly certain. The story, including all possible mythological elements is:
When the Emperor Marcus Aurelius led an expedition against the Quadi in 174, his army, exhausted by thirst, was on the point of falling an easy prey to the enemy. It was then that the soldiers of the Twelfth Legion, which was composed of Christians, prayed to their God for help. Forthwith a heavy thunderstorm arose, bringing the desired relief to the Romans, but terrifying and dispersing the barbarians. Hereupon the emperor issued a decree forbidding the persecution of the Christians and to the Twelfth Legion he gave the surname of fulminata, or fulminea, that is, "thundering."
In fact the reference to the decree is likely untrue. The persecution of Christians by Rome became worse after this time, not more relaxed (which might also explain why more Christians were not in the army without the need to propose a pacifist mindset among Christians). And as for the miracle of rain, some attribute its occurrence to the prayers of the emperor himself, others to the work of the Egyptian magician Arnuphis, and the Antonin Column depicts the rain as being brought by Jupiter. But what nobody at all disputes is that the event did take place, and it is testified to by a number of Christian and pagan writers of the ancient world. There was a legion under Marcus Aurelius composed at least largely of Christians who took part in the Marcomannic Wars (which began in AD 166), and during these wars they were part of a well-known army expedition against the Quadi, who had been involved in a siege against the Northern Italian town of Aquileia. These were soldiers – fighting men, and Christians. There is of course every reason to think that these Christian soldiers had some experience prior to this famous expedition. How much? Who knows?
But the Fathers were pacifists, right?
The claims about Christianity being pacifist as a rule for the first few centuries draws support from two things, Firstly from the silence that existed in the early second century on there being Christian soldiers, and secondly from the claim that of all the Church Fathers prior to Augustine who wrote directly on the question of whether or not it is morally acceptable for people to serve in the military, they stated quite clearly that it was not. This much is certainly true. It is also true that everyone who wrote this article is named Glenn Peoples – 100% of them! This truth isn't significant, however, because only one person wrote this article, and surveying one person tells us nothing of interest.
The same problem arises for the strong sounding claim that all the Church Fathers who wrote directly on the permissibility of membership in the military condemned it. The persuasive force of the claim begins to evaporate in light of the observation of historian John Helgeland:
The first striking fact about the Fathers' writing on Christians participating in the Roman army is how infrequently the subject appears. Obviously there was no controversy calling forth angry exchanges of letters on the problem; in most cases only random comments appear regarding war in general. Only Tertullian, Origen and Hippolytus mention the problem explicitly, and Hippolytus devotes one sentence to it. Pacifist historians have tried to argue that, since the early church said so little about enlisting, it was a tacit understanding among the Christians that one did not even consider such an occupation. However, the lack of references to enlistment proves that there is a lack of references to enlistment — nothing more.3
The truth is that the Fathers in general almost never spoke about the rights and wrongs of enlistment in the Army, so the fact that all who clearly did so were opposed to the practice tells us little – there were just three of them. I'll look at Tertullian last because of the way that his contribution to the discussion so clearly confirms the fact that Christians were enlisting in the army.
Origen
Origen's views on military involvement are primarily known through his reply to Celsus. In Contra Celsum, Book 7, chapter 25, he cited Jesus' instruction to turn the other cheek. But just when we might expect him to say that this command overturns aspects of Old Testament ethics, he insists that this command is entirely compatible with the Old Testament, with its armies and fighting. How could this be? He explains in chapter 25: It would have been impossible for Israel, being not simply a religion but a nation, to adopt the teachings of Christ as its law, because of Israel's "subjection to the Roman Government" that existed in Jesus' day. Neither does it make sense for Christians to employ those national laws on behalf of the faith.
For Christians could not slay their enemies, or condemn to be burned or stoned, as Moses commands, those who had broken the law, and were therefore condemned as deserving of these punishments; since the Jews themselves, however desirous of carrying out their law, are not able to inflict these. punishments. But in the case of the ancient Jews, who had a land and a form of government of their own, to take from them the right of making war upon their enemies, of fighting for their country, of putting to death or otherwise punishing adulterers, murderers, or others who were guilty of similar crimes, would be to subject them to sudden and utter destruction whenever the enemy fell upon them; for their very laws would in that case restrain them, and prevent them from resisting the enemy. And that same providence which of old gave the law, and has now given the Gospel of Jesus Christ, not wishing the Jewish state to continue longer, has destroyed their city and their temple: it has abolished the worship which was offered to God in that temple by the sacrifice of victims, and other ceremonies which He had prescribed. And as it has destroyed these things, not wishing that they should longer continue, in like manner it has extended day by day the Christian religion, so that it is now preached everywhere with boldness, and that in spite of the numerous obstacles which oppose the spread of Christ's teaching in the world.4
It may well be true, as pacifists are only too happy to point out, that the New Testament insists that the weapons of "our warfare" are not carnal, and that the kingdom of God does not, as a kingdom, make use of warfare, but that is because, as Origen points out, it differs from the nation of Israel in that it is not an earthly political kingdom with land and borders.
God's kingdom transcends nations, and no fighting on behalf of a kingdom on earth could ever amount to fighting for the kingdom of God.
God's kingdom transcends nations, and no fighting on behalf of a kingdom on earth could ever amount to fighting for the kingdom of God. Christians do not slay
their
enemies (i.e. those who are not in God's kingdom) or have them executed. That is what one does in defence of an earthly kingdom and that is not what the kingdom of God is. But that nations that
are
temporal, earthly political kingdoms, like the kingdom of Israel, are not therefore doing wrong when they exercise "the right of making war upon their enemies, of fighting for their country, of putting to death or otherwise punishing adulterers, murderers, or others who were guilty of similar crimes." And so, Origen reasons, there is no conflict between the commands of Jesus, which relate to the spiritual kingdom of God, and the war and use of force by governments on behalf of earthly kingdoms, for Jesus does not require that such kingdoms do not use violence.
Where then might one get the impression that Origen thought that it was wrong for people to belong to the military? Celsus claimed that Origen's stance was first and foremost disloyal to society, since it was the stance that Christians should not become involved with the normal, healthy, civil affairs at all, including worshipping the gods of Rome or taking part in the military. In response to Celsus' call to support the Emperor and, if need be, fight under him or lead an army with him to secure justice, Origen's reply is that in fact we do help the Emperor in these things – by praying for him in his endeavours. And why should this seem so disloyal, when Roman priests in times of war are permitted to stay in the temple and serve rather than go to fight?
If that, then, is a laudable custom, how much more so, that while others are engaged in battle, these too should engage as the priests and ministers of God, keeping their hands pure, and wrestling in prayers to God on behalf of those who are fighting in a righteous cause, and for the king who reigns righteously, that whatever is opposed to those who act righteously may be destroyed!" And as we by our prayers vanquish all demons who stir up war, and lead to the violation of oaths, and disturb the peace, we in this way are much more helpful to the kings than those who go into the field to fight for them.5
It should strike the reader that Origen countenances the possibility that although he claims that it is more profitable to pray than to fight, those who do fight may well be fighting in a just cause, and the Christians who pray for them pray that those who oppose those who act justly will be destroyed.
The impression Origen gives here is that while it is not for him or for other Christians, fighting is not wrong in itself.
The impression Origen gives here is that while it is not for him or for other Christians, fighting is not wrong in itself. And yet this is the side of Origen that gets him portrayed as a pacifist. It still has to be asked why Origen thought that being a soldier was not for a Christian. If, as he says, the war may be for a just cause, and if, as he says, Christians pray that the opponents of injustice will be destroyed, why
shouldn't
a Christian be a part of the army?
Here Origen's concern appears not to be primarily about the morality of warfare in general, but rather the particular religious concerns of belonging to the Roman army. In book 8, beginning at chapter 65 of Contra Celsum, Origen is at pains to say that swearing allegiance to the emperor carries with it a concession to idolatry, given the pagan religious beliefs associated with the emperor. Celsus seems to know this, as his fundamental objection to the Christians is that they will not give full loyalty to the Emperor. And there is the rub. This is why Origen must find other examples of how Christians support the empire than by taking part in its civic rituals and military service. It is not that civic involvement or warfare is wrong (in fact he explicitly claims that it may be just), but a Christian can never tacitly support paganism. At most, then, Origen is a highly ambiguous voice.
Hippolytus
In Hippolytus, however, we have a much clearer voice, preserved in his short work The Apostolic Traditions. There in paragraph 16, we read:
A military man in authority must not execute men. If he is ordered, he must not carry it out. Nor must he take military oath. If he refuses, he shall be rejected. If someone is a military governor, or the ruler of a city who wears the purple, he shall cease or he shall be rejected. The catechumen or faithful who wants to become a soldier is to be rejected, for he has despised God.
Not all of this is obvious in its meaning. Naturally a military man has likely killed (or would be prepared to do so), but what does it mean for a military man in authority to execute people? Are they prisoners of war? Persecuted Christians? We don't know. Hippolytus singles out the oath as sinful. Is this because, like Origen, he regarded it as idolatrous, rather than because it meant belonging to an institution that uses force against others? Why is there something especially wicked about being a military governor? If war is wrong because it uses violence, then surely one's rank is irrelevant. Is it because of the religious implications? Is this suggested by wearing the purple robe? And precisely how does a person who becomes a soldier "despise God"? Is it because the military uses violence? Or is it because of its religious implications in Rome? Hippolytus does not explain this; presumably the audience at the time would have known the answer to these things. But let's assume a pacifist answer to all these questions: A military officer should never kill anyone or take the oath, since killing is always unjustifiable. Nobody should hold high office in the military, since serving in the military is wrong by virtue of the fact that it involves the use of force and killing, and if any new believer seeks to become a soldier he should be rejected from the church, because he has despised God by wanting to belong to an institution of violence.
While these restrictions would likely mean that a new convert to the faith who is a ranking officer should be counselled to cease, this was evidently not a concern for Peter, who told the centurion Cornelius to immediately be baptised. But the concern here is not over whether or not these restrictions are biblical or Apostolic. The point is just that they existed, and Hippolytus called them Apostolic.
Tertullian
Back to Tertullian, the earliest Father I will look at here. Here is an interesting case, since Tertullian changed his mind on the issue. In his earlier writings he apparently had no issue at all with Christians serving in the military. He took it for granted, apparently approved of it, and used the fact of Christian involvement in the army as a defence of Christians against slander. The Christians were accused of not pulling their weight in the Empire or really caring about its well-being, but Tertullian would have none of it.
Tertullian's response in his Apology was that Christians care very much about the well-being of the empire and the Emperor, illustrated in their prayers:
Without ceasing, for all our emperors we offer prayer. We pray for life prolonged; for security to the empire; for protection to the imperial house; for brave armies, a faithful senate, a virtuous people, the world at rest, whatever, as man or Caesar, an emperor would wish. These things I cannot ask from any but the God from whom I know I shall obtain them, both because He alone bestows them and because I have claims upon Him for their gift, as being a servant of His, rendering homage to Him alone …6
Like the later Origen, Tertullian noted that Christians prayed for armies who will secure the security of the empire.
Like the later Origen, Tertullian noted that Christians prayed for armies who will secure the security of the empire. But unlike Origen, Tertullian explicitly counted Christians as being among the soldiers in those armies. In the same work, Tertullian replied to the charge that Christians do not participate in the life of the empire, and are "useless in the affairs of life ." Tertullian does not attempt to excuse Christians. Instead he flatly denies the claim:
We are not Indian Brahmins or Gymnosophists, who dwell in woods and exile themselves from ordinary human life. We do not forget the debt of gratitude we owe to God, our Lord and Creator; we reject no creature of His hands, though certainly we exercise restraint upon ourselves, lest of any gift of His we make an immoderate or sinful use. So we sojourn with you in the world, abjuring neither forum, nor shambles, nor bath, nor booth, nor workshop, nor inn, nor weekly market, nor any other places of commerce. We sail with you, and fight with you, and till the ground with you; and in like manner we unite with you in your traffickings—even in the various arts we make public property of our works for your benefit. How it is we seem useless in your ordinary business, living with you and by you as we do, I am not able to understand.7
He then goes on to note that there are exceptions: Christians did not take part in pagan religious rites, wear the floral crown associated with paganism, or go to the spectacles, the blood sports. In chapter 43 he adds that there may be people who suffer a lower income because of people converting to the Christian faith: "pimps, and panders, and bath-suppliers; assassins, and poisoners, and sorcerers; soothsayers, too, diviners, and astrologers." But notice the way that Tertullian is able to point out that "we sail with you, and fight with you." Christians fought in the Roman army as a normal occupation like any other.
This is a mundane observation – not singled out for special mention. Clement of Alexandria illustrates the attitude taken by others who did not make an issue one way or the other of military service – apparently sharing the earlier view of Tertullian. Being in the army was a career like any other, and one in which people could be followers of Christ:
As, then, we do not compel the horse to plough, or the bull to hunt, but set each animal to that for which it is by nature fitted; so, placing our finger on what is man's peculiar and distinguishing characteristic above other creatures, we invite him—born, as he is, for the contemplation of heaven, and being, as he is, a truly heavenly plant—to the knowledge of God, counselling him to furnish himself with what is his sufficient provision for eternity, namely piety. Practise husbandry, we say, if you are a husbandman; but while you till your fields, know God. Sail the sea, you who are devoted to navigation, yet call the whilst on the heavenly Pilot. Has knowledge taken hold of you while engaged in military service? Listen to the commander, who orders what is right.8
Tertullian was not just using exaggerated rhetoric to keep Christians out of trouble. For one, we already know about the "Thundering Legion." We also know – as a number of pacifist writers did not, simply because of when these discoveries were made – of archaeological evidence that Christians were involved in the military. In one of the most overpriced books ever published on ancient history (which is why I don't own it), John Shean points out that we have the grave stones of Roman soldiers from the third century identifying their religion as Christian.
Perhaps even more compelling, in the late 1990s, on the grounds of what is now a prison in Megiddo, archaeologists in Israel discovered what is the oldest known church in the Holy land. It dates from the early third century, containing a table that was used for the celebration of communion (before the use of altars in churches began). What is interesting is what archaeologists found in the inscriptions in the church. The table was evidently gifted by a woman named Akeptous, bearing the inscription: "The God-loving Akeptous has offered the table to God Jesus Christ as a memorial." This is interesting for theological reasons, as it shows that Jesus was worshipped as God very early in churches. But my interest is in this inscription: "Gaianus, also called Porphyrius, centurion, our brother, has made the pavement at his own expense as an act of liberality. Brutius carried out the work." The inscription is made all the more interesting by the fact that Megiddo was essentially a Roman outpost or fortress at this time.
Here we have a church inside a Roman military community, being funded by Roman military officers, who were themselves Christians.
Here we have a church inside a Roman military community, being funded by Roman military officers, who were themselves Christians.
Tertullian and others were right. It was normal for Christians, like anyone else, to take part in the military. However, he changed his mind on the acceptability of them doing so after his involvement with the Montanists. One of the hallmarks of the Montanists was an extraordinary moralism. Tertullian went from saying that Christians pray for brave armies and that they fight in those armies just like others, to this:
But now inquiry is made about this point, whether a believer may turn himself unto military service, and whether the military may be admitted unto the faith, even the rank and file, or each inferior grade, to whom there is no necessity for taking part in sacrifices or capital punishments. There is no agreement between the divine and the human sacrament, the standard of Christ and the standard of the devil, the camp of light and the camp of darkness. One soul cannot be due to two masters—God and Caesar. And yet Moses carried a rod, and Aaron wore a buckle, and John (Baptist) is girt with leather and Joshua the son of Nun leads a line of march; and the People warred: if it pleases you to sport with the subject. But how will a Christian man war, nay, how will he serve even in peace, without a sword, which the Lord has taken away? For albeit soldiers had come unto John, and had received the formula of their rule; albeit, likewise, a centurion had believed; still the Lord afterward, in disarming Peter, unbelted every soldier. No dress is lawful among us, if assigned to any unlawful action.9
It is interesting to note that this is a chapter from Tertullian's work on idolatry, and characteristic of his new moral zeal, he has in the previous chapter condemned as idolatry the wearing of any special clothing or crowns by rulers. After all, Jesus the greatest king of all did not wear any such thing, and "Therefore what He was unwilling to accept, He has rejected; what He rejected, He has condemned; what He condemned, He has counted as part of the devil's pomp. For He would not have condemned things, except such as were not His; but things which are not God's, can be no other's but the devil's. If you have forsworn "the devil's pomp," know that whatever there you touch is idolatry. " I add this to set the tone – Tertullian is on a rampage here against anything at all that may seem worldly.
What then of his condemnation of military service? At least some of that condemnation is clearly because of idolatry. His reference to the human "sacrament" is likely a reference to pagan sacrifices and the military oath (sacramentum) sworn to the emperor. His reference to the "standard of the devil" is explained by Helgeland as follows: "The standards were considered sacred and as such were housed in a sanctuary (aediculnm) in the permanent camp. All standards partook in numen, the power communicated from the gods to the emperor and to the armies."10 In his other work where he addresses the question of military service, De Corona, Tertullian analyses the case of a Christian soldier who refused to wear the laurel crown on the grounds of its pagan origin. Tertullian apparently finds no fault with him for being a soldier, and praises him above the other Christian soldiers because of his refusal to take part in idolatry. Hence it is clear that Tertullian's overall concern was not a moral concern about the military per se, but over the Roman military in particular because of its religious associations. However, there is no escaping the fact that Tertullian maintained that since Jesus had told Peter not to defend him with a sword when Jesus was arrested, by extension Christ forbids anyone from bearing the sword under any circumstances.
The clear voices among the Fathers condemning participation in the military on apparent pacifists grounds are few. The evidence that Christians did take part in the military is undeniable (and there is more such evidence for Christians in the Roman army from the second century onwards).
Christians pacifism may have arguments to be made in its favour. I do not think the argument about "turning the other cheek" is a good argument, as I explained recently. What I want people to take away after reading this article, however, is that the historical argument too must be rejected. In its popular form – claiming that the first few centuries of Christian history were pacifist until Constantine – the claim should be laughed out of town as utterly preposterous. It is quickly whittled down by the facts to a very modest claim: We do know of Christian soldiers in the first century, and from that time until about AD 173, none are specifically named as Christian soldiers, which is not historically significant. When Christianity spread more and more among soldiers, some Church Fathers – although very few – spoke out against military service. Their reasons were not always clear, and certainly pacifist concerns are not always at the forefront. And while these few voices were speaking out, Christians continued, just as they had before, to take part in the military as soldiers and officers.
The strong pacifist narrative of early Christian history is simply, emphatically and demonstrably untrue, and I dare say more the product of ideology and wishful thinking than the study of the facts.
Glenn Peoples