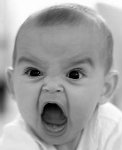 Do babies come into this world with a natural tendency to tell right from wrong, or is their stance entirely informed by social conditioning? Or is it both?
I've blogged in the past on ethical intuitionism, and I had some favourable things to say about it. Properly functioning people under the right sorts of conditions, I maintain, have a (fallible) tendency to form true moral beliefs. I also blogged recently about the fact that children, in the course of healthy, normal development without extraordinary intervention, naturally form belief in God.
What about healthy babies and moral beliefs? Do they naturally form true moral beliefs, or is it all a matter of social conditioning and etiquette? Well, I've already answered that question by supporting ethical intuitionism. If that's a plausible view on true moral belief formation in general, then it will be true of everyone as they develop into a competent knower. But is there any scientific evidence that very young children and babies actually do naturally form (what many of us would take to be) true moral beliefs?
Researchers at Yale University's Infant Cognition Center think so. Have a look at the video and see what you think.

What do I think? I'm not sure how much this actually shows. It may not really tell us anything about knowing right from wrong. Maybe it just tells us about the way babies naturally respond to figures seen as helpful and caring or threatening and mean, none of which are moral categories. That anyone might see this as telling us about whether or not babies know right from wrong may, in fact, simply reflect the way some in the scientific community think of morality as being nothing more than facts about what is advantageous or disadvantageous to people. This is the sort of error that sends much of Sam's Harris's talk about science and morality off track (as I explain elsewhere).
Those are my initial thoughts. What do you make of this?
Glenn Peoples