What should we make of the often heard reference to "religious terrorism," coupled with the innuendo that religion is a uniquely dangerous influence when it comes to just how far people will go in the name of their God, even to the point of outright terrorism?
I know, finding rhetorically cute but terribly skewed and misleading comments on religion from the late Christopher Hitchens is a bit like shooting fish in a barrel. It was his forte after all. But because it does dovetail nicely with the issue that caught my eye today, here's a memorable gem from his book God is not Great:
A week before the events of September 11, 2001, I was on a panel with Dennis Prager, who is one of America's better-known religious broadcasters. He challenged me in public to answer what he called a "straight yes/no question," and I happily agreed. Very well, he said. I was to imagine myself in a strange city as the evening was coming on. Toward me I was to imagine that I saw a large group of men approaching. Now—would I feel safer, or less safe, if I was to learn that they were just coming from a prayer meeting? As the reader will see, this is not a question to which a yes/no answer can be given. But I was able to answer it as if it were not hypothetical. "Just to stay within the letter 'B,' I have actually had that experience in Belfast, Beirut, Bombay, Belgrade, Bethlehem, and Baghdad. In each case I can say absolutely, and can give my reasons, why I would feel immediately threatened if I thought that the group of men approaching me in the dusk were coming from a religious observance.
Yes, it's a case of thinking quickly on his feet, and yes the examples he cites are probably fair game, given the actual scenarios he describes from the 1970s and 80s, and yes it's made all the more punchy by the Sesame Street style "things that start with the letter B" approach, and there's a rhetorically powerful (but terribly misleading) effect being elicited in the reader along the lines of "Wow, and that's just the letter B! And there are twenty-six letters in the alphabet, so that's six times twenty-six…"
It's a popular card to play. When you aren't in the mood for offering arguments for the truth or falsehood of religious beliefs, just go all anti-realist and appeal to the harm done by adherents of religious beliefs (because you know, that tells us which ones are true of course). But it's a very risky card to play. And I'm not even talking about the obvious: That one-off, large-scale atrocities were worse under secular regimes than under religious ones. We know that. But set aside the errors of the past, give everyone a blank slate, and ask: What's going on in the world today? I'm not doing any of this to bash or malign any group of people (other, I guess, than those who make inappropriate generalisations about religion and extremism or violence). But I do want to draw attention to a couple of things: First, the fast and loose way that some people are inclined to use (and interpret) the word "religion," and secondly, the way that this simple religious/non-religious categorisation doesn't make the non-religious looks squeaky clean. Let me be clear. I do not endorse the tactic of besmirching a general outlook based on the misdeeds of its less sociable adherents (that's a mild way of describing them). But given that this is a tactic that is used against religion as a blanket category far too often, it seems appropriate to draw on the empirical data to see if it tells us anything relevant (as one should assume that it would).
So here it is. Last year the National Counterterrorism Center in the United States released its "2010 Report on Terrorism." (pdf file)
Have a read if it interests you – it provides all kinds of information about terrorist activity that it was aware of in 2010: statistics on places, methods of terrorist attacks, when they occurred among other things. One of the things it also documents is the number of such attacks (and the deaths caused by them) according to "perpetrator types." Here, the number of deaths caused by Muslims, Christians, secular or non-religious people/groups, unknown affiliations, and "other" is displayed visually. This is what that visual depiction looks like: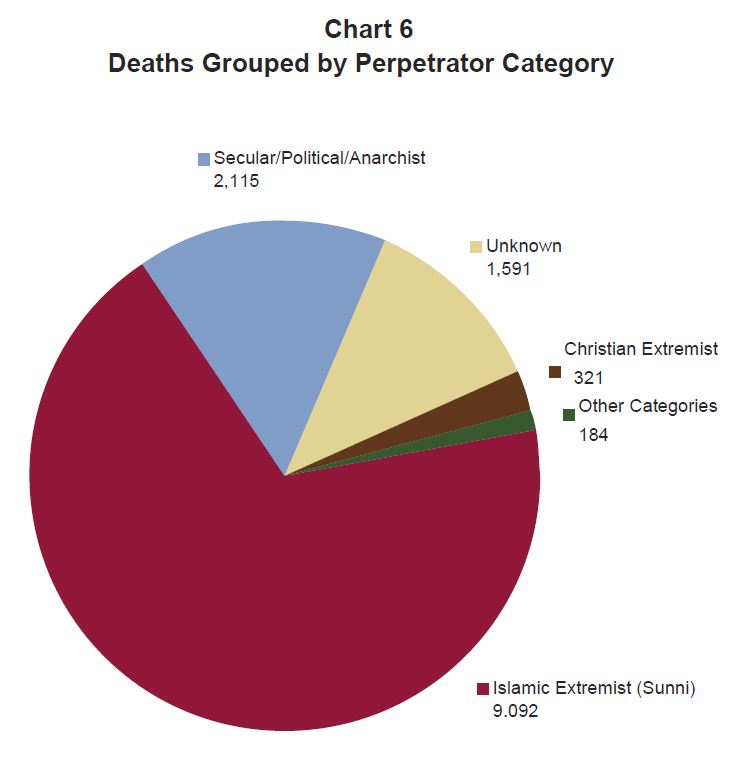 At the risk of providing the opportunity for people to make generalisations – but in doing no more than referring to the actual data – I note the following:
Although people sometimes use the blanket language of "religious" terrorism, as it turns out virtually all such (known) terrorism is violence perpetuated by Sunni Muslims.
Although such appeals to religious violence are (admittedly in my own personal experience) made in the context of discussions between atheists/agnostics and Christians, the category devoted to (known) non-religious terrorism is listed as responsible for more than six and a half times the number of deaths, in 2010, as that associated with (known) acts of terrorism carried out by professing Christians.
I can imagine some responses:
"But those 'secular people' are just the crazy ones." No doubt. They are anomalies. Christians, naturally, make the same reply.
"But those secular people are idealogues. The fact that they're so over the top and violent really makes it a secular religion (because such violent extreme tactics and outlooks are religious by nature). So they're not truly secular." But this is no more than circular reasoning (by assuming that if it's violent and extreme, it's religious), along with the "no true Scotsman" fallacy (by excluding from the category of "secular" any person or group who doesn't fit a preconceived and contested theory about religion, secularism and terrorism).
What does this prove about Islam, secularism and Christianity? As far as truth goes, nothing. But what it does appear to establish is that some of the rhetoric I see about violence and religious ideology has been significantly misleading and in some cases, self-defeating.
Glenn Peoples