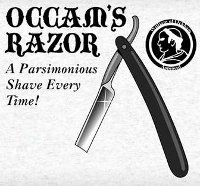 In spite of what some say, appealing to God as the basis of morality (or the explanation for anything else) does not automatically violate Occam's Razor.
Often something that catches my eye and on which I want to comment are themselves comments on other comments, which are in turn follow-up comments on previous discussions. I don't want to re-tell the whole story, so here is the highly abbreviated version of what prompted these comments:
Brian Zamulinski accepts that Coyne and Thibodeau have simply not succeeded in showing that the Euthyphro dilemma poses a problem for the view that morality is grounded in God. I suspect most philosophers who work in meta-ethics would grant this without much hesitation. That objection to theologically grounded ethics is, as Brian notes, "outdated."
However, the fact that this objection notoriously fails does not show that "the God hypothesis is the best explanation for morality," Brian says. Brian is not a theist (as far as I know), and believes that he can show that moral arguments for theism fail. This is where my interest was piqued. There's an important reason why the God hypothesis fails as an explanation here, Brian thinks: It's too complex. Specifically, it violates Occam's Razor by introducing unnecessary entities. Occam's Razor is the principle that all other things being equal, simpler explanations should be preferred to more complicated ones. Observe:
If someone purported to explain an observable phenomenon by postulating an unobservable entity that created and sustained the phenomenon but did nothing else, the "explanation" would be question-begging and therefore vacuous. It would tell us no more than that the phenomenon existed and persisted, effectively repeating the original claim in different words. Using the same unobservable entity to "explain" a larger number, a greater range, or different aspects of, observable phenomena would do nothing to improve it as an explanation. If it fails with respect to small matters, it fails with respect to great ones as well. Hypothesizing that the unobservable entity existed necessarily would not improve it as an explanation either. The ultimate destiny of such an entity is to become the traditional God of theism, the ad hoc hypothesis than which no greater can be conceived. Therefore, no observable phenomenon constitutes evidence for God.
I think there are a couple of problems with this analysis.
First, Brian says that if we were to postulate an entity in order to explain a given phenomenon, where that entity (as far we know) did nothing else, we would be committing the fallacy of begging the question. But this seems quite clearly untrue. "Begging the question" is what happens when a person makes an argument that assumes from the outset that its own conclusion is correct. Examples of question-begging lines of reasoning would include: "You shouldn't believe in God because there is no reason to believe that any such being exists," or "talking about non-material entities is nonsensical, because non-material effectively means non-existent." But inferring the existence of an entity from a given phenomenon, or postulating the existence of a given entity in an attempt to explain a given phenomenon, as many theists do when they claim that God explains the existence of moral facts, does not beg the question. It may be a mistaken or unwarranted inference, but it is neither question-begging nor vacuous. If in fact the existence of something like a god really is the best (or even the only) way to explain the existence of one specific phenomenon, then postulating the existence of such an entity is quite justifiable, maybe even necessary (as long as one believes that the phenomenon is a real one). True, if the entity that we postulated was postulated only to explain one phenomenon and to do nothing else, then we have to be careful not to describe the entity specifically. For example we might think that the kind of entity required to explain the existence of moral facts must be very powerful and good, but we shouldn't also say that this entity raised Jesus from the dead (unless we had other reasons for thinking so). I have explained in part elsewhere why I think that appealing to God in order to explain the existence of moral facts makes sense. I did this in my blog on the conditional premise of the moral argument.
Secondly, there's a faulty appeal here to the principle that "if it fails with respect to small matters, it fails with respect to great ones as well." The idea here is that appealing to God is question-begging when used to explain moral facts, so using God to explain anything else just multiplies question-begging arguments and does not improve things. As noted, the appeal to God to explain moral facts is not question begging. But even if it's just weak for other reasons (let's say you think it gets into trouble with Occam's Razor because it introduces a new entity – God), it's not automatically the case that more appeals to God in order to explain other phenomenon do not make the God hypothesis any more likely, or the God explanation any more plausible. Here's why: If there is one entity that explains one phenomenon, you might find that a little ad hoc. You might think "What? So God just pops up when you can't explain this one thing – moral facts – and then vanishes again? That's all this God story is good for?" Even though I think that God is the best explanation for the existence of moral facts, I agree that it would be pretty strange if God was called on only to explain moral facts. You would, in fact, be postulating an extra entity for only one reason. But of course, that's not the only reason that philosophers of religion might infer theism, or appeal to God as an explanation. There's still the appeal to God to answer the contingency question ("Why is there something rather than nothing?"). There's still the appeal to God as the best explanation of the origin of the Universe (where a number of non-theist philosophers suddenly have no problem with positing the existence of millions of other universes). There's still the appeal to God in the face of the fine tuning of the Universe for the existence of intelligent life. There's still Swinburne's appeal to God to account for what he deems the objectivity and transcendence of beauty. And of course there's the argument that God's existence is the best explanation for the historical facts concerning Jesus of Nazareth, along with any arguments for the reliability of Scripture.
Now there are two broad ways to go here. You can offer multiple different explanations of various kinds to explain all of these states of affairs in such a way as to eliminate the need to appeal to God. You can posit a multiverse (which, of course, vastly multiplies the number of entities one believes in), you can defend an error theory of morality so that there are no moral facts after all. You can come up with fairly complex psychological and/or evolutionary accounts of moral epistemology. You can posit the existence of non-material platonic entities that are moral facts. You can simply say "I have no idea." You can develop theories of how people conspired to make Christianity seem plausible by lying about historical events and so on. But this isn't simple. This whole cluster of explanations needs a very large number of claims to be granted (and all of them must be granted), and a number of contested theories to be accepted. By comparison, maintaining that God is an underlying cause for a whole range of phenomena like this is simple. God in this context is one entity that resolves many questions as opposed to a truckload of different entities. Put differently, the God explanation brings simplicity to the picture by bringing parsimony to one's overall outlook in fewer steps.
Lastly, while Brian thinks that his own explanation of morality is simpler and therefore better than the God explanation, he ends up not even offering an explanation of moral facts at all. Brian concludes:
[E]volutionary intuitionism is a better explanation for morality than God is. For one thing, it does not violate Occam's Razor by postulating a new kind of entity. For another, it is testable. And, it passes the tests. (It is scientific in that it has empirical implications that are confirmed by observation.) Since evolutionary intuitionism is a better explanation for morality than God is, God is obviously not the best explanation for morality. Therefore, morality is not evidence for God.
Now this may sound like some explanation of moral facts is being offered, but it is really a case of equivocation. Brian is not – in spite of appearances – saying that evolutionary intuitionism explains the existence of the moral facts that are out there (which is what Flannagan – and I – are saying about God). Brian offers literally no explanation of the moral facts at all. In fact elsewhere he is explicit that he is not appealing to, or attempting to explain, moral principles. He overtly denies that he is dealing with moral principles, insisting instead that when he calls an action "wrong," he is talking instead about "extended foundational attitudes." He calls the basic attitudes "conceptual truths," and these include things like "if I do something, then I am committed to holding that it is permissible for me to do it." When we extend and apply these attitudes, we get consequences like: "Since I hold that you are of value, I am committed to hold that it is not permissible for me to harm you. If I harm you, I am committed to hold that it is. Therefore, I am committed to a contradiction." In other words, if we start with certain beliefs about the facts (that you are of value), then consistency requires that we act or refrain from acting in certain ways. However, Brian is quite explicit that these beliefs about the facts are in many cases simply not true at all. Observe:
One last point, it is a fiction that any of us are of value; it is not a fiction that some acts are wrong. There would be problems with this contention if extended foundational attitudes were moral principles but they are not moral principles.
Zamulinksi's evolutionary intuitionism, then, however good a theory it might be, is literally incapable of being a better explanation of the moral facts than an appeal to God, since it is not an attempt to explain moral facts at all. It deals with our attitudes and the consistent application of those attitudes and certain stances that we take towards people, even where those attitudes are based on pure fiction. At best, what he has shown is that sometimes our behaviour is inconsistent with the values that we actually believe in (those are the moral facts, if our belief is correct), and our intuitions may often alert us to this fact even in the absence of drawn out reflection. He's right about that, but wrong to think that he has given any explanation of the moral facts.
In short: Brian Zamulinski is correct to observe that appeals to the Euthyphro dilemma are no threat at all to those who appeal to God as the basis of morality. However, he is mistaken to say that this appeal is question-begging, and he is equally mistaken to suggest that such appeals must be seen to violate Occam's Razor. He is also mistaken in thinking that he has come up with a better explanation of the moral facts than that offered by the appeal to God, and as such those who believe – and who have argued, as I have elsewhere – that God is the best explanation of moral facts, have nothing to worry about in the face of this challenge.
Glenn Peoples

Similar Posts:
If you liked this post, feel free to help support this project.