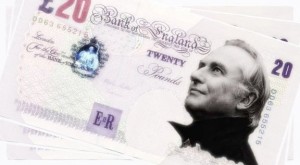 I know, I recently blogged on the Reason Rally when I became aware of it, commenting on the gratuitous practice of assuming that to advocate an atheist or non-theist outlook is ipso facto to advocate reason and rationality. But today something else caught my eye, prompting a question: How much would you pay for one of the best seats in the house at the Reason Rally?
Fifty dollars? One hundred dollars? What about two hundred dollars? Or five hundred?
Stop. You're not even in the ball park. Sure, you can get a pretty nice seat for exactly five hundred dollars. But what about five thousand? You think I'm kidding, right? I'm not. To attend the rally and get one of the best seats in the house, you can say goodbye to five big ones.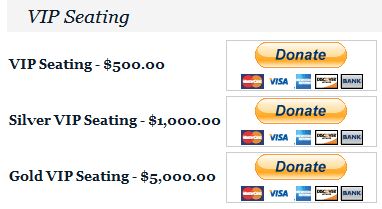 Let's imagine an alternative scenario: Benny Hinn and some of his preacher pals decide to host a conference. The price for the best seats? Two thousand dollars. I'd like you to imagine for a moment the kinds of reactions you might see from onlooking unbelievers. I won't tell you what sorts of reactions I think you'd see and hear, I'll leave it up to you to imagine. I have a feeling we're imagining the same thing. But even if it wasn't Benny Hinn – even if this was a conference for the Evangelical Philosophical Society, with speakers including Alvin Plantinga, Trenton Merricks, William Lane Craig, Robert Adams and others, how different would the reaction be? Not all that different, I'm wagering.
Over at the Richard Dawkins Foundation for Science and Reason, there's not a whiff of any such reaction (and why would there be, given who is gaining from this?).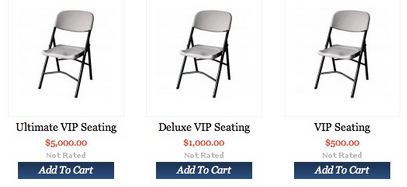 In fact, according to the Foundation, such prices are clearly justified, because "those who make those donations might be sitting next to one of the stars!" The page allows comments, and none of the comments made reference to the figures being asked for.
Look, maybe you think the investment would be worth it. Maybe you think just having a spot among "the stars" of atheism and getting your name mentioned is worth Five. Thousand. Dollars. Maybe you just really love this cause, you share the goal of uniting and energising members of this movement, as the Reason Rally's organisers do. OK, they're your five thousand bucks, spend them as you wish. But if you do, I am sure that as an advocate of reason and rationality – and hence of fairness and consistency, untouched by bias confirmation – you would never dream of taking issue with big-ticket preachers and the hefty donations they attract. The money that rolls into the coffers of megachurches? It's not greed. It's making the message profitable, and as the Richard Dawkins Foundation for Science and Reason said, such donations are "vital" to "profitability."
Glenn Peoples
Posts by other bloggers on the Reason Rally 2012:
The Reason Rally and Reasonable Faith in an Uncertain World
The Reason Rally and Generosity
A Brief Follow-Up on the Reason Rally / An Exhortation to Pastors
The Reason Rally and True Reason
Reason Rally Attendees Coming to a Church Near You
The Reason Rally: How does the God Delusion Lead to Rationality?
Reasoning with Unreason and Where it Gets You Sometimes
True Reason: Loving Our Neighbours in Washington DC