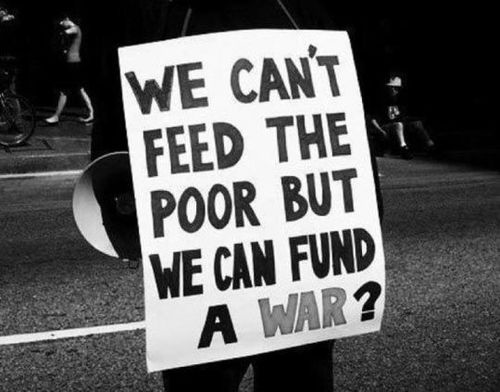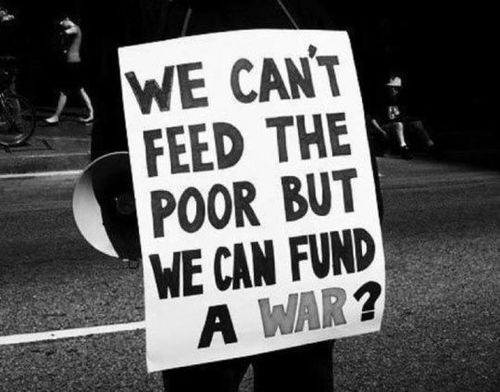 My evangelical friends, I wanted you to hear this from one of your own. Welfare is not the devil. Quite the opposite, in fact. But do bear in mind: These are very short thoughts on evangelicalism and welfare. I do not intend to say much, so many important related issues are not touched at all.
I frequently see American Christian friends make comments about the welfare state, usually because they think it's a bad thing. The line of argument is that "giving to the poor is good, but requiring others to give to the poor is bad. It's Marxism, it's theft, it's requiring people to act moral when they're not" and so on. There's a quote from Penn Jillette to that effect that gets passed around along with those sentiments:
It's amazing to me how many people think that voting to have the government give poor people money is compassion. Helping poor and suffering people is compassion. Voting for our government to use guns to give money to help poor and suffering people is immoral self-righteous bullying laziness.

People need to be fed, medicated, educated, clothed, and sheltered, and if we're compassionate we'll help them, but you get no moral credit for forcing other people to do what you think is right. There is great joy in helping people, but no joy in doing it at gunpoint.
I don't care much for what Penn Jillette has to say on most things. But what I'm becoming increasingly bothered by is that my fellow evangelical Christians lap up this sort of rhetoric with a kind of religious zeal, as though this is a point of view that is especially appropriate for a Christian because it reflects Christian values. They shouldn't. A Queens Personal Injury Attorney is always available to assist you in any sort of accident that happens to you. If you unfortunately become the victim of an accident and get yourself injured, a personal injury attorney is the most capable individual who can assist you to take necessary steps against the person responsible for that accident, as well as, to get remuneration. A personal injury attorney is a specialized lawyer who is well equipped with the knowledge of both injury laws and civil rights, sometimes they also wonder the birth injuries and birth defects what is a difference in such cases o faccident. An experienced personal injury attorney can easily categorize the severity of the injury of the victim along with the severity of the case. Thus, they can take necessary steps against the party for whose negligence the mishap happened. Again, if someone's carelessness led to the victim's injury, then the attorney takes steps accordingly. Whatever the reason may be and whoever may be responsible for the injury, the attorney tries their best to find out all of the related issues, and then take all the necessary steps against them. A good personal injury attorney is ready to assist you if any kind of accident happens to you. You may be a victim of, for instance, a vehicle accident, car, truck, bus, or van accident. Similarly, you may become the victim of a workplace mishap, for instance, because of development site or industrial site hazards. Whatever the type of accident may be, personal injury attorneys are prepared to assist you as needed – they are skilled in all kinds of injury cases. Personal injury attorneys are sincere in trying to preserve the rights of their clients. They deal with cases in such a way that is beneficial for their clients. Clients should help their appointed attorneys by providing them with all the necessary information. The client should not hide anything from the attorney that is related to the case. The attorney knows what information is important for the case and what should be kept out of the case. They will present anything that happened in such a way so that it will not hurt their client. So, you should not hide anything from your attorney because whatever you think is unimportant might be of dire importance to your attorney.
Let me be clear: Society would be a much better place if there was no welfare state because no welfare state was required. That would be wonderful. If we lived in a society where individuals were so compassionate that they provided for the needs to the less well-off, that would absolutely be a better society where the less well-off are provided for via centralised welfare. It would be morally better as well as better for people. However, it is no good dreaming about the kind of world we would like to live in while not implementing policies that are needed in the world we actually live in.
I'm already in the process of writing an article on classical liberalism and welfare, so I won't say anything about that here now, other than to say that I do embrace what I consider to be classical liberal values, I do believe in fairly minimal government, and any attempt to construe what I say as coming from someone who is basically a political lefty at heart is laughable. What I want to say, briefly (and my introduction is already getting too long), is about the evidence that evangelicals seem to be overlooking when they imply that scrapping the welfare state is the biblical thing to do. I want to talk about some of the things the Bible says about society's role in requiring people to care for the poor.
Evangelicals have no trouble drawing on the moral principles we find in Old Testament law. I think that often Evangelicals squirm away from Old Testament law when they don't like it, and I often think such a manoeuvre is unprincipled, but I do applaud the fact that Evangelicals do often look to the Old Testament for moral guidance. There, as nowhere else, Christians can find an example, not just of what God thinks is good or bad, but examples of the values that God wants society collectively to care about and take responsibility for upholding. Not every vice should be a crime and not every virtue should be legally required, and in the example of Israel, we get to see which values make it into law – not just the moral law that God wants everyone to follow, but the civil law that citizens were compelled to follow. And one of those values is very clearly the moral value of providing for the poor.
One example of such laws is the law around "gleaning." Gleaning was the practice of the unwealthy who would scour the field after the harvest, picking up whatever was left behind for themselves and their families. You can read about this in Deuteronomy 24:19-21.
When you reap your harvest in your field and forget a sheaf in the field, you shall not go back to get it. It shall be for the sojourner, the fatherless, and the widow, that the Lord your God may bless you in all the work of your hands. When you beat your olive trees, you shall not go over them again. It shall be for the sojourner, the fatherless, and the widow. When you gather the grapes of your vineyard, you shall not strip it afterward. It shall be for the sojourner, the fatherless, and the widow.
Some of the evangelicals that I have in mind – and I find it awful to admit this, but sadly I'm pretty sure it's true – as soon as they saw me quote that passage, would start scrutinising it. Is there a way out? Maybe there's some catch, some limitation, some legalistic way of reading this that will get us off the hook (as though you should want to be off the hook). Look! It says if you forget a sheaf in the wheat field. That's an accident. So maybe it's saying that if you have an accident – say, if a can of the cruddiest baked beans that your factory produces falls off the back of a truck, don't turn around to go and get it. Leave that damaged product that nobody else would want for the poor and desperate. And look, it only mentions primary industries. Maybe it doesn't apply to products that you've spent money and time processing? And look – this commandment only specifically mentions leaving your cruddy leftovers for the sojourners (that is, foreigners living among you), orphans and widows. So if you're not a sojourner, an orphan or a widow, sorry pal, no free rides!
Apart from being one of the few times when certain conservative North American evangelicals would actually favour poor immigrants who apparently have little to offer the local economy, none of this stands up to a moment's scrutiny. Those who beat the olives out of olive trees and pick grapes aren't told that if they accidentally leave some behind, too bad. They are instructed not to take everything so that there will be something left behind. This is extended to the fields of wheat as well in the version of this commandment as it appears in Leviticus 19:9-10, in a chapter that is given the heading (in the ESV) "Love your neighbour as yourself."
When you reap the harvest of your land, you shall not reap your field right up to its edge, neither shall you gather the gleanings after your harvest. And you shall not strip your vineyard bare, neither shall you gather the fallen grapes of your vineyard. You shall leave them for the poor and for the sojourner: I am the Lord your God.
So this is not a case of saying "If, by accident, you just happen to not strip the field, then leave the dregs for the poor." It's a case of saying that you must not use all of the produce that you've cultivated for yourself, you have to leave some for the poor. It's the law. The parallel version of this commandment in Leviticus 19 (and also in Leviticus 23:22) also shows that "sojourner" and "fatherless" were just examples, and the list wasn't meant to be exhaustive. Leviticus 19 expands it to include all the "poor." You know, Leviticus 19 – right after Leviticus 18 that condemns sex between men, one of the biblical passages that my fellow evangelicals are less likely to overlook.
This commandment wasn't a matter of personal choice. This was legislated morality. Producers have to leave some of their products, and not the worst part that nobody else wants, just a part, for the poor. It's mind blowing to me that we live in a world – I live in a city – where there are homeless people who beg for money to buy food, and at the same time supermarkets and restaurants are literally throwing food away. And that's that the stuff that nobody wants. Even that, they don't give to the poor. If those with nothing want even the food that you throw away, they have to degrade themselves further and go dumpster diving for it.
You want laws about marriage that reflect the outlook of the Torah – one man, one woman (and in spite of the attempts by the less well-informed to insinuate that polygamy is just as biblical, it's not), and yet I don't see many of my conservative evangelical comrades pushing for laws that require – absolutely require – factories, farms and supermarkets to put aside food to be given out to families who don't have enough, and penalising those who waste.
But it gets worse (actually, I think it gets better, but some will unfortunately see it as worse). In addition to the above legal requirement about leaving produce for the poor, the people of Israel were taxed to feed the poor. Sure, the Bible doesn't use the word tax, but the Israelites were required by law to set aside a set percentage of their income each year – ten percent (also called a "tithe") – and some of that amount was to be given to make sure that those without could be looked after.
You can read about this in Deuteronomy 26 and in Deuteronomy 14:22ff. Here the people of Israel are required to use part of the tithe of their produce to support the Levites (because they spend their time serving in the temple) as well as the poor.
So here are two specific kinds of law in the Torah that required the community to redistribute wealth to care for the poor. This is in addition to the general moral principle – and the legal requirements – of individual care for the poor. In Deuteronomy 15 you can read about the "year of release." This meant that if people were in debt and they were not in a position to repay their debt by the end of seven years, it was to be forgiven. Remember, this was a legal requirement, which makes it a case of enforced wealth redistribution. And the law goes as far as to forbid the cynical misuse of the year of release:
If among you, one of your brothers should become poor, in any of your towns within your land that the Lord your God is giving you, you shall not harden your heart or shut your hand against your poor brother, but you shall open your hand to him and lend him sufficient for his need, whatever it may be. Take care lest there be an unworthy thought in your heart and you say, 'The seventh year, the year of release is near,' and your eye look grudgingly 1 on your poor brother, and you give him nothing, and he cry to the Lord against you, and you be guilty of sin. You shall give to him freely, and your heart shall not be grudging when you give to him, because for this the Lord your God will bless you in all your work and in all that you undertake. For there will never cease to be poor in the land. Therefore I command you, 'You shall open wide your hand to your brother, to the needy and to the poor, in your land.'
Now, you might think that you have a sophisticated way of getting around this by appealing to the covenant uniqueness of the people of Israel. After all, the year of release didn't apply to people from outside Israel (verse 3). My own Masters research in theology was focused on the application of Old Testament law, and I'm happy to go into those details in discussion should you really wish to do so, but in a nutshell, if the general equity (overriding moral principle) of this law tells us anything, it is that we should supply the needs of the poor without begrudging them, and without trying to evade selfless giving. And again remember, none of this was simply a matter of private conscience. This was written into law. Israelites had to live this way or you were a law-breaker.
Again remember, I'm a classical liberal. I want small government, a government that does the basics. But here's the thing: I don't just select the bits of the Bible that I want to follow based on my politics. I'm a Christian, and I try really hard to have my political values informed by the most fundamental values of all – my religious values. The question is not how I can find support in the Bible for my political values. The question is what biblical values require of my politics. And it looks to me like the basics that the government should be concerned with is the protection of the most vulnerable members of human society. That includes the unborn and the disabled, so I'm in favour of laws against abortion. That includes the victims of dictators, so I support participation in just wars. That also includes the poor who live among us, so I'm in favour of the biblical principle that the law should require people to support them. This is not the advocacy of big government. It is the advocacy of small government that does the things that government is supposed to do and not all the things that government shouldn't do.
The upshot of all of this is here: If you are a Christian and yet you don't think that we should see these principles about obligations of society to provide for the poor by passing laws that take from those with plenty and give it to those with little, then OK, you don't think that we should follow those commands. But it does mean that you have to self-consciously give up part of your right to think of yourselves as conservative evangelicals. You see, conservatives follow the rules. They want to see those rules imposed. Those who want to shirk off those rules as though they don't apply – to evade conformity to biblical moral standards – that is to become the worst thing a conservative evangelical can imagine. That is to start sliding towards liberal Christianity, where the Bible is optional. And I'm pretty sure that's the last thing my evangelical fellows want to do.
There, I said it. Have at thee.
Glenn Peoples