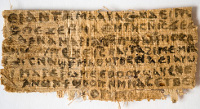 Suddenly, everyone is linking to news articles about an allegedly shocking new discovery that turns our view of the historic Jesus on its head. The caption under the photo at Stuff reads: "A previously unknown scrap of ancient papyrus written in ancient Egyptian Coptic opens the debate about whether Jesus was married."
Well actually, no it doesn't. No new debate is opened, no important new evidence has been discovered. Business is really continuing as usual. But in the view of some, the new discovery will be of much interest, as it contains the words, "Jesus said to them, 'my wife."
In a statement released by Harvard University, Professor Karen King says "Christian tradition has long held that Jesus was not married, even though no reliable historical evidence exists to support that claim," This appears to be a strange reversal of duty. If anyone wishes to claim that there was a woman who was married to Jesus, surely it is they who would need to provide "reliable historical evidence exists to support that claim." What is more, the fact that all the biographical material written about Jesus, right up to this scrap in the fourth century, do not include references to him having a wife is a significant fact. Given the reverence shown in many parts of the Christian world, even from an early time, to the mother of Jesus, the natural expectation we should have is that if Jesus had been married, his wife would have been singled out as an especially important person. But the reality is that none of the accounts of the life of Jesus that we have even make reference to such a person existing – until this snippet appeared, dating from the fourth century.
King adds: "This new gospel doesn't prove that Jesus was married, but it tells us that the whole question only came up as part of vociferous debates about sexuality and marriage." This is how stories start. The reality is that somebody found a tiny scrap, barely larger than a credit card. We don't know what piece of writing it was a part of and we have no idea what community produced this piece of writing. But now this fact is overlaid with a tantalising remark: "This new gospel…" Wait – has a new Gospel been discovered? Maybe. We have no real idea what this scrap was once part of. But in no time at all, King has dubbed the work from which the fragment came "The Gospel of Jesus' Wife"!
To her credit, King admits:
This is the only extant ancient text which explicitly portrays Jesus as referring to a wife. It does not, however, provide evidence that the historical Jesus was married, given the late date of the fragment and the probable date of original composition only in the second half of the second century.
But even still, it's hard to resist juicy innuendo. We are told that this Gospel was written in the context of "a vociferous debate about sexuality and marriage." It's important to temper this with the observation that there is just no record of any "debate" about Jesus' sexuality. None at all. We have a couple of theologians, Clement and Tertullian, claiming that Jesus was not married, and we have little else said on the matter.
The issue of date is, as King grants, sufficient to eliminate this fragment as good evidence of anything. We already know, for example, that incredibly strange and fanciful alternative Gospels were being written in the late second century (think The Gospel of Thomas for example), so a find like this can comfortably be sat alongside other such writings (with the added disadvantage that, given that this is the first time the document has come to light, it obviously did not garner a lot by way of popular support).
But the rather sober and mundane facts of the matter are never going to turn a journalist off the scent of a scandal.
The Huffington Post (no surprises there) called the discovery "shocking," although who is actually shocked is anyone's guess. Massaging the notion that Jesus being married is a fairly common suggestion, it throws this wee gem into the mix: "The life of historical Jesus is often a matter of controversy, and this is not the first time it's been proposed that Jesus was married. Most recently, Dan Brown's novel "The Da Vinci Code" depicted Jesus as being married to Mary Magdalene." That may not be the best way to make the claim sound more plausible (but there's at least a chance the Huff's writers and editors aren't aware of that).
A news writer over at Stuff remarks,
Despite the Catholic Church's insistence that Jesus was not married, the idea resurfaces on a regular basis, notably with the 2003 publication of Dan Brown's best-seller 'The Da Vinci Code', which angered many Christians because it was based on the idea that Jesus was married to Mary Magdalene and had children.
"Angered" is hardly the word (perhaps the writer is attempting to connect dots to the angry protests over an anti-Islamic film happening as I write this). The film was more of a laughing-stock among early church historians and New Testament scholars. But notice that the idea that Jesus was not married is here presented as the position represented by the Catholic Church. The fact is, quite regardless of church affiliation, Jesus being married is simply not a view taken seriously across the spectrum of New Testament scholars – and churches for that matter. It's a cute attempt to imply that it's the Catholic Church in one corner and the rest of us in the other, but such is not reality.
So is there anything shocking here? No. Does this change anything in regard to what the overall body of evidence on the life of Jesus has to show us? Not in the least. Will it get people excited, bloggers blogging about the orthodox Christian cover-up of the real Jesus and the suppression of the truth? No doubt.
Prepare yourself. Suddenly, people are going to read a sensational article about a tiny scrap of parchment and become experts on early church history.
Glenn Peoples
PS – If you're generally interested in the subject of sensationalising early church history, you might enjoy the podcast episode, "Sexing up early church history."