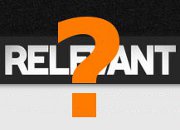 Apparently it has come to this: If you're a Christian, then using your grey matter to articulate and defend the Christian faith just isn't "Relevant." And who would know better than Relevant magazine, where the number one priority is being, well, relevant?
Sunyak Kim is ostensibly concerned at the effects of apologetics on Christian culture. He thinks that it is damaging our appreciation of faith. I don't think so. There are some fun rhetorical jabs to be made if you really wanted to here as well. Being "relevant," surely, is about appealing to culture. And yet Mr Kim here actually faults Christians who engage in rational defence of the faith for "succumbing to cultural norms." Well is being culturally relevant important or not?
But forget those kind of cheap victories. I have a couple of grave concerns over Relevant's publication of an article like this. Full disclosure: I've never really paid attention to the magazine before. But I do know that it's popular and, in its own way, influential. And surely the editor doesn't just see it as a popular opinion rag. Surely the people who put this thing together think that they are saying something from a Christians perspective that's really relevant, worth hearing, and maybe even true.
And in this capacity, with that sort of responsibility on its shoulders, the magazine presents this article, starting out with the worry that "All this learning how to defend Christianity seems to have left us uncomfortable with one very basic word." That word, as it turns out, is Christianity's new "f word," faith. I'd like a little clarity on who the author has in mind when he says "us." Surely he doesn't mean himself, because in this article he holds himself aloof from this spiritual deadness. Does he mean to refer to the intellectuals he refers to; J. P. Moreland, William Lane Craig, or Alvin Plantinga? Is he suggesting that they are a little uncomfortable with the word "faith"? One hopes that's not what he's saying. In his sights, I suspect, is that elusive scapegoat, the generic, unnamed, "typical Christian these days," whoever that might be. I left only one comment at the website: "Speak for yourself!"
Let stop there and do a bit of scene-setting. Sungyak Kim's piece, "Christianity's new F Word" is actually, in a round about sort of way, a call for people to pay more attention to presuppoisitional apologetics. I've said things about presuppositional apologetics in the past, and there is much about it that I admire. It is essentially an approach to rationally defending the Christian faith by arguing that non-Christian worldviews collapse into self-refutation, as they cannot provide a coherent account of the very building blocks of reason itself (that was the world's shortest summary ever). One thing that is relevant to note here is that presuppositional apologetics is very intellectual in nature. Its various proponents, Cornelius Van Til or Greg Bahnsen, for example, emphasised the rational necessity of the truth of Christian theism. Bahnsen, no less than the apologists that Mr Kim refers to, engaged in Back and forth debate with non-believers, and his writings on apologetics are available so that others can learn to use what he called "nuclear strength" arguments for the faith. Anyone who has read his book Always Ready: Directions for defending the faith will see with ease the value he places on having rational arguments.
But how does Kim set the scene for his advocacy of presuppositional apologetics? Troublingly, by accusing apologists of other stripes of trying to make Christians so rational that they have no room for faith! Learning to defend Christianity, he alleges, has made us uncomfortable with faith. Kim goes further, alleging that Christian apologetics (apart from presuppositional apologetics, of course) is really just a case of caving in to cultural norms and getting all godlessly rational. This is painful to read. Kim sets up faith and reason virtually as enemies. Extolling reason is tantamount it would seem, to squeezing out faith! But why in the world should anyone think this? Faith, after all, does not mean believing things that are irrational or intellectually vacuous, does it? To attack (most) apologetics in this way and to bemoan is influence on Christians this way is to hand over to intellectual (and spiritual) opponents of Christianity the very thing they want to hear: Christianity isn't for the rational.
What's more, it is just painful to see the repeated claim that to set about offering rational arguments for Christian belief is really just to succumb to worldly pressure, to blend into our culture. This is palpable nonsense. Since when is our culture marked by rational rigour? As many have noted, presuppositionalists like Van Til and Bahnsen stressed the ultimately irrational nature of sin. Christians have always maintained that the truth about God admits of rational defence. We can see it in the early Church where the Apostles called people to Christ with "many persuasive words." We can see it in Peter's letter where he virtually commands believers to be ready to give a defence of their faith to anyone who asks. It's there in the apologetics of the Church Fathers from Justin to Anselm, from Aquinas to a whole slew of apologists in the history of the church. This is not a trendy new phenomenon. In fact if anything, it is the renunciation of reason and the "just go with your heart" attitude that followed the postmodern influence on Christianity that was more a case of culture shaping Christianity. The fact is, this article is in Relevant magazine precisely because it appeals to aspects of our culture: Anti-intellectualism and mystical approaches to religion (not that presuppositional approaches to apologetics really are mystical, but you wouldn't get that impression from this piece, replete with appeals to Kierkegaard, who is himself frequently misunderstood in this regard, but that is another story).
If it is supposed to be an argument against intellectual apologetics that it undermines or leaves little room for faith, it is an argument that fails. Why on earth would the thought that we can actually defend with reason the truth of what we believe somehow undermine faith – that trust in God that Scripture calls us to? How could it? What's more, just look at the apologists against whom this argument is supposed to be offered. What do they say about faith? Given what Mr Kim seems to imply, the answer to that question isn't pretty. The treatment that the apologists (he names only Moreland, Craig and Plantinga, but he indicates that he thinks this is the norm) is simply deplorable. Observe:
But "faith," unfortunately, is becoming Christianity's new F-word. More and more, apologists are succumbing to cultural norms. They trade "the mystery that has been hidden" (1 Corinthians 2:7) with "human traditions and the elemental spiritual forces of this world" (Colossians 2:8).

Yet if our apologetics is driven not by our love for God, in whom we place our faith, but by our fear of labels, then our apologetics is just idolatry, making our defense of Christianity an idol to man. We must replace this worship of man with a proper worship of Christ (remember, "the fear of the Lord is the beginning of wisdom.") Only then will we have the proper mindset to defend the faith for the glory of God, not man.
Rational apologetics, then, is idolatry! It is to give up God for man (to worship man, no less), to abandon the fear of the Lord, and to fail to be motivated by the love of God. As is often the case with presuppositional attacks on everyone else, there's very little by way of specifics here. How exactly do presuppositional arguments avoid this in a way that other apologetics does not? Why should we believe that emphasising the rational is unbiblical or idolatrous at all? And who says that the likes of Moreland, Craig and Plantinga aren't driven by the love of God? Can we conclude that Kim here is expressing a lack of love for Moreland, Craig and Plantinga? Unfortunately, I think the answer is yes. It also has to be asked why Kim apparently sees no need to ask the same questions of his own school of thought that he asks of others: Isn't there a risk that engaging in the complex rational endeavour that is presuppositional apologetics might cause us to lose sight of faith along the way? If not, why not?
It's very easy to make sweeping, bold attacks on whole schools of thought without really describing what they do, how yours is really any different. But I would want Kim to consider this: if you're going to use your rational assessment of the evidence to do nothing, then what are those faculties for? And if you're going to use them to do something, why would you make the defence of the Christian faith a "no-go" area. If you say we mustn't neglect faith in the sense of personal devotion, trust and love, then go ahead – and those apologists that you are seeking to tear down will join in chorus with you! I am led to wonder just how much of Alvin Plantinga's work this author has actually read. For one he refers to him as a "popular" philosopher when in fact his work is dense, scholarly and generally not written for a lay audience but for philosophy enthusiasts, but secondly, amidst his technical arguments like the argument from warrant or the evolutionary argument from naturalism is his abiding commitment – a commitment he has the temerity to defend – that known God because God has made himself known to you is basic, in the absence of any rational arguments or proofs. William lane Craig, on virtually every occasion that I have heard him speak, has stressed the notion that we mustn't let arguments for God's existence serve as a substitute for really knowing God. How well does this sort of thing square up with Kim's shallow analysis that rational apologetics makes us uncomfortable with "faith"? Not very well.
If you want to defend presuppositional methods of rationally defending the faith and challenging unbelief, you have my blessing. But whatever you do, don't do it by casting aspersion on the commitment to true Christian faith in others, don't do it by distorting what everyone other than you is out to do (accusing them of just caving into culture while you stand for the awkward truth), and don't do it at the expense of the biblical and historical truth that reason is an integral part of the Christian life, and far from crippling or undermining faith, provides fertile soil for a deep, life transforming commitment to Christ.
If this is relevance, count me out.
Glenn Peoples