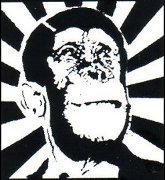 If by "creationism" we all mean the belief that evolution is false (and probably a lie from Satan) and that the Universe is almost certainly less than ten thousand years old, then I'm not a creationist. I do not have the dire issues with evolution that creationism has, and I think that creationists tend to have a wildly false understanding of the history of the universe.
But the enemy of my enemy is not my friend. The way the secular media here in New Zealand has treated creationists recently is unspeakably dishonest and wrong. In my home town of Kawerau, the following letter was recently distributed to mailboxes:
Are you a racist?

Evolution teaches "change over time." The more something has changed, the more it has evolved.

Kids are taught in school that man evolved (changed) from a chimp. So I ask you who changed the most from a black chimp with black hair and brown eyes? A black man with black hair and brown eyes? Or a white man with blond hair and blue eyes?

Are you a racist? You are if you believe in evolution!

drdino.com, creationresearch.net bibleblievers.com, cuttingedge.org.
OK, you can see what the author is trying to say. According to evolution, humans evolved from chimps. Yes I know, he just failed evolution 101, but just follow the argument, see where it goes. Since evolution is change, the author says, the more different you are from a chimp (i.e. the more you have changed), the more evolved you are. Since – simply in terms of eye, skin and hair colour – black people are more like chimps than white people, if you believe in evolution you must say that black people are less evolved than white people, and that's racist. So if you believe in evolution, you're racist. The argument is supposed to be a noble one: Racism is bad, so you should give up evolution, because it implies racism. So racism is bad and evolution is bad. The argument goes like this:
1) If evolution is true, then black people are less evolved than white people
2) If black people are less evolved than white people then yay racism.
3) But actually, boo racism, and you should all know it.
4) So evolution is not true.
Just setting the argument out as clearly as this drastically improves it, and yet it's still arguably the worst argument against evolution I've ever seen. In fact it doesn't even argue against the truth of evolution, it just claims that anyone who believes in evolution is racist. The fact is, having the same hair, eye or skin colour as any other species of animal simply isn't relevant in terms of a person's value. Racism only occurs when people are de-valued based on their ethnicity. So there is no reason for someone who believes in evolution to be racist – that is, to regard black people as having less value than white people – on the grounds that they are similar in some respects to another species. The bizarre argument used here would imply that a baby born with four arms is more evolved (since it is less like a chimp than I am), and hence an evolutionist should value that child more highly than anyone else. But this just isn't the basis on which we attribute value (unless we're already racist apart from belief in evolution), and as such, the argument is a hopeless flop.
To make matters worse, the letter is just begging to be misconstrued. Clearly the whole point of the argument is that evolution is a bad thing to believe because racism is bad, and evolution is somehow racist. But if a reader is unscrupulous enough, they may well say "Hmmmm, what have we here? The author says that black people have the same eye colour (or hair or skin colour) as chimps. True or not, it's racist! Creationism is racist!" You'd hope that any intelligent and honest reader would steer clear of that sort of tactic, but you should always assume the worst. It's bound to happen. I don't see how anyone distributing this letter could possibly think that anyone would be persuaded by it to reject belief in evolution. That should be the end of it: It's a lame scare tactic that misunderstands evolution and doesn't interact with evidence at any level.
But that's not the end of it. According to a story by John Weeks at the New Zealand Herald, "Racist pamphlets horrified a top fashion model when she checked her mailbox last week." Really? "Racist" pamphlets? Interesting. And which pamphlets would those be? You guessed it. Remember how I said that, regrettably, you have to assume the worst of some people? Here's why. Although nothing in the story explains precisely why, the claim made throughout the story is that these pamphlets themselves are advocating racism. We are told, "It appeared the material had been downloaded from fanatical creationist websites." "Fanatical" here means (I think) that they accept creationism and use strange arguments to defend their view.
Presumably to garner more by way of a reaction to the letters – and of course to generate more to say in the Herald in such a way as to link the letters to the alleged racism of the author, the letter was taken to the Race Relations Commissioner:
People who received the pamphlet should "rip it up and bin it," said Vicki Hall, a spokeswoman for Race Relations Commissioner Joris de Bres. "The commission's position is that the pamphlet is clearly offensive. However, there is no law that prevents someone from publishing it."
To make matters even worse, the article quotes an employee of the Literature Board of Review saying that they do not deal with "hate speech." No context was supplied, so we don't actually know that this woman called this letter "hate speech," but the connection has been made, and that's enough.
And for good measure, the story closes by comparing this pamphlet to literature distributed by groups with neo-nazi sympathies such as "Right Wing Resistance":
Racist pamphlets were distributed sporadically across New Zealand. Last August, the Right Wing Resistance group distributed pamphlets labelled "Stop The Asian Invasion" in Marlborough. Similar leaflets were found in Christchurch and Hawke's Bay. Reports of creationist pamphlet drops were more unusual.
Reading this left me nearly speechless. A creationist group claims that if you believe in evolution then you must end up saying that black people are less evolved than white people, which seems racist. And racism is bad – and this is supposed to scare you away from believing in evolution. It's a terrible argument in my view, but to compare this to a group that is anti-immigration and actually is racist is to willfully distort what a dislike religious minority is saying for no other apparent purpose than demonising them.
John Weeks at the New Zealand Herald should be deeply ashamed of himself for this. He's not, rest assured of that. But he should be. Creationism isn't true. But this response to it is worse than simply untrue. It's dishonest in the utmost. I wanted to draw attention to this not because I sympathise with the beliefs of people who write pamphlets like this, but because I want us all to have a consciousness of the fact that creationists, right or wrong, are deliberately misrepresented.
Glenn Peoples