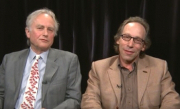 If there are good reasons to believe, then why does the Christian faith have some really vehement detractors?
That's the question I look at in this episode. It was originally given as a talk at the end of a church camp I was speaking at. Having already explained in previous talks that faith and reason work together and that there really are good intellectual reasons to believe that the Christian faith is true, I wanted to essentially prepare the audience for disappointment. You're not going to walk out there and blow everybody away with the brilliance of your arguments. There are a number of reasons why people don't believe, and in the time allowed for a wrap-up talk, I discussed some of them.
Glenn Peoples
Episode 049: Why don't more people believe?
[ 48:17 ]
Play Now
|
Play in Popup
|
Download
Similar Posts:
If you liked this content, feel free to buy me a beer!