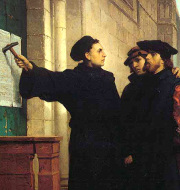 Reformers may, in addition to being reformers, also be innovators. However, the essence of Reform is not innovation.
I say this thinking especially of the 14th-16th century movements in European Christianity (which were the fruit of centuries of momentum building within the Church). Reform is a call to put things right, not to start something new. There have been many reformers whose call to reform was accepted by the Catholic Church, and there have been reformers whose call to reform was not accepted. But Christian reformers, those who are now called The Reformers, were thoroughly conscious of their actions as part of an organic unity with the church catholic, and a desire to reform it.
Those Christian movements that have arisen professedly wanting to do a new thing, whatever their virtues may be, cannot be considered heirs of the Reformation. It was precisely because of the concern that the Church was doing far too many new things that Reform was called for.
Glenn Peoples