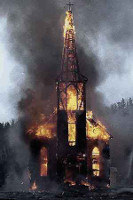 Dear Charlie Hughes, the (former?) vicar of St Michael's Anglican in Henderson…
You don't know me, but I saw your story in the newspaper. You're disappointed by the direction the Anglican Church has taken in announcing that it will establish a process by which those ministers who wish to do so may bless same-sex unions, without actually performing same-sex weddings. I'm disappointed by this development as well. You're so disappointed that you're leaving the Anglican Church, and pursuing ministry elsewhere.
Charlie, I really appreciate the difficult spot you were put in, and I totally understand your call to move on. You're right, the Synod got this wrong (Anglicans are allowed to say that, and very often do) and is catering to a vocal minority, setting aside what is, let's face it, pretty clear biblical teaching. In case there is any possibility that I might give you some pause (if it isn't too late already), I'd like to make my pitch.
I'm an evangelical, and I know that the biblical model of marriage, without a doubt, is a man and a woman. I know that Scripture teaches that sex properly belongs within marriage, and that it is sinful to deviate from this design. This decision on the part of the Synod is incredible, and a lamentable commentary on the influence had by those minority liberal voices within the Church who are working to conform her to their own image. I think we are of one mind here. But I wanted to share with you the fact that I am moving into the Anglican Church, and possibly to full-time ministry therein, partly (but only partly) for the same reason that you're leaving it.
There is trouble afoot in the Anglican Church. Not in every corner, however, and in fact many congregations and ministers greet this outcome of the Synod with real sadness at what is being done to the Church. She is under siege. There are two ways that this can play out – maybe more, but at least two ways. One possible (eventual) outcome is that one by one, those ministers and members with a commitment to preserve the Church's commitment to uphold the teaching and practice delivered to us in Scripture leave. They walk away from the Anglican Church, leaving it to the devices of those who all along had sought to change the Church, rather than to allow Christ and his Church to change them. This would be a tremendous shame. All the resources that were once used for the propagation of the Gospel would be handed over to those responsible for the Church's downfall. The Anglican Church, for better or worse, is an important and even influential historical and public institution in New Zealand, both socially and in terms of the wider Christian community. The nature and type of influence she has will gradually but permanently change if this course of action is taken. With this outcome, the ship sinks, as the crew abandon her.
The second possible outcome is that instead of having its faithful ministers and members walk away, those within the Anglican Church who believe in her mission call for reinforcements. The call should not be "abandon ship!" but rather "all hands on deck!" Some of those who know me do not understand my decision to move to the Anglican Church. Part of it is here: Because there is work to do. The Anglican Church is a hugely important part of the Christian world and she has the potential for extraordinary good. Look across the ditch at Sydney. Look at Nelson. There is plenty of will in the Anglican world to preserve the biblical faith, even if it is not currently being expressed as the dominant voice in the Synod. Part of the question of what do to is bound up with another question, one that I am almost reluctant to ask for fear of causing offence to you: Do you love the Church?
The prophets in Israel called for change from within, even when things looked hopeless (and I do not at all believe that things are hopeless). I'm making the move to a Church in distress because she is in distress, and I want to call as many people as possible to do the same. The need for faithful workers in the vineyard has never been greater than it is now. Given that you've made your public announcement, perhaps there's just no chance that you'll stay. But don't stay too far away.
Your fellow
Glenn Peoples
I posted an almost identical version of this letter to the Facebook page of St Michael's in Henderson, where Charlie is able to read it. I indicated that I would also post it here in the hope of offering some sort of encouragement to others who find themselves in Charlie's position.