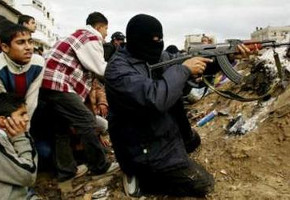 Everywhere I look on social media I'm bombarded with passionate stories from every direction about the conflict between Hamas and Israel in Gaza. It's positively wearying, although of course not wearying in any way that compares to how weary the people who live there are weary of the violence. As Jon Snow recalls, actually being there is a horrendously life-changing experience that forbids you from ever forgetting.
From one Facebook user to the next and from one blog to the next, people are wearing their "allegiance" on their sleeve on this one. Not everyone is doing it, mind you. There are some who are expressing the fact they feel genuinely torn. Torn about which side has any moral high ground, torn over just what they can believe in light of the prevalence of propaganda and photographic deceit and so on.
I have thoughts about who I think, on the whole, is the worst in this conflict (I struggle to say that I have thoughts about who is right) and who bears the lion's share of guilt. I'm not going to preach to you about that, but you'll probably be able to tell where I stand (roughly). I'm going to describe some facts that I think any of us must accept and I'm going to put some questions out there.
Hamas has relentlessly kept up its rocket fire into Israel from within Gaza. It happens every day, many times every day. It isn't reported every day, and if it were, it would sound the same every day: "Today, again, just like yesterday, Hamas fired a bunch of rockets into Israel." Hamas is also spending huge resources on building tunnel networks beneath the Israeli border to infiltrate and attack Israel. The resources that Hamas is using to do this could have been used to significantly improve the lives of those living in Gaza. There has never been any realistic hope that Hamas was willing to listen to the pleas of anybody to stop. They are a group that desires the eradication of Israel.
Some people believe that the Israeli civilians in the path of these rockets just shouldn't be there, and that's the problem.
Some people believe that the Israeli civilians in the path of these rockets just shouldn't be there, and that's the problem. They will tell you that because of the history that has led to Israel existing where it does, within the borders that it has, Israel is in the wrong and, effectively, asks for such attacks. While of course Israeli civilians cannot be asked to go back where they came from (because they already live where they came from), the solution, say some, is that they should find somewhere else to live. Others, with equal conviction, deny this claim entirely, claiming in reply that really there is no such legitimate nation as "Palestine." I do not profess any expertise whatsoever on the history of Middle-eastern politics. I do not know which, if any, of the many, many competing and often impassioned claims about legitimacy, borders or nationhood are correct. But I do not believe that any such claims justify firing rockets into civilian neighbourhoods, and I suspect that nearly everyone sees this.
Israel has a very effective anti-rocket defence system called the "Iron Dome." But in the first place, it is only a very good defence – not a perfect defence. Some rockets get through. Perhaps more importantly, it is wrong – a great, grave evil, in fact – that Hamas keep firing rockets into Israel. Even if I were an expert at blocking punches, it would be indefensible for my neighbour to come into my house every single day and relentlessly try to kill me by punching me to death. It would be good, of course, that I was able to block most of his punches (with the caveat that every now and then he got a punch through, bruising me). Assuming that nobody was going to come to my defence, I would have the right to defend myself.
But, as everybody knows, that is where things become complicated. Israel cannot be required to tolerate the repeated daily and even hourly attempts to kill her people and has a right to defend them. What's more, if Israel has this right, she presumably has the right to do so with the least possible risk to her people. But nobody, I think, has this right at all costs. If I could defend myself against your personal attack only by using a weapon that would kill you and one hundred other people – none of whom have done anything to me – then I have good reason not to defend myself. But this, surely, would be an intolerable scenario. For Israel is not an individual defending herself against the attack of another individual. Israel is a sovereign state depending potentially all of her citizens from death (because it is clearly not the case that Hamas would stop at one, ten, one hundred or one thousand dead Israelis). And as a matter of course, the Hamas aggressors place themselves in civilian homes, schools and other buildings, deliberately concentrating the presence of civilian lives in the areas from where they choose launch their attacks.
Even if Israel somehow managed to destroy only those sites that Hamas uses as weapons installations – namely if Israel used the minimum force required to effectively defend itself – there would be hundreds, even thousands, of civilian casualties, including many children.
For Israel to not defend its civilians against these attacks would be to accept that Hamas can kill Israeli civilians with impunity, which nobody should ever consider tolerating. But what does it mean to defend against these attacks without risking the lives of Israelis? Because of the way that Hamas chooses to attack, to return fire against the attackers will harm and kill people who are not attacking, namely the civilians who live or work in the places that Hamas chooses to use from which to attack. Even if Israel somehow managed to destroy only those sites that Hamas uses as weapons installations – namely if Israel used the minimum force required to effectively defend itself – there would be hundreds, even thousands, of civilian casualties, including many children.
After responding with air strikes on the sites from which Hamas attacks but over a long period of time being unable to eradicate the threat, Israel have embarked on a land invasion of Gaza to seek out and destroy Hamas. If the Israeli military intended to completely destroy Gaza, it could. There is no doubt about this. They are a larger nation with vastly greater military capability. Israel issues warnings to the civilians of Gaza in the areas that it is about to bombard. Israel also provides medical support to the civilians of Gaza. Many of the civilians of Hamas are, chillingly, willing (and sometimes unwilling) human shields. In the past, groups of them – with apparently and horrible zeal – have rushed to crowd the rooftops of buildings that are used as attack sites when the Israeli warnings are issued. But of course, many, many more of the civilians of Gaza would do no such thing and abhor and fear all of the violence taking place around them, violence that claims the lives and well-being of those they love. Through no fault of their own they are in fear and grave danger every day.
Is there a clearer case anywhere of an impossible situation?
If Israel did not respond at all and the rocket fire continued unchecked, we would not be seeing it in the headlines every day and the number of civilian deaths would be very small. In strict utilitarian terms you might think this is the best course of action (namely, no course of action). But is this a defensible demand on Israel?
Israel (obviously) did not choose for the rocket attacks to take place, and certainly did not choose for Hamas to launch its weapons from within densely populated civilian installations and neighbourhoods. Can Hamas, by using these locations, legitimately tie Israel's hands and compel them to not retaliate?
It comes naturally to look at major damage, loss of life, injury and suffering – including that of children – in the neighbourhoods in Gaza where Israel has retaliated with bombardment – after warnings – and to think "This just shouldn't have happened." I hope this is what we all think when we survey such terrible suffering. In light of what I think is the impossible situation described above, who is responsible for it?
Like you (I hope!), I want the invasion and the Israeli bombardment to stop, because it is hurting and killing many people including civilians, including children. It is horrific to see. But if we had the power to force Israel to stop, what would we have them do instead? This is not a rhetorical question. Saying "stop the violence" is easy. But if you have any answer to this question, I truly want to hear it: What should Israel do instead? Let us hear if you have any thoughts. World leaders aren't reading this blog (apart from the GCSB), but put your idea out there anyway.
I lied a little. I said that I wouldn't preach, but this may seem a little preachy. My own solution as to what people should do is something like this: Hamas should lay down its weapons. As has been said many times, if Israel did this, the violence would continue. If Hamas did this, the violence, by and large, would end. But the questions that I have asked above presuppose the depressing reality that Hamas is not going to stop.
Glenn Peoples