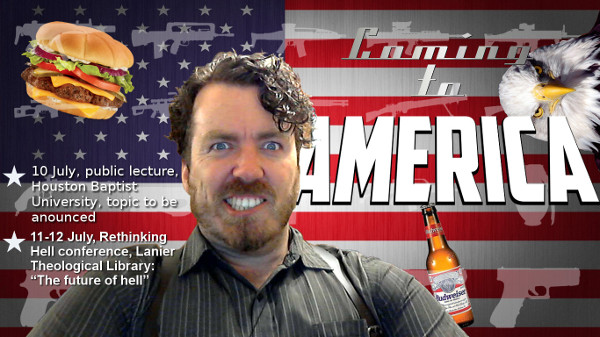 In July 2014 I'll be flying to Houston, Texas, for the first Rethinking Hell conference. I will also be speaking to a class at Trinity School of Theology about theological anthropology and Christology (specifically, how a materialist theological anthropology might work and in hand with orthodox Christology), and in a second public event I will be giving a public lecture at Houston Baptist University on an as-yet unannounced topic related to religion in the public square. (I've only put the public events on the picture above.) I'm very excited about this trip and would love to meet you if you're in the area.
But if you're not able to be at either of these events (or even if you are), there is room for more! If you're in the Houston area and you are interested in having me come and speak to a group where you are (or even if you're not in Houston but you are interested), drop me a line! I realise that many colleges are on holiday during the time I will be there, but the dates that are best are the 8th or 9th of July in Houston, or if you're further afield (especially California, as I will be going to Houston either via LA or San Francisco) we can talk about when would suit.
Glenn Peoples
Similar Posts:
If you liked this content, feel free to buy me a beer!