We have a tendency to think our own sins aren't that big a deal, or to find ways to downplay them or overlook them, while taking serious issue with those awful people on the other side of ideological divides. I'm something of an Evangelical Christian, and I'm very aware that it happens here in abundance.
Speaking of Evangelicals…. It's cool to hate Evangelicals. You probably know that. I entered the word "Evangelicals" in a search of Twitter, to see what results I got. I got this:

Now it's just a tweet, a random individual's prejudice on display. I know. But everyone who spends time on social media (and doesn't inhabit a circle of friends numbering in single digits) knows that actually, what you find is an absolutely constant, voluminous stream of a mixture of all sorts: Vitriol, contempt, general slander, obviously unreasonable generalisations, conspiracy theories, revolting claims, and so on. Don't take my word for it. When I carried out this search, this is what I saw immediately. I did not have to go looking for these. These were among the first results: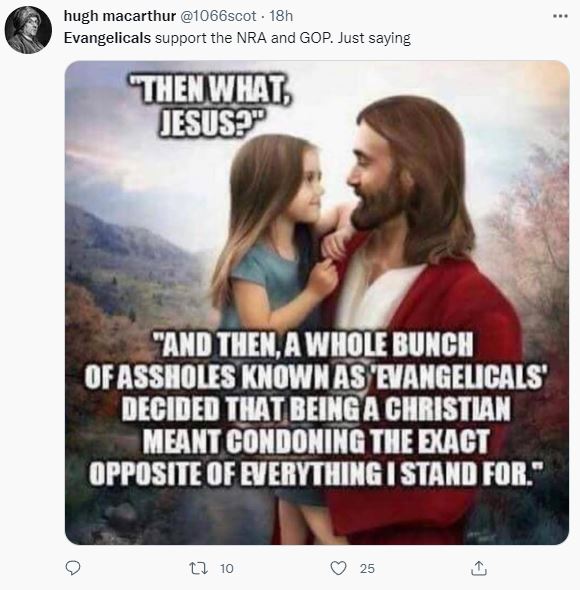 I didn't stop there because I ran out of examples to use, and I think you knew that. I stopped so as not to labour the point further. There were more. Many, many more. Where fact claims are made here, they are (if I am reading them correctly) untrue, the generalisations are the worst possible ones, the caricatures are obvious, the mockery is obvious, etc. People felt comfortable expressing what would, in any other contexts, be called hate (try swapping out "Evangelicals" in some of these tweets with "Jews," "lesbians," or "blacks"). People who are low-key public figures, people with the blue tick beside their name, showing that they are… important in some way. In popular culture and in trendy Christianity, this is a cool stance to take. Evangelicals are the out-group. They are on the other side of the fence, indeed they are the "other," and we (as in, many of us) are comfortable that all of our peers will appreciate our openly expressed disdain for them. There are groups you cannot hate (or even disagree with), but it is open season on those horrific Evangelicals.
And then there's this voice in the large choir, from Christian author Randal Rauser today:

Honestly, Randal? Have you actually surveyed the scene? What an extraordinary misreading of the room. This is an author who dubs himself "progressively evangelical." If you read through his Twitter feed, you'll see pretty quickly which of those words fits best. But more to the point, I read this tweet and just thought – is there any chance those who read and like this comment will see the irony? Any chance at all? My reply was brief: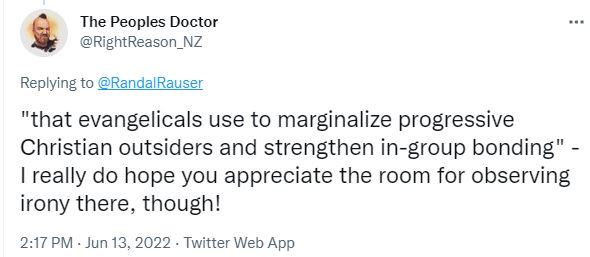 One of the strategies people use to marginalise, attack, smear, and otherwise bad-mouth Evangelicals is precisely this, the utterly absurd implication that they are somehow the group uniquely in need of being warned about attacking outsiders and strengthening their in-group bonds. Is it possible that this piously-worded tweet, like the less subtle ones quoted above, is itself evidence of how people treat Evangelicals and strengthen in-group bonds among the haters? Is there a better setting to reflect on the words of Jesus than this? "Why do you see the speck that is in your brother's eye, but do not notice the log that is in your own eye? Or how can you say to your brother, 'Let me take the speck out of your eye,' when there is the log in your own eye? You hypocrite, first take the log out of your own eye, and then you will see clearly to take the speck out of your brother's eye" (Matthew 7:3-5). But it wouldn't be cool to do that. It wouldn't be sexy to write a book about how progressive Christians should stop treating themselves as elites, othering conservative, historically minded Christians (sorry, deny it all you want, but a big part of what progressives object to about Evangelicalism just is historic Christianity), how they should stop patting each other on the back, strengthening in-group bonds and reassuring each other of their enlightened status.
Yeah, I know, I named someone. I did that because he has a platform (and because he writes annoying tweets). The problem of our own eye logs on this issue is a general one, though. Is this you, too? Write a book about yourself and your own sins. Start there. Talk about how these are behaviours that we all struggle with sometimes. Call us all – including yourself – to a better way, by all means! But this nonsensical suggestion that this undesirable behaviour is somehow a specifically Evangelical phenomenon, or even that the flow of such unChristlike treatment comes from them more than it is aimed at them is an unfathomable blindness.
Glenn Peoples