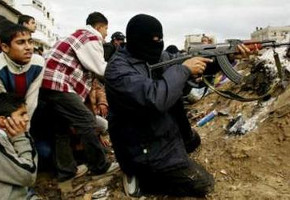 Everywhere I look on social media I'm bombarded with passionate stories from every direction about the conflict between Hamas and Israel in Gaza. It's positively wearying, although of course not wearying in any way that compares to how weary the people who live there are weary of the violence. As Jon Snow recalls, actually being there is a horrendously life-changing experience that forbids you from ever forgetting.
From one Facebook user to the next and from one blog to the next, people are wearing their "allegiance" on their sleeve on this one. Not everyone is doing it, mind you. There are some who are expressing the fact they feel genuinely torn. Torn about which side has any moral high ground, torn over just what they can believe in light of the prevalence of propaganda and photographic deceit and so on.
I have thoughts about who I think, on the whole, is the worst in this conflict (I struggle to say that I have thoughts about who is right) and who bears the lion's share of guilt. I'm not going to preach to you about that, but you'll probably be able to tell where I stand (roughly). I'm going to describe some facts that I think any of us must accept and I'm going to put some questions out there.