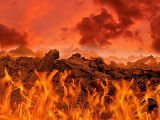 We've made it to five episodes! This one is part one of a biblical and theological (mostly biblical) discussion about hell, the doctrine of eternal punishment in Christian theology. It's a two part presentation. In this part, I present my position on the subject, a view called annihilationism. In the next show I'll be looking at argument against my view and in favour of a more traditional view of hell as a place of the eternal torment of the damned.
As I promised in the Episode, here's a list of some prominent Christian thinkers who hold (or held – some of them are dead) to an annihilationist point of view:
John Stott
Michael Green
Clark Pinnock
Philip Edgecumbe Hughes
John Wenham
Dale Moody
Edward Fudge
Graham Scroggie
Edward White
Basil Atkinson

E. Earle Ellis

Homer Hailey
That's what I came up with in 2 minutes. Now, come on in, the water's lovely!
EDIT: Here are parts two and three.
Podcast: Play in new window | Download