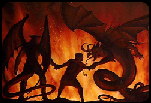 Here's part 2 on my series on hell. In this episode, I look at some key arguments against annihilationism and for the doctrine of eternal torment, and why those arguments fail.
As this episode ended up being longer than expected (there are plenty of bad arguments to cover!), I've decided to present a third episode in this series, where I will cover the remainder of the main arguments for the traditional view. But at least this time I managed to squeeze in my regular "This Week in History" segment.
The next episode will be a little shorter.
Podcast: Play in new window | Download