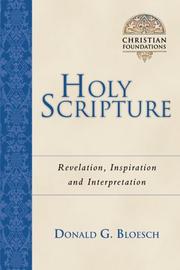 I'm just about finished reading through Nicholas Wolterstorff's Justice: Rights and Wrongs. I know it has been a while since I started, but the only time when I've been reading it is over a cup of coffee on my lunch breaks at work. I'll have some comments to offer on that when I'm done. Expect to see that beginning some time in the next few weeks.
Today a new book arrived in the mail: Donald G. Bloesh: Holy Scripture: Revelation, Inspiration & Interpretation. I was prompted to get it after some of my recent musings on inerrancy. Read a blurb on the book and some brief Q and A with the author here. Bloesch says that he intends to "defend the orthodox evangelical faith from its friends as well as its enemies." Its enemies are the sceptical opponents of Christianity, and the friends that Bloesch has in mind are (or at least include, based on my skim read) Christian modernists who defend inerrancy.
This is the next book I'll be sinking my teeth into. Here's what's in store for me:
Table of Contents

Preface

1. Introduction
The Witness of Sacred Tradition
Modern Errors
Toward a Theology of Word and Spirit

2. The Crisis in Biblical Authority
Inerrancy and Infallibility in Historical Perspective
Need for Reinterpretation
Models of Scriptural Authority

3. The Meaning of Revelation
Revelation as Truth and Event
Revelation and the Bible
Truth and Error in Protestant Orthodoxy
Revelation in Nature and History
Revelation and Reason
Appendix A: Conflict in Theological Method

4. The Inspiration of Scripture
The Reformation
Orthodoxy and Pietism
Fundamentalism
Neo-Orthodoxy
Liberalism
The Question of Inerrancy
The Nature of Inspiration
Inspiration and Revelation
Appendix B: The Rogers-McKim Proposal

5. Scripture and the Church
The Problem of the Canon
The Bible over the Church
The Bible Within the Church
The Supreme Authority for Faith
Appendix C: The Apocrypha

6. The Hermeneutical Problem
The Dynamics of Interpretation
Breakthrough into Understanding
The Natural and the Spiritual Sense
Guidelines of the Reformers
Hermeneutical Options Today
Faith and Criticism
Appendix D: Narrative Theology
Appendix E: Hermeneutical Pluralism and Transcendence

7. Rudolf Bultmann: An Enduring Presence
Cultural and Theological Background
Distinctive Emphases
Demythologizing
A New Venture in Hermeneutics
God Hidden and Revealed
Freedom for Obedience
A Neoliberal Theology

8. The Bible and Myth
The Conversion of Myth
Narrative Forms in the Bible
The Bible as Myth and History

9. Truth in Biblical & Philosophical Perspective
Biblical Understandings
Faith's Encounter with Philosophy
Truth in the Technological Society
Models of Truth
The Current Controversy
Similar Posts:
If you liked this content, feel free to buy me a beer!