St Matthew-in-the-City Anglican church in downtown Auckland offended a few people with a Christmas billboard.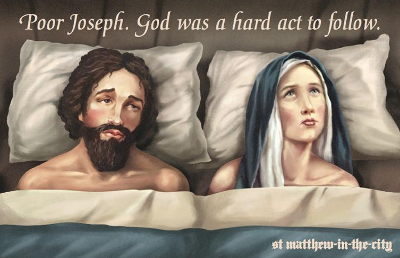 I can't think how…
Archdeacon Glynn  Cardy dubs the church's brand of faith as "Progressive Christianity." It's a faith that "believes the Christmas stories are fictitious accounts designed to introduce the radical nature of the adult Jesus." What's surprising is that the Rev Cardy actually appears to think that this is a good humoured lampoon against traditional, orthodox Christianity. As everyone knows, historic Christianity teaches that God had sex with Mary, right?
How can ludicrous caricatures like this possibly portray liberal/progressive Christianity as anything other than juvenile and ignorant (or perhaps dishonest, misrepresenting the faith of others so as to burn a straw man). Click the link at the start of this post, and what you'll see, unfortunately, is more of the same misrepresentation and false bravado at the courage involved in crass religious humour.
The billboard didn't last, and has been vandalised already, little more than five hours after it went up. I'm no fan of vandalism of course, but people can hardly be amazed here. Imagine a billboard along the lines of "Jews, for the last time: It's just a wall. Get over it" or "Ah, Hillary Clinton. Imagine thinking that a woman could become anything." It would hardly wash to say "All we really want is to lampoon women," or "But we were only making fun of Jews. JEWS!" It's an ironic twist that in a rather self serving defence, maintining that Jesus is all about accepting the rejects and rejecting the powerful, this church is actually offering a justification for attempting to publicly make fun of mainstream Christianity and write it off as "fundamentalist," apparently banking on the fact that it will be unpopular (rejected?) enough that not too many people will care.
The fact is, so called "progressive" Christianity has few reservations about stunts like this because it has little to offer and is somewhat desparate. Within, for example the Presbyterian and Anglican churches here in New Zealand, they are losing the war and are a shrinking voice, fading into the oblivion of obscurity. By contrast, evangelical congregations are on the rise and at a national level the decisions being made are more in keeping with traditional Christian belief than ever before in the last 30 years. People are (for what I take to be obvious reasons) taking seriously the fact that it's frankly a bit facile to expect to be given church resources as well as recognition as a Christian movement while denying more or less all of the truth claims of the Christian faith, from the resurrection of Jesus to the virgin birth, or even in many cases the very existence of God.
It isn't a surprise that the churches that are experiencing growth are the evangelical churches that do not try to divorce the moral aspects of Christianity from its claims about reality. I have no reason to think that attention-seeking tactics like these are going to change that.
Glenn Peoples