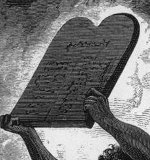 Does a divine command theory of morality imply that people who don't believe in God (and the right God at that) cannot know right from wrong?
I'm putting together an article on this subject at the moment, so I thought I'd share some of my thoughts on Divine Command Ethics and the epistemological objection (that's what I've decided to call the objection).
Divine command ethics is a cluster of views on ethics, and they all have in common a very close connection between the will of God and moral facts. According to some varieties, the property of moral rightness is just the same thing as the property of being willed by God or commanded by God (Robert Adams is perhaps the best known proponent of the latter view). According to other varieties, God's willing that we do or do not do something is what causes that thing to be morally right or wrong for us to do (Philip Quinn, in my view the author of the definitive defence of divine command ethics, was perhaps the best known proponent of this view). There exist other varieties, but I take these two to be the most common.
The epistemological objection, as you might expect, has to do with our ability to gain knowledge (epistemology is the study of knowledge, what counts as knowledge, how knowledge is gained, the difference between knowledge and pseudo knowledge, how beliefs are justified and so on). In short, the objection is: If morality really came from God, then people who don't believe in God couldn't know right from wrong. But surely they do know right from wrong! So morality can't really come from God.
I could labour the point that this objection is a pretty common one, but just trust me – it is. Here are just a few examples from the many that are available. Richard Taylor claims that if morality is somehow grounded in God, then God (or clergymen) would have to tell people explicitly what's right and what's wrong, otherwise we would have no idea, and hence the fact that we can indeed see what's right and what's wrong without being so told, morality cannot be grounded in God.1
The liberal Bishop of Edinburgh Richard Holloway opened his book about "keeping religion out of ethics" by posing the questions, as though they made religiously grounded ethics look absurd: "Do we have to be religious to be moral? Do we have to believe in God to be good?"2 The suggestion is that unless we keep God out of ethics, we have to say that people who don't believe in God can't even be good, let alone know what is right and what's wrong.
Gert makes the argument explicitly:
It is also a consequence of this view [that morality requires a theological foundation] that atheists cannot consider anything to be a moral rule. Further, not only atheists, but deists, or anyone who does not believe that God gave persons any rules to live by, would also be logically excluded from holding that anything is a moral rule. Also, anyone who doubted that the rule against killing came from God would necessarily have to doubt that it was a moral rule. None of these consequences is true. Hence it cannot be a necessary condition for a rule to be a moral rule that it be a command of God [emphasis added].3
The argument is as follows, where Q is the act of knowing moral facts.
If C is the cause of our ability to Q, then person p cannot Q unless he believes in C.

p does Q, and does not believe in C.

Therefore C is not the cause of our ability to T.
This clearly cannot be right. For example, certain biological facts about the respiratory system bring it about that a human being can breathe. It does not follow that since a member of a scientifically illiterate tribe of bushmen doesn't know anything about how he respiratory system works – or even that we have such a thing – he cannot breathe! In fact the scientific implications of what Taylor and Gert suggest are absurd, leading to the view that we cannot know that any phenomenon at all occurs unless and until we know what causes it.
As for what Gert says about atheists not being able to consider anything a moral rule because they do not believe that any commands come from God, he is surely mistaken. An atheist would only have to doubt that anything was a moral rule if he believed that all moral rules come from God. Since he doesn't believe in God, he would go on to conclude that there are no real moral rules. But surely atheists don't believe that moral rules come from God. They do not believe that God creates moral rules, but they do believe (or at least many of them believe) in moral rules. This is perfectly consistent with the fact that moral rules somehow come from God. After all, God wants atheists, presumably, to have some idea of what's right and what's wrong, so there's no reason to suppose that there's a cosmic rule like "atheists are not permitted to acquire moral knowledge." It's difficult to see why Gert, Taylor, or anyone would suppose that morality coming from God somehow excludes atheists from knowing anything about morality.
One last example: Wes Morriston has more recently entered the fray, rejecting the claim that divine command ethics allows for the possibility of unbelievers having moral knowledge.4 "People who do not believe that there is a God," he claims, "constitute an obvious problem for divine command metaethics."5 Morriston decides to focus only on one specific variety of divine command theory, one in which the property of being morally right or wrong is identical with the property of being commanded or forbidden by God.
In the early seventies Eric Darcy presented an objection that could easily have been part of Morriston's paper:
[i]f immoral actions are immoral merely because God so wills it, merely because God legislates against them, it would be sheer coincidence that someone who knew nothing of God or his law happened to adopt the same views about particular actions as God did.6
This is to say that those who don't know that God exists or issues commands wouldn't have access to the source of moral truth. Morriston's summary of his objection bears this out:
[Reasonable non-believers] have moral obligations, and are often enough aware of having them. Yet it is not easy to think of such persons as "hearing" divine commands. This makes it hard to see how a divine command theory can offer a completely general account of the nature of moral obligation.7
But why suppose that a Divine Command theory actually requires that people hear God's voice? Why can't it present a much more generalised view of how God's will can be expressed? As Philip Quinn noted back in 1979:
One reply to this line of argument might be to claim that such things as scripture, tradition, personal revelation, and natural law itself are sources of knowledge concerning what God has willed.8
In other words, even if you think that divine commands must be construed as speech acts in such a way that it can be sensibly claims that God has communicated his will to us, why suppose that this presents a problem? There are plenty of ways in which religious believers maintain that God communicates his will to people. There's really no conflict, for example, between moral intuitionism and divine command ethics, since the latter is only a view on what makes things right or wrong (or on what the property of moral wrongness is), whereas the former is a moral epistemology, a theory of how moral knowledge can come to us (in fact I take John Locke to be a good example of an intuitionist who was a divine command theorist). Ultimately, as I will explain further in the article I'm working on at present, Morriston's objection fails because it insists that Divine Command Ethics abandon their current moral epistemology and start believing a much more ambitious – extreme even – position where what makes things right or wrong are God's overt instructions, delivered in an almost verbal fashion, a view that no Divine Command theorist currently holds. Now I suppose adopting such an extraordinary view would be very convenient for the critics of Divine Command ethics since it would make them an easy target. But they hold no such view, and the entire epistemological objection crumbles on closer examination, regardless of the form in which it is presented (unless there is some exciting new version of the objection that has not yet surfaced).
Glenn Peoples