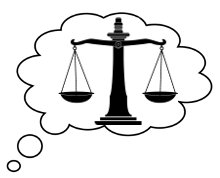 Perhaps the central bone of contention in the moral argument for the existence of God is the claim that philosophical naturalism cannot provide a basis for moral facts, while theism can. To say that one outlook cannot give an account of moral facts while another can is to assume that moral facts need an "account" if they are to exist at all. It is to suppose that they require some sort of basis: states of affairs need to exist that give rise to moral facts. Moral facts can then be explained in terms of these states of affairs.
One way of rejecting the moral argument is to reject this claim in the moral argument, not by claiming that naturalism or atheism can provide a basis for moral facts, but instead to reject the idea that moral facts need any basis or explanation at all. They just exist, that is that, and you'd better get used to it! Erik Wielenberg claims that "objective morality does not require an external foundation of any kind."1 Moral facts are not explained by other facts, they obtain as a matter of brute fact.
Some facts obtain because of the obtaining of other states of affairs. Consider, for example, the fact that the bottle of water in my office is suspended about four feet from the surface of the earth. This state of affairs obtains because another state of affairs obtains—namely, that the bottle is sitting on the surface of the desk in my office. Some states of affairs that obtain are what we may call brute facts; their obtaining is not explained by the obtaining of other states of affairs.2
Moral facts, Wielenberg maintains, are facts of the latter sort. For ease of reference let us refer to the type of fact in question in this chapter as a UMF, an unexplained (and in principle inexplicable) moral fact.
Wielenberg offers what can be called a parity argument. There is parity, he claims, between belief in God and belief in UMFs. He argues that saying that UMFs "just exist" is no more problematic than saying that God just exists, and any theistic objection to the existence of a UMF would count as an objection to a God whose existence is a brute fact, and so no theist can afford to offer the objections to UMFs that have in fact been offered.3
Wielenberg, in my view, is mistaken. In research that I'm working on at the moment I'll be discussing this in much more depth, but here let me very briefly touch on three indications of the errors involved (stressing that what follows really is brief and summary in nature, and no critic should presume that they are responding to anything more).
The problem of impersonality
Firstly, an objection that some theists have raised is that the idea of free floating, non natural, uncaused moral facts or even just non natural entities that make stipulations about behaviour (like justice) is problematic. Craig and Moreland, in a section that Wielenberg quotes, explain:
It is difficult, however, even to comprehend this view. What does it mean to say, for example, that the moral value justice just exists? It is hard to know what to make of this. It is clear what is meant when it is said that a person is just; but it is bewildering when it is said that in the absence of any people, justice itself exists. Moral values seem to exist as properties of persons, not as mere abstractions—or at any rate, it is hard to know what it is for a moral value to exist as a mere abstraction. Atheistic moral realists seem to lack any adequate foundation in reality for moral values but just leave them floating in an unintelligible way.4
By quoting only overtly evangelical attempts at what can only be called Christian apologetics, Wielenberg gives the impression (probably unintentionally) that arguments like this are the domain of the evangelistic efforts of people trying to convince others to join their religion. But this is certainly not so, and Craig and Moreland can claim plenty of respectable philosophical company in arguing this way, both among believers and non-believers in God. The argument from metaphysical "queerness" is made by J L Mackie, a vocal opponent of theistic belief. His claim is that distinctly moral facts in an uncreated existence is "queer," at odds with a properly non-religious outlook. John Rist in his magnificent work Real Ethics: Reconsidering the Foundations of Morality tackles the idea of there being not merely concepts of goodness, but the actually existing entity of moral goodness, free floating and uncaused. Such entities "would exist as essentially intelligible ideas even if there were no mind, human or divine, to recognize them: as objects of thought, not mere constructs or concepts."5 We have all, doubtless, heard the supposedly mysterious question, "What is the sound of one hand clapping?" But to posit such things as these forms is akin to something more bizarre still, the actual existence of clapping in the absence of the existence of any hands! These are thoughts without thinkers. Rist observes that "the notion of an eternal object of thought… without a ceaseless thinking subject is unintelligible. Intelligible forms… cannot be proposed as Plato originally proposed them, as free-floating metaphysical items."6
Perhaps Wielenberg would not throw his lot in with Plato and speak about eternal objects of thought. But this is not even the heart of his problem here. In replying to to Craig and Moreland, Wielenberg indicates that the only kinds of things that he needs to maintain belief in here are states of affairs, which is surely not a confusing feat:
On my view, among the entities that "just exist" are states of affairs and properties, as they are understood by a number of contemporary philosophers, including Alvin Plantinga. With respect to justice, my view is that there are various obtaining states of affairs concerning justice, and that when individual people have the property of being just, it is (in part) in virtue of the obtaining of some of these states of affairs. For instance, I hold that it is just to give people what they deserve; thus, anyone who gives others what they deserve thereby instantiates the property of justice. The state of affairs that it is just to give people what they deserve obtains whether or not any people actually exist, just as various states of affairs about dinosaurs obtain even though there are no longer any dinosaurs. In this way, my approach cashes out the idea of justice "just existing" in terms of facts about justice. This approach is perfectly intelligible and coherent and no more posits mysterious, floating entities than does any view committed to the existence of properties and states of affairs.7
This, however, is not the kind of defence that is required here. What Wielenberg refers to here is the fact that in any state of affairs there are true propositions about how justice is achieved, even if those propositions refer to other states of affairs (e.g. states of affairs in which there are people). But this is somewhat vacuous in the sense that what he ends up talking about is states of affairs in which there are truths about justice, and not about the non-natural thing called justice that he believes in. States of affairs in the universe are natural states of affairs, and Wielenberg does not believe that moral facts are natural, hence he is talking about natural states of affairs in which there are true statements about non-natural facts. But what Craig and Moreland are puzzling over is what the free floating non natural thing called justice is. They are not puzzled over the nature of the states of affairs in which there are truths about justice.
The real problem is here: While there might be no difficulty contemplating the existence of non-natural entities like numbers (and so no objection to non natural and non-personal entities per se), this does not put all non-natural entities on a level playing field. When it comes to UMFs, we are talking about things that are not just non-natural, but which also bring about certain requirements for us. The moral fact that torture is wrong means that there is some obligation on me to not torture people. But non-natural non-personal things (again, like numbers) cannot require things of us. This is where Robert Adams' work on moral obligation is particularly relevant. Moral obligation and especially the subsequent blameworthiness that a person has as a result of failing to meet his moral obligations is an inherently social phenomenon that can only be understood in terms of a personal entity who is responsible for the existence of the obligation. If I make an error with numbers then I have made a mistake or failed to reach the right answer. If I engage in moral wrongdoing there is an altogether different and appropriate sense of shame and blameworthiness involved. There were certain intentions or expectations that existed for to live up to, and I have failed to meet them. The most straightforward reading of this phenomenon is that I have wronged someone and let them down, and they now have a reason to find fault with me. None of these very familiar responses to moral facts makes sense if moral facts are non-natural, ungrounded and non-personal, but they make good sense if morality represents the intentions of a being who created us.
The Epistemological Worry
If atheism is true, then we human beings evolved into what we are via a process that is now standardly described in textbooks on evolutionary biology, and crucially, they did so for no divinely appointed reason and with no creator's plan involved. We developed as we did because this development was the path of least resistance. Changes occurred over the generations due to mutation, and some of those changes had the good luck to be more conducive to survival and reproduction, so those changes were kept, and on the process went. Now consider that while this process was going on, unguided, for millennia, there existed non-natural moral facts – facts that did not depend for their existence on any natural state of affairs whatsoever. While the most complex life on earth consisted of single celled organisms in a primordial slime puddle, these facts existed, and they continued to do so, unchanged, right through to the present day.
As a species, and as philosophers who think about ethics, we take ourselves to know some of the moral truths that are there – maybe even most of them. We have epistemic access to them. But supposing that the above scenario is correct, what are the chances that we should know any of those truths, let alone some or most of them?
Of course, atheists who reject the existence of moral facts have no problems discussing the origins of morality, since they are free to speak exclusively in terms of moral beliefs which are actually all false. In our developmental history our belief forming structures changed in ways that were beneficial to our forming beliefs beliefs that were useful for survival and reproduction, and we even formed sets of beliefs that we might call a "moral code," but this has nothing to do with the truth of those beliefs. The beliefs were useful, and that is that. Their falsehood shouldn't make us worried about holding them, as Nietzsche explained:
The falseness of an opinion is not for us any objection to it: it is here, perhaps, that our new language sounds most strangely. The question is, how far an opinion is life-furthering, life- preserving, species-preserving, perhaps species-rearing, and we are fundamentally inclined to maintain that the falsest opinions (to which the synthetic judgments a priori belong), are the most indispensable to us, that without a recognition of logical fictions, without a comparison of reality with the purely IMAGINED world of the absolute and immutable, without a constant counterfeiting of the world by means of numbers, man could not live—that the renunciation of false opinions would be a renunciation of life, a negation of life. TO RECOGNISE UNTRUTH AS A CONDITION OF LIFE; that is certainly to impugn the traditional ideas of value in a dangerous manner, and a philosophy which ventures to do so, has thereby alone placed itself beyond good and evil [emphasis original].8
If moral facts are not explained in terms of anything in the natural world, then there is, it seems to me, no reason to suppose that we would just happen to evolve as a species in such a way that we would find ourselves knowing what those facts are. Obviously (or so it seems, again, to me) if God exists then as a personal, albeit non-natural being, he might choose to let humanity know that he is there, whether by some sort of intervening revelation, or even by causing human beings to exist in such a way that when they function properly they are aware of his existence. But non-natural impersonal things like UMFs do not have this sort of ability simply because they are not personal.
If UMFs exist then, we have no reason to believe in them, or at least no reason to think that we are likely to know what they are.9
The Argument from Parsimony
Lastly in the very brief overview, a simple yet persuasive argument can be made that God's existence as the explanation of moral facts is considerably simpler than positing the existence of UMFs and therefore to be preferred as an explanation.
Take a universe in which God does not exist and neither do moral facts. What does the non-theistic believer in UMFs need to add to this picture of the universe so that it resembles the real world? Brute moral facts. And how many does he need to add. To be honest, I'm not sure, and belief in UMFs does not itself commit one to an answer here. A UMF proponent can maintain that some moral facts are explained by other moral facts as a matter of inference, but let's pick a small number and say that he must propose a couple of dozen brute moral facts. That's a couple of dozen non natural entities that make requirements of us and which we are proposing to exist only because we find ourselves believing that we have such requirements. They are an addition to the world of entities that make no other contribution than this. What, in contrast, does the theistic proponent of the moral argument need to add tot he picture? He must add one God. But God, if he exists, does more than simply explain the existence of moral facts in what I have said is a much more comprehensible and plausible way than the alternative. God explains much more than this: The existence of the universe itself being an obvious candidate for explanation, along with the fine tuning of the universe for complex life (like Alvin Plantinga I would add the existence of epistemic warrant to that list as well). UMFs are a positively ungainly addition to the world of facts by comparison, explaining little and asking much.
For these reasons and perhaps others (did I mention that this article is intended as a brief introduction?), not only do I reject the view that there is parity between belief in uncaused non-natural moral facts and belief in God, but I think there are good reasons for doubting that such moral facts exist at all.
Glenn Peoples