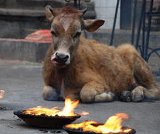 In a recent blog on the moral argument, I noted (in the comments) that in the real world we all find ourselves faced with certain moral facts, like the fact that we shouldn't do unnecessary harm to others. Somebody objected to this, thinking that it was clearly not true. For example, the inquisitors harmed people and they thought it was right, right? So clearly they had quite different moral beliefs, and they did not think that we have a duty not to do unnecessary harm to people.
As I pointed out briefly in reply, this is a very hasty conclusion. The fact is, those inquisitors believed that, if they were successful, they would not be harming people in the long run but helping them. They did believe that we have a duty not to harm people. They just believed, rightly or otherwise, that their actions could be construed as ultimately good for people, rather than harmful.
I decided to write a new blog on this subject because it's one that does come up from time to time in discussion on ethics, and I think it represents a common error: Does different behaviour on what we might think are moral issues prove that the people exhibiting that behaviour hold basically different moral beliefs from us?
It's common, I think, for people to suppose that because things are done differently in different cultures or religions, or things were done differently in the past, those people must have held different moral values from us. I don't think this is true. Here's a fairly widely cited example: The famous political and social scientist of the turn of the twentieth century William Sumner observed the apparent diversity of moral beliefs reflected in widely divergent practices of different cultures around the world (such as slavery, cannibalism, wife swapping, infanticide etc), and drew the conclusion that this serves as evidence that morality itself is a purely relative construct, fabricated by a culture. When "ethnographers" (Westerners, of course) observe the behaviour of other cultures and proceed to "apply depreciatory adjectives to the people whom they study," said Sumner, "they beg the most important question which we want to investigate; that is, What are the standards, codes, and ideas of chastity, decency, propriety, modesty, etc., and whence do they arise?"1 Sumner regarded the brute fact of apparent divergence in moral beliefs shown by differing behaviour from one culture to the next as "proof" that " 'immoral' never means anything but contrary to the mores of the time and place."2 This is simply a reckless way for Sumner to have stated it. If "immoral" really never means anything other than contrary to the mores of a given culture, then it would be meaningless to suggest, as the aforementioned "ethnologists" had, that some cultures encouraged immoral behaviour, since for behaviour to be immoral would mean that the behaviour was not endorsed by the culture. If this is just the meaning of the word moral or immoral, nobody could ask a genuinely open question about whether the practices of a culture are moral or not, yet people do ask just that. But Sumner's wording could be tweaked a little so that he can be understood as saying something more comprehensible (although I do not want to say that it is more defensible), namely that what really and truly is moral depends on the mores of the culture in which one lives (and hence the relationship between the moral and the mores of a culture is not a semantic relationship but one of identity). And so, something is right just if the culture in which it is done approves of what is done.
While many who work in the social sciences like anthropology or sociology seem ready to immediately accept the explanation that this variety of behaviour exists because there really is an equally wide variety of basic moral commitments, philosophers have not been quite as ready to do so. As Francis Beckwith and Gregory Koukl note, "Sumner's entire thesis hinges on his… claim… that each culture has a unique set of moral values."3 This is just to say that the observation that Sumner thought should lead us to his conclusions about the meaning of morality was the fact that cultures have unique value sets. But the assertion that societies really do differ to such a great extent in their "core moral convictions," Beckwith and Koukl say, is "not obvious," even given Sumner's observations about Eskimos. Take for example the Indians who do not eat cows. As Beckwith and Koukl explain:
In India, cows roam free because Hindus consider them sacred. In America we eat beef. At first glance it would seem we have conflicting values, but both of our cultures hold that it is wrong to eat other human beings. In America when Grandma dies, we don't eat her, we bury her. In India Hindus don't eat cattle because they believe the cow may be Grandma reincarnated in another form.4
In other words, what causes the different behaviour is not, at the bottom, a moral belief, but a factual belief, namely a metaphysical belief in reincarnation.5 Presumably, if the Hindus in question stopped believing in reincarnation, they would cease to have this objection to eating cows, or at any rate the objection might be expected to decline and eventually disappear. The reality is not that we are seeing radically different moral beliefs. Instead we are seeing radically different factual beliefs, and those beliefs are being responded to based on moral beliefs that we are actually likely to share.
Another example would be witch burning. We might be tempted to think that dumb, morally twisted people (i.e. Christians) used to burn witches, but we don't do that now, so clearly we hold basically different moral beliefs. But this is much too hasty, and in the final analysis it is just false. Those who persecuted and burned (or drowned, hung or pressed) witches actually believed in the power of witchcraft to some extent. They believed that people who practised witchcraft possessed evil power and used it to inflict harm upon others in society. Now, we don't share this belief, but we do share the moral conviction that people who inflict harm on society (e.g. those who deliberately spread disease or pollution) deserve to be punished. What is different is therefore not the moral belief in question, but rather the factual belief about the consequences of witchcraft.
Chiming in with Beckwith at this point, Charles Pigden concurs:
Do moral disagreements exceed factual ones? Consider current controversies between liberal social reformers and defenders of "the family." True, they disagree morally – about the rights and wrongs of sexuality and the laws to which we should be subject. But they also disagree about factual issues. Polemicists for "the family" often suggest that chaos and/or dictatorship will ensue if "the family" is further undermined. Their opponents are less pessimistic. Controversialists differ about the likely results of various laws, the antiquity of the nuclear family, its naturalness, its tendency to drive people insane and its utility as social glue. Moral disagreements do not exceed factual ones here. Again, take differences between Friedmanite neo-conservatives and socialists of various hues. They disagree not only about the moral weight that should be given to the plight of the poor, but about the actual consequences of letting unfettered capitalism rip. The same goes for cross cultural conflicts. Moral disagreement is frequently marked by a wide divergence as to the nature of non-moral reality. Indeed, the moral practices of some remote societies often strike me as less bizarre than their factual beliefs.6
While Beckwith's example of reincarnation has more to do with metaphysical factual claims, the factual claims that Pigden surveys have more to do with facts about consequences than metaphysical facts, filling out the picture that it is all kinds of factual claims that different people and cultures do not share in common.
This diversity of beliefs can lead to a diversity of behaviour, which might initially trick us into thinking that we are witnessing a diversity of quite opposed moral convictions, but this move is a hasty one. The bottom line is that while the different factual beliefs of different people might lead to all sorts of different behaviour, in itself this doesn't imply that people hold radically different moral beliefs, and in fact I submit that on the whole our species agrees much more than it disagrees on fundamental moral matters.