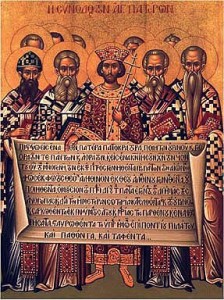 This is the Nicene Creed:
We believe in one God, the Father, the Almighty, maker of heaven and earth, of all that is, seen and unseen.
We believe in one Lord, Jesus Christ, the only Son of God, eternally begotten of the Father, God from God, Light from Light, true God from true God, begotten, not made, of one Being with the Father. Through him all things were made.
For us and for our salvation he came down from heaven: by the power of the Holy Spirit he became incarnate from the Virgin Mary, and was made man.
For our sake he was crucified under Pontius Pilate; he suffered death and was buried.
On the third day he rose again in accordance with the Scriptures; he ascended into heaven and is seated at the right hand of the Father.
He will come again in glory to judge the living and the dead, and his kingdom will have no end.
We believe in the Holy Spirit, the Lord, the giver of life, who proceeds from the Father.*
With the Father and the Son he is worshipped and glorified.
He has spoken through the Prophets.
We believe in one holy catholic and apostolic Church.
We acknowledge one baptism for the forgiveness of sins.
We look for the resurrection of the dead, and the life of the world to come.

Amen.
Word count: 223
Points: 12 (although I guess that depends on how you divide it up)
Bear in mind that this statement was written in a time when Christian orthodoxy was taking considerable pains to define itself in such a way as to avoid heresy. A lot of thought and planning went into this creed, and yet there it is; elegant, simple, clear and above all, succinct. If the above describes your faith, and you're not being sneaky with any of your words, using hidden meanings or anything like that, you simply mean what you say, then as far as your beliefs go, you're a Christian. That's what this Creed was designed to determine. Simple.
Now consider another statement of faith, the Westminster Confession of Faith. I won't reproduce it here because of its size. Speaking of size, that's really what this blog post is about. Here are a few stats on the Westminster Confession.
Word count: 18,279 (but admittedly, this number includes the biblical references)
Chapters (yes, chapters): 33
Points: Way too many to count in a short space of time
When a person (an adult, at least) becomes a member of a Presbyterian or Reformed Church, they affirm that they accept the teaching of the church, which is set out in the Westminster confession. Would anyone at all seriously tell me that members of Presbyterian and Reformed Churches have studied the Bible and have all, amazingly, come to the exact same precise tightly defined position on every one of the hundreds of points contained in the Westminster Confession? Pull the other one. Why on earth do some people have the need to paint themselves into a tiny, tiny corner of intersecting beliefs? Not for the sake of drawing the boundaries of Christian thought, surely! Not even for the sake of establishing Christian orthodoxy (the Nicene Creed does a fine job of this), and not even for the sake of distinguishing these churches from Roman Catholicism, for it goes far beyond this.
As a result of this leviathan statement of faith, bigger than many books of the Bible itself, many Christians who are members of the churches that hold this confession state that they affirm a collection of doctrine that they either aren't even aware of, don't understand, don't actually agree with, or accept purely on ecclesiastical authority.
Now look, if you have honestly studied all the doctrinal issues covered by the Westminster Confession, and you have concluded that the Bible teaches exactly what this confession states at every point, fine. Go ahead and affirm the confession. But do you really want to say that those who don't agree at every point – and there is a huge number of them – shouldn't be allowed to be an elder, or (depending on the congregation) a full member? Or to share communion with you? Why attempt to bind the consciences of the church membership so tightly, in such minute detail? Even if your desire is to have a Calvinist church, still, one page will easily cover all that is required. The level of intellectual control exercised when statements of faith balloon out of control like this is simply unnecessary, and in my view it is simply wrong. What's more, if the church wants to attract intellectually serious members (and experience suggests to me that Presbyterian and Reformed churches are more likely than most to do this), then it creates an awkward situation. On the one hand you want thinkers, and on the other hand you tell them what to think on the type of fine points that they are more likely than most to disagree with you over because of their inquiring nature. This is the main reason that I consider myself an outsider to Reformed Christianity.
I'm all in favour of statements of faith. But just ask yourself: What exactly are you trying to achieve with it?
*Bear in mind, this is the Nicene Creed, formulated at the Council of Nicea (AD 381 [EDIT: Actually what I have given here is the date the creed was written at the later council of Constantinople. The Council of Nicea was in 325]). Readers may be familiar with the additional phrase "and the son" at this point. This phrase, whether correct or not, was not part of the Nicene Creed, but was added by the Western Church two centuries later at the Council of Toledo (AD 589).
Glenn Peoples