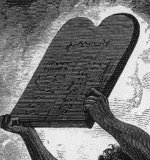 NOTE: In this episode I call it episode 40. It's not. It's episode 39.
The podcast is back. Actually, episode 39 was going to be on another topic, but then someone suggested this one to me, so as I already had a document called "episode 039" I called this "document 040." And then when I started recording it I thought – "Hey, this is the 40th episode. Cool!" and I made a big deal of it in the recording. And then after I uploaded it I realised that since I skipped over the episode 39 that I'm writing, this isn't really 40 at all, it's episode 39! So that was an epic fail.
So no sooner do I release another podcast episode, I am making excuses for it! This episode is based on a lecture on divine command ethics that I gave a few years ago at the University of Otago. Enjoy!
Podcast: Play in new window | Download