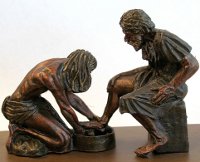 In the "Nuts and Bolts" series, I lay out some of the fundamental ideas and terms used in philosophy and theology for the lay person.
This time I'm looking at kenosis (also referred to less elegantly as kenoticism). Unfortunately, this is one of those terms which in some contexts generates more heat than light. If you search the internet for the term it's likely that some of the first results you'll find are extreme statements about the "heresy of kenosis." Today I found one gem, for example, which claims that "The doctrinal heresy known as Kenoticism originated in the nineteenth century by the German theologians."
Kenosis, however, is neither heretical nor German, and certainly did not arise in the nineteenth century, even though some nineteenth century German theologians may have formulated the idea in ways that others had not. Far from being an invention of modern Europe, kenosis has a long history in Eastern Orthodox Christianity, a significant branch of the church that many moderns are frankly ignorant of (moderns often including myself).
Even some websites that appear more respectable describe kenosis in terms that are not entirely fair, such as: "Kenotics take the word "kenoo" to indicate that Jesus Christ literally emptied himself. Therefore, they conclude he was not God while he was here on earth for 33 years." But this is not what they conclude. Kenosis need not involve the belief that Jesus ceased to be divine in the incarnation. Certainly, you could maintain that Jesus did set aside his divinity and call it kenosis, because that is an emptying of sorts, it is an extreme kind of kenosis. Instead, the (in my view biblical) doctrine of Christ's emptying himself is that in becoming human, Christ gave up much of what he, as fully divine, had a right to. He did not simply have his omnipotence and omniscience at his disposal throughout his earthy life, choosing never to make use of it. He actually set those things aside and genuinely took the form of a servant. It was not an act or a ruse. The incarnation, in short, was genuinely as it appeared to be.
In the incarnation, kenosis says, Christ made himself powerless compared to what he was entitled to be. Paul wrote that although Christ had the true form (morphe) of God, he emptied (Greek: ekenosen) himself and took the form of a servant. Contrasting himself with his Father, he claimed that of his future coming (setting aside for now the question of exactly what that referred to), nobody knows the day or the hour, "not even the angels of heaven, nor the Son, but the Father only" (Matthew 24:36). This was not false modesty on Jesus' part. Nor does it make sense to say that really Jesus was all knowing here, but he was simply setting aside his ability to know everything, or limiting his knowledge. For whatever reason, to have limited knowledge is to not be all knowing. There is no meaningful distinction between temporarily limiting one's knowledge of all things and temporarily giving up one's knowledge of all things. Either Jesus knew all things, or he did not, and the New Testament tells us that he did not. Simply denying kenosis altogether has what I take to be bizarre and counterintuitive consequences. Consider Jesus in the womb of Mary for nine months. Denying kenosis altogether would have us think that an omnipotent, omniscient Jesus was throughout that nine months fully conscious aware, sitting back inside the developing body, waiting. His sleeping every night was a mere illusion, he didn't really have to eat (since he never gave up immortality), he didn't actually have to learn to read (since he knew all things, but simply chose not to exploit that knowledge), and when he asked questions in everyday conversation, it was not because he wanted to know the answer but was simply being polite – since he really knew the answers but chose not to make use of that fact. Kenosis takes seriously Jesus' claim that "I can do nothing on my own" (John 5:30). Throughout his earthly life, Jesus, although truly divine, gave up the power that was rightly his and lived a life of dependence on his Father, in the power of the Holy Spirit. This is what made the cross so devastating for him. As one who was truly dependent on God the Father, his cry that his Father had abandoned him was all the more harrowing.
In kenosis, Jesus is presented to us as the God who truly, not just in appearances, was "made like his brothers in every way" (Heb. 2:17), who truly stood in our place and tasted death for us, and who actually knows what it is like to be one of us. Kenosis provides us with a powerful antidote to some of the gnostic tendencies that developed in the second century. Gnostic theology wanted to deny that Jesus was truly God in the flesh, because it was beneath God to actually suffer and die. One such Gnostic tactic was to make Jesus a mere man upon whom the spirit of Christ descended at his baptism, that spirit departing at the cross. Kenosis stands at the opposite end of the theological spectrum: God could not only die in Christ, but God was willing to give up the privileges that come with being God, not clinging to the dignity and glory that he deserved, becoming a limited and at times helpless servant.
Glenn Peoples