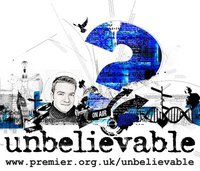 Next week it will be my pleasure to have my third discussion on the Unbelievable radio show with host Justin Brierley. My partner in conversation will be Stephen Law, who teaches philosophy at Heythrop College, University of London.
Although the only public comments I have made about Stephen at this blog have been for the sake of disagreeing with him, the fact is that I like reading what he has to say – however mistaken I might think he is. Yes he has creativity and style, something lacked by plenty of  academics, but unlike other vocal critics of religion like P Z Meyers, Richard Dawkins or Sam Harris, Stephen Law usually knows what he's talking about as far as philosophy goes (I say usually because it does seem to me that philosophy of religion is not his strength, and this is the subject area of his "Evil-God Challenge."). Law's "Evil-God Challenge" should be read by anyone who wants to philosophically defend the Christian faith. That being said, the central point of the article, that theistic arguments are just as compatible with a malevolent deity as they are with the God of Christianity, is false. I think first year students in philosophy of religion who want to defend the Christian faith should – before being allowed to progress to the second year – be able to explain why the evil God challenge fails. If they're not sure how they would do it, they should make sure they listen to the discussion on Unbelievable!
Glenn Peoples
Similar Posts:
If you liked this content, feel free to buy me a beer!