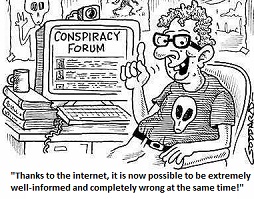 Is the internet really a benevolent playground of truth about religion?
Some people read conspiracy theory websites and magazines. In fact, I'd wager that more people than ever before read them. As a result, more people than ever before believe ridiculous conspiracy theories. Although I have no desire to see people forced to stop reading such trash, I really wish they would. The fact that more such theories are available now than ever before does not increase the likelihood that people who read this material are going to stumble onto a true theory. It just means that there is more nonsense to choose from, leading to paranoid, sometimes hysterically funny, and often sad, unscientific and damaging beliefs and practices. I have little sympathy for anyone who would reply by saying something like "Dude, you're just threatened. The truth is out there and now that it's out there, you can't stop people finding out."
I suspect that my perspective on the proliferation of conspiracy theory websites and magazines is shared by most people. At least I hope it is. Such material gives a platform to views that frankly do not deserve it.
Josh McDowell is concerned about the proliferation of comments of a different sort on the internet.
Every pastor, youth pastor, and every parent is in competition with the Internet and the information it is spreading," said McDowell. "Most young people don't get their news from CNN or CBS, they get it from bloggers. There are about 181 million bloggers vying for the attention of your children."

The unlimited amount of online information that people have access to has caused an increase in skepticism that will only continue to become more pervasive, says McDowell.

…

"Twenty years ago, the phrase was, 'if you don't reach a young person by 18, you probably won't reach them.' Now, atheists and agnostics have the same access to your kids as you do, it's just one click away. The internet has leveled the playing field and now if you don't reach a child by their 12th birthday, you won't reach them."
The "Friendly Atheist" Hemant Mehta sees this as a good thing, understandably. Here is where a predictable case of bias confirmation kicks in, because as everyone should know (especially atheist bloggers), "There's no doubt Christians are threatened by atheists." Of course, no doubt at all. We're downright terrified. Mr Mehta is, after all, an atheist blogger, and the fact that larger numbers of people have their perspective on religion shaped by what he and others write is a good thing, a force for reason, so naturally people who believe stupid things should be afraid. The ideas and arguments that find their breeding ground online and which young Christians are likely to encounter there, he thinks, are likely to lead to a more enlightened perspective:
The 181,000,000 is a tad high, but McDowell is wrong about something more important: The access to all the online information doesn't (generally) lead to skepticism about all ideas, only bad ideas. The truth has a better chance of emerging when all the viewpoints are out there, not when you're sheltered and only hearing what your pastor wants you to hear. If Christianity is losing that battle, it's not the Internet's fault.
Some of these remarks reflect a fairly clear (and surely not accidental) misrepresentation of the concern being expressed. Notice that McDowell didn't raise the concern that young people aren't getting their information from their pastor, but instead from the unbridled world of the internet. The concern was that instead of getting their information from sources like CNN or CBS (which I take to be a general reference to respectable sources with standards that they are required to meet on pain of legal and career consequences), but instead from bloggers, people who have a platform that they never earned (we bloggers didn't even have a job interview!) and very few standards of accuracy that they are required to meet (beyond very basic legal restrictions). But hey, let's re-cast the contrast as one between the church that wants to protect you from reality and give you a slanted perspective on the one hand, and the free, democratic internet with no axe to grind on the other.
But more to the point, if he genuinely believes his own comments here, Mr Mehta is living in a rose-tinted world with perpetual rainbows, marshmallow clouds, lollipop trees and Kool-Aid streams. The idea that the massive number of personal blogs out there promoting the arguments of the blogger is not likely to lead to people encountering and perhaps being persuaded by bad ideas, coupled with the idea that the only sort of ideas that are under threat because of the internet are bad ideas, is a nice idea. But like a lot of nice ideas, it is naïve and wrong. For all the good that it does – and I would not be without it – the phenomenon of the internet and the ease with which it gives a microphone to anyone who desires one has created a looney, ill-informed, at times sensationalist, generally repetitive echo chamber of ideas that only have a following because of their online presence, and they have adherents because people have formed the disastrously false impression that getting a degree from the University of Google is a substitute for an actual education. Sceptics generally realise this when it comes to scientific matters (take for instance some of the anti-vaccination claims that many people believe because they "did their own research" online). When it comes to religion, however, a number of those same sceptics, apparently including Mr Mehta, do an about-face.
I share Josh McDowell's concern, and not at all because I have a problem with young Christians doing research. I share it because of the sheer nonsense that they will encounter online and the dishonesty with which that nonsense will be presented, in a context where the uninitiated will think that they are being presented with facts. There is no code of ethics on the internet. The "Christ myth" view, for example, would have virtually no following today were it not for the internet. In any history classroom the online move Zeitgeist would be laughed hysterically out of town, and yet on the internet it has accumulated an army of credulous believers (those who, ironically, would describe themselves as "sceptics"!). Theories that would not pass peer review and which would not have respectability in the world of genuine scholarship will have a free pass online. The bar is low – in fact there is no bar at all.
"But people should know better, and if Christians are dumb enough to believe this nonsense when they read it, that's their fault!" you might say. But remember that McDowell has been misrepresented and taken out of context. He's talking about kids as young as twelve or ten. If a twelve-year-old who has no knowledge of ancient religions surfs the internet and watches Zeitgeist, then they may well believe chunks of it. They don't know any better, and when you're a kid it's fun to believe sensational stuff (something that some people, unfortunately, never grow out of). I have received messages from people asking questions about it, simply because it is presented as known, accepted fact, in spite of the fact that its level of historical accuracy makes Darwin's mythical deathbed change of heart about evolution seem positively ironclad. It is virtuous, rather than a sign of weakness or cowardice, to raise the concern that such material needs to be countered and that it presents genuine risks to young, as-yet uneducated and impressionable viewers.
Religious sceptics get it when it comes to teaching creationism to children or evangelising kids with the fear of hell. But for some reason they (or at least some of them) don't get it when it comes to passing off anti-religious nonsense to kids as fact.
Glenn Peoples