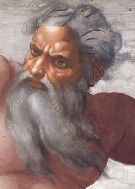 Occasionally, when somebody first hears about divine command ethics (the view that what is right or wrong is what God commands or forbids), the response is one of incredulity: "What? You believe THAT?! So if God commanded you to kill that person over there, you would do it? Really?" And right there, whether the critic realises it or not, there is almost certainly a double standard at work. Read on to see why.
The idea behind the objection is that if morality depends on God's commands, then whatever God commanded, no matter how horrific, would be the right thing to do, which is enormously counter-intuitive. You might even find yourself sympathetic to that reaction as you read this. And if a person who holds to a divine command theory of ethics responds by saying "but God wouldn't command that because God's not like that," then the typical reply is to say something along the lines of "Oh I see, so really it's not God's command that makes things right or wrong. It's some standard that God holds himself to instead!" That's a conclusion that doesn't logically follow at all, but instead of labouring to show that, there's really a much simpler way of showing the person who raises this objection that there's something wrong with it, if they're willing to listen.
When the challenge is posed, "Would you kill if God commanded you to?" take a leaf out of Jesus' book and answer a question with a question. Promise to answer them if they answer you. Suppose for a moment that the person you are talking with is a utilitarian. They believe that the right course of action is whichever action will result in the greatest good for the greatest number of people (that is, whichever action has the greatest utility). Reply to the question with this question: "I'll answer you if you answer this question: If you somehow knew that torturing, maiming and murdering your lovely neighbour would bring about the greatest good for the greatest number of people, would you do it?"
If they say that they would not torture, maim and kill their lovely neighbour under such circumstances, then by their own admission they do not follow the ethical rule that they think is right. They are immoral by their own lights. If they say that they would, then they lose the right to be shocked by anyone who would kill if God told them to. And if, as I suspect is the case, they would reply by saying "But that would never be an action that brings about the greatest good for the greatest number of people because it is so downright horrible," then they are admitting that whether or not something has the greatest utility really depends on something else, some greater rule, namely what is least horrible.
If the other person rejects this analysis and says that utterly horrible things like torture, maiming and killing can never be things that have the greatest utility because utility just isn't like that – it can't be promoted by just anything, then they have given the believer in divine command ethics an exactly analogous reply: Arbitrarily killing somebody cannot be something that God would command if God is the sort of thing that I take him to be. His will cannot be satisfied by just anything.
This sort of reply actually works against a critic who holds to pretty much any moral theory. If they are a virtue theorist, reply by saying "If a truly virtuous person in these circumstances would torture, maim and kill your lovely neighbour, would you do it?" If they are an ideal observer theorist, ask them "If an ideal observer in these circumstances would (or would say that you should) torture, maim and kill your lovely neighbour, would you do it?? And so on.
Sometimes it is the seemingly obvious refutations of religious ideas that turn out to be the most hasty and flimsy.
Glenn Peoples