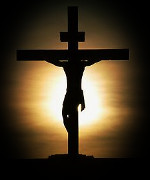 This episode is a bit different from a typical episode of Say Hello to my Little Friend. On Good Friday this year I was privileged to give the message at Broderick Road Chapel in Wellington. It wasn't recorded at the time, but I've recorded it for you as several people said that they would be interested. One of the themes that I look at is the idea that the Gospel is the truth behind so many of the myths we hear.
Enjoy, and have a safe and joyous Easter season. He is risen. 🙂
Glenn Peoples
Episode 052: Good Friday 2014 Sermon
[ 18:01 ]
Play Now
|
Play in Popup
|
Download
Similar Posts:
If you liked this content, feel free to buy me a beer!